Why Kentucky? Ugonna Kingsley Onyenso discusses commitment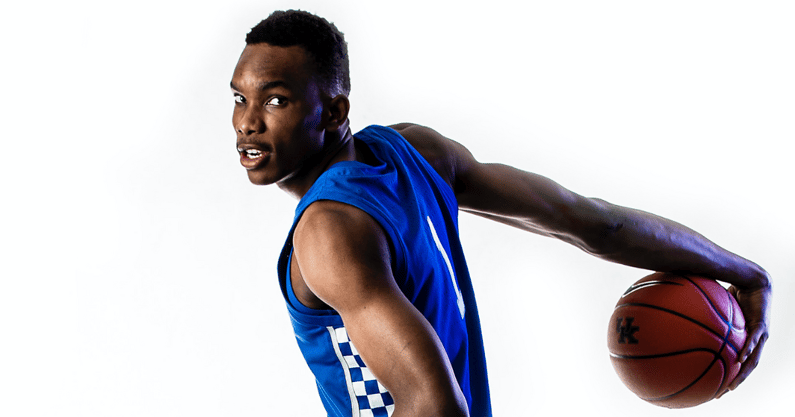 Why did five-star center Ugonna Kingsley Onyenso reclassify to the class of 2022 and sign with the Kentucky basketball program? The standout shot-blocker out of Nigeria broke down the details of his commitment on Monday.
He announced his decision from NBA Academy Africa in Senegal with Adam Finkelstein of 247Sports.
"I have two reasons for choosing to play at the University of Kentucky," Onyenso announced. "My first reason, their track record with their bigs. They know how to develop their bigs to get to the next level, that was one of the main reasons. My second reason for choosing Kentucky is I have seen them play. They play my kind of basketball, I can fit in their system of basketball, you know? Their positionless offense, the way they run the floor, that's my kind of basketball. I know I will fit into that system of play. After talking to Coach Cal, I knew that would be the perfect place for me."
The 7-foot defensive anchor said he was looking forward to showing off his elite shot-blocking abilities, along with his growth on the other end of the floor.
"I'm happy to be playing for Kentucky," said Onyenso. "I will do what I know I can do best, bring energy, do what I know how to do defensively. I get rebounds and I provide rim protection. My offense, I bring something most of you haven't seen. I'm very excited to be a part of this program, very excited."
He provided a quote to On3's Joe Tipton regarding his commitment, stressing that playing in a positionless system was important for him during the recruiting process.
"My reason for choosing Kentucky is because I know I'd fit in their style of play, their positionless offense, and how fast they play," Onyenso told On3. "I know I'd fit in their system of play because they play my kind of game."
Pro Insight's Andrew Slater, who broke the news of Onyenso's reclassification to 2022 last week, published a Q&A session with the newest Wildcat shortly after his commitment. In it, the five-star center made it clear that he wanted to go to a school that could develop him into the pro he knows he can be.
"First and foremost, the most important factor was the culture and the family atmosphere," he told Slater. "Coach Cal does a great job of forming a family atmosphere with his guys. In his recruiting process with me, he consistently showed that family was and is the most important part of the program. Their process of developing bigs like me and their family culture (is why I chose Kentucky)."
His goal once he arrives on campus? Prove his status as the best shot-blocker in college basketball.
"I'm coming in and want to be the most elite shot-blocker in the country," he said. "I want to help Kentucky win games with my positive energy, with my basketball skills, and I just want everybody in Big Blue Nation to know that they have another Wildcat that they'll be able to depend on moving forward."
Though Oscar Tshiebwe, Daimion Collins and Lance Ware are expected to take up the bulk of playing time at the center position, John Calipari made it clear with Onyenso that minutes aren't promised at Kentucky — to anyone. If he comes in and earns playing time, he'll find his way on the floor.
"I would say Coach Cal tried to differentiate himself from some of the other coaches by saying that, if I come in and outwork the others, I will play," he told Slater. "And the big picture, which he is confident again and I am confident in is that whatever path we choose, we choose together. He didn't necessarily say that I would get guaranteed minutes, but he did say that if I work for what I earn, I will get what I earn. That's all I can ask for."
It's a type of environment he thrives in, with competitive players battling against other competitive players.
"When I went to Kentucky, I saw high energy and high movement and everyone was positive and that's me through and through," he said. "That is the kind of player I am and what I thrive in. I love being surrounded by positive energy and high energy. That's what I'm about. Competitiveness fuels me. I think I can add to that."
Calipari is excited for the newest Wildcat's addition, as well, specifically his willingness to fight and develop alongside other elite talent.
"What excited me most about Ugonna is he wanted to not only be here but wanted to be here to train with us and learn from guys like Oscar (Tshiebwe) and Lance (Ware) immediately and help us chase a national title," Calipari said. "Ugonna has unbelievable natural athleticism and great instincts for a young player. He is going to be able to defend at the rim and is a terrific finisher. Ugonna has only been in the United States since January but has been fully immersed in basketball for several years with his experience at the NBA Academy in Africa.
"The staff and I are excited to help push him every day in a competitive and focused environment as he continues to improve and become the best version of himself both on and off the floor."
Onyenso will arrive on campus on August 20. From there, the fun begins.