Early Scouting Report: Youngstown State Penguins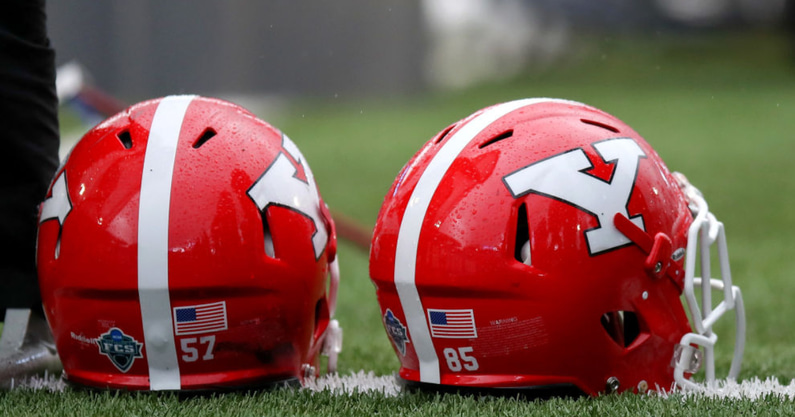 Kentucky's third opponent of the 2022 slate will hit a little close to home. For the first noon kickoff of the season, the Wildcats host FCS Youngstown State for the first-ever meeting between the two programs.
Of course, head coach Mark Stoops hails from Youngstown, Ohio along with safeties coach Frank Buffano, tight ends coach Vince Marrow, and new inside linebackers coach Mike Stoops. There will be storylines aplenty when the Penguins roll into Kroger Field.
As our early scouting series continues, we'll take a look at YSU and former Cincinnati assistant Doug Phillips who is entering year three with this program.
Early Scouting Report: Miami (Ohio)
Early Scouting Report: Florida
Nuts and Bolts
Youngstown State is a very proud program with a strong history. The Penguins have made the FCS playoffs 13 times and have a very impressive 29-9 overall record in the postseason. Most of that success came under Jim Tressel.
The man known for wearing sweater vests at Ohio State and overseeing a program that got in hot water for free tattoos (that seems so silly now), first made a name for himself as an FCS head coach in Youngstown. Tressel roamed the sidelines for 11 seasons with the Guins and won four national championships (1991, 1993, 1994, and 1997). Before leaving for Ohio State, Tressel finished his career at YSU with a 135-57-2 overall record.
After 10 seasons at Ohio State, Tressel has moved into administration and is now the President at Youngstown State. He's overseeing a football program that is having some issues.
Current Iowa State defensive coordinator Jon Heacock spent nine seasons at Youngstown State (2001-09) and took the Penguins to the semifinals in 2006. Current Alabama offensive line coach Eric Wolford replaced Heacock and spent five years (2010-14) as the head of the program. During his watch, the Penguins did not make a playoff appearance. A big name then followed.
Former LSU defensive coordinator and Nebraska head coach Bo Pelini returned to his hometown and led the Penguins to a national runner-up finish in 2016. However, that was the only playoff appearance in five years (2015-19).
From there, former Cincinnati assistant Doug Phillips has taken over, and things are not going well. The Penguins are just 4-13 through two seasons and need to show some proof of concept in 2022.
Youngstown State offense
Things did not go well for Youngstown State on offense last season. Under offensive coordinator Troy Rothenbuhler, the production simply was not there and led to a long season for this proud program.
Scoring: 24.7 (No. 67 overall in FCS)
Yards Per Play: 5.1 (No. 83 overall in FCS)
Yards Per Rush: 4.8 (No. 23 overall in FCS)
Yards Per Pass: 5.6 (No. 106 overall in FCS)
Everything started and ended for the Penguins on the ground last season. This offense rushed for 207.2 yards per game and needed big efforts from the offensive line weekly. A former Division II transfer led the way.
After rushing for 691 yards on 5.2 yards per rush in seven games, Jaleel McLaughlin (5-9, 195, Super) returned in the fall to earn third-team All-American honors with 1,139 rushing yards and 12 touchdowns on 6.5 yards per rush. The North Carolina native returns this season as one of the best players in the FCS.
At quarterback, YSU played two players, but only one returns this season. Pickerington (Ohio) Central product Demeatric Crenshaw (6-1, 220, RSo.) became a starter as a redshirt freshman and earned the Missouri Valley Conference Freshman of the Year award. The quarterback averaged just 5.1 yards per attempt but did plenty of damage on the ground.
The dual-threat quarterback started nine games rushing for 599 yards and seven touchdowns on 4.5 yards per rush. Those numbers take a big jump forward when the sack yardage is thrown out.
At wide receiver, there will be a familiar face. Kentucky transfer Bryce Oliver (6-1, 215, RSr.) emerged last year as a legitimate weapon. The South Florida product recorded 24 receptions for 266 yards but was ultra-productive in the red zone with eight touchdown grabs. Oliver should be YSU's WR1 this season.
The Penguins utilize a ball control offense that wants to establish the run and keep their defense off the field. However, a lack of passing game pop limits the ceiling of this unit.
Youngstown State defense
In the offseason, Phillips made a change on this side of the ball by hiring Jahmal Brown. The Bowling Green alum spent the last four seasons calling plays for Division II Lenor-Rhyne, and their 2021 unit allowed just 16.3 points per game. He has his work cut out for him to fix YSU's defense.
The numbers were not pretty last season.
Scoring: 35.4 (No. 108 overall in FCS)
Yards Per Play: 7.2 (No. 123 overall in FCS, last place)
Yards Per Rush: 6.5 (No. 123 overall in FCS, last place)
Yards Per Attempt: 7.9 (No. 110 overall in FCS)
Takeaways: 15 (T-82 overall in FCS)
YSU might have had the worst defense in the FCS last season. The Penguins were gutted on the ground and did not have much playmaking. This group loses some key pieces from last year's unit. Brown has a lot of work to do in Youngstown.
Griffin Hoak (6-1, 220, RSr.) returns to lead the group after recording 47 tackles and four tackles for loss last season. The Dublin (Ohio) Coffman product is the younger brother of former Kentucky and Ohio State quarterback Gunnar Hoak.
Outlook
After facing a strong Chattanooga program last year, Kentucky will draw a rebuilding one this year. Youngstown State has a rich history, but a limited offense and a very bad defense are not two things that can be fixed over night.
The Penguins are physical on offense and have a good rushing attack that could challenge Kentucky. Outside of that, the Wildcats should have every major advantage in Week 3. Expect Youngstown storylines to run wild when this matchup approaches.