Jesse Minter talks Saturday standouts - Michigan defenders on the rise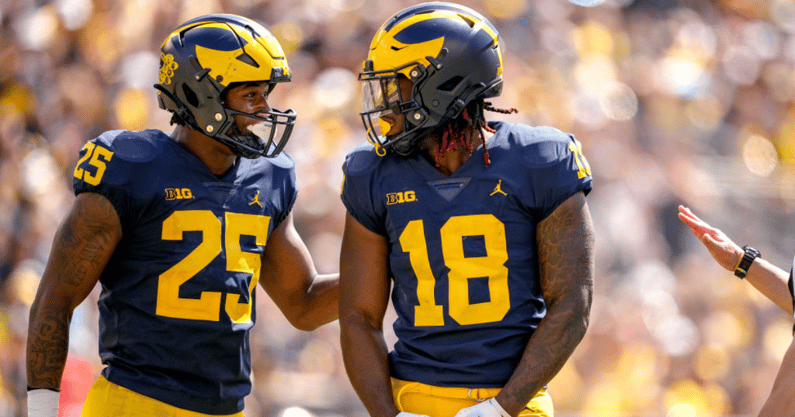 Michigan hammered Colorado State, 51-7, in Ann Arbor Saturday and moved into the AP top 4 as a result. The Wolverines got contributions from several players on defense in a stifling performance, including a few surprise contributors.
RELATED: Michigan D.C. Jesse Minter's defense was as advertised in week one
RELATED: Michigan football News and Views: Injuries, O-line play, the passing game and more
Many had been waiting for Braiden McGregor to make a move up the depth chart, especially as a pass rusher. It didn't take him long this year to make his presence felt. The Michigan junior end was disruptive as a pass rusher, forcing quarterback Clay Millen out of the pocket and making it uncomfortable for him from the get-go.
"I think he's had a tremendous camp. He's a guy right when I got here, sort of asking around, that people pinpointed with potential — and potential sometimes is a scary word," Michigan defensive coordinator Jesse Minter said on the Inside Michigan radio show Monday. "But he's battled some injuries in his career, and I think was able to get through last season and sort of get healthy.
"He's a guy we're just trying to build confidence in. I thought in his snaps, he was really, really productive. I'd like to get him more snaps. It was just kind of the way the game went. But he has a high ceiling for us as an edge presence, both against the run and the pass with his size and length. And he had a couple really, really good one-on-one rushes that he might not have gotten a sack. But we know how much he disrupted the quarterback and the timing of the play, and I was proud of the way he played."
Other Michigan edges, linemen stepped up
Freshman edge Derrick Moore, too, won some of his one-on-one matches and looks like a future beast. Grad transfer Eyabi Anoma looked the part, too, bull rushing his way to an early sack and some pressures. He also seemed to play the run well later in the game.
For now, however, it appears Anoma will see most of his time as a pass rusher.
"To his credit, the guy [only] got here about three weeks ago. He's bought into what we're trying to do," Minter said. "He's a guy with a really a lot of physical tools — a high ceiling. I think he's still learning … so, we told him we want to try to feed him a little bit more each week and it was like, 'Hey — let's throw him in there on the next third down.' And, of course, the rest was history for him [with a sack].
"It was good to get him in there more in the second half on normal downs and kind of get a feel for playing the run and playing a normal style of play. But he's a guy that we can definitely utilize as a pass rusher as we go."
On the interior, Mason Graham looked anything but a freshman when he was in the game. The Michigan freshman put the center in the quarterback's lap once and got the QB himself for his first career sack.
"Mason, he's been here since I've been here, so he doesn't even feel like a freshman anymore," Minter said. "He's physical. I don't know his high school coach, but he was really, really well-coached in high school. He knows how to play with his hands. He knows how to play with great technique. His wrestling background helps.
"[Michigan line] Coach [Mike] Elston, since he's been here, has done a great job with him. He's a guy that has a high ceiling, and we're excited to have him and excited about his first opportunity."
Finally, junior safety Makari Paige rose to the occasion, too, in his first action of the season. Head coach Jim Harbaugh said he wanted to see Paige play in games the way he has in practice the last few years, and he wasn't disappointed.
Paige played his best game in a Michigan uniform.
"Really, really proud of him for his extended action," Minter said. "I thought he was flying around, I thought he had some really nice tackles."
Biggest tests will come, but those guys — and several other young Michigan players — are now on the radar after a great first week.