Michigan football countdown to kickoff: 73 days until 2022 season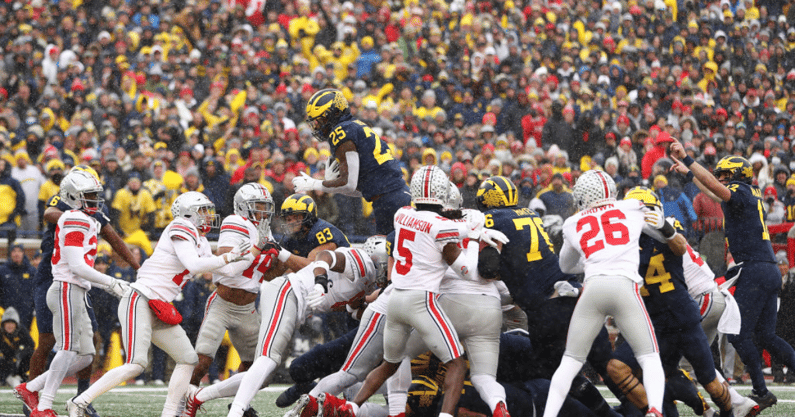 There's much anticipation heading into the Michigan Wolverines football season, and TheWolverine.com is counting down the days until the Sept. 3 opener against Colorado State. We'll discuss the current Michigan events, upcoming season and/or take a look at a significant number that correlates with how many days remain until kickoff, whether it be a player's jersey number, a year, a date, a score, etc.
Michigan fans still cringe when they hear someone talking about the 10-10 tie. Some are likely doing so as they read this right now. And it's not because the game itself wasn't something special — it's about what came after.
Michigan felt it was the better team. The Wolverines probably were, even though they tied Ohio State and shared the Big Ten championship, but their fate was out of their hands once the clock hit zero. Who went to the Rose Bowl was to be determined by a vote of the athletic directors. Ohio State had gone the year before, leading many to naturally believe Michigan should receive the nod.
"We had to win this one to go and we didn't," Buckeyes head coach Woody Hayes said at the time. "If they vote Michigan, Michigan deserves to go."
No dice.
One of the most ridiculous aspects of the vote was that some athletic directors may have taken into account that Michigan quarterback Dennis Franklin broke his collarbone late in the Ohio State game. The conference hadn't won a Rose Bowl since 1969, so the pressure was on to get back at the Pac-10.
A 5-5 tie would've sent Michigan, since the Buckeyes appeared in the prestigious game the year prior, but it wound up being 6-4 in favor of U-M's hated rival. Illinois, Michigan State, Northwestern, Purdue and Wisconsin voted for Ohio State. Michigan had the support of Indiana, Iowa and Minnesota. Schembechler and Co. were particularly hurt by in-state school MSU and Illinois, which had previously pledged its support via head coach Bob Blackman, snubbing them.
Not making the Rose Bowl would've stung much less if it were part of the modern bowl system. But back then, if a Big Ten team didn't make it to Pasadena, they stayed home. That changed in 1975, when the league began sending four teams to the postseason. Now, of course, a squad becomes bowl eligible with six wins. Sometimes, a team can go with five victories if there aren't enough six-win groups — Rutgers was a replacement last season and was sent with five.
"I am bitterly resentful at the way this thing was handled," Michigan's coach said at the time."
Michigan football countdown to kickoff
74 days | 75 days | 76 days | 77 days | 78 days | 79 days | 80 days | 81 days | 82 days | 83 days | 84 days | 85 days | 86 days | 87 days | 88 days | 89 days | 90 days | 91 days | 92 days | 93 days | 94 days | 95 days | 96 days | 97 days | 98 days | 99 days | 100 days