Game balls from Michigan football's 34-3 win over Nebraska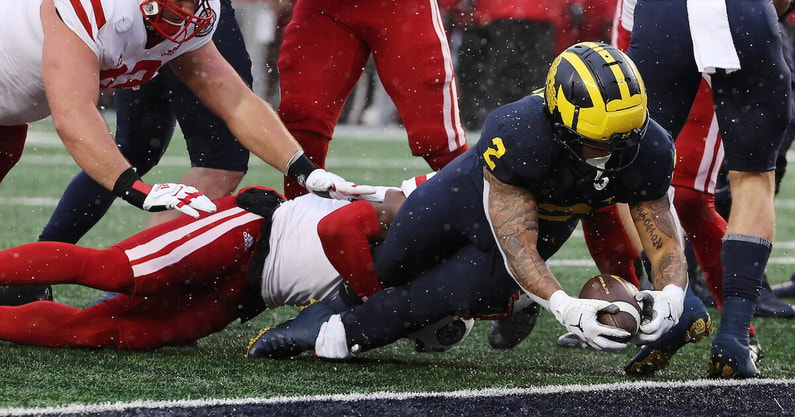 Michigan football moved to 10-0 on the season for the first time since 2006 after a 34-3 win over Nebraska on Saturday afternoon in Ann Arbor. It was another dominant and thorough performance from the Wolverines, though still with some things that need to be worked on.
Anthony Broome, Clayton Sayfie and Chris Balas select a player each week for Michigan after the game concludes. Here are the players that get the biggest nod from our staff following a Week 11 victory over Nebraska.
Chris Balas: Junior RB Blake Corum
Blake Corum continues to be the heartbeat of Michigan's offense and a legitimate Heisman Trophy contender, if not only as an invitee to the ceremony. With Donovan Edwards banged up early in the game, it was another week where Corum had to shoulder a heavy load. He did so to the tune of 28 carries for 162 yards and a touchdown, his 17th on the ground of the season. Corum's ability to see an opening and use his light feet to make quick adjustments has been impressive, as well as the ability to move a pile in a short-yardage situation. He has at least three more games this season to etch his name in the record books. If he continues to play this way, he could have four … or more.
Clayton Sayfie: Junior DT Kris Jenkins
Kris Jenkins has flown under the radar all season as one of Michigan's best players on either side of the ball. He had 4 tackles on Saturday afternoon and routinely cleaned up what was in front of him and made easy work of an overwhelmed Nebraska offensive line. Most of what he does up front for the Michigan defense does not show up in a box score, but his impact was noticeable on Saturday afternoon even without putting up gaudy numbers on the stat sheet.
Anthony Broome: Freshman DT Mason Graham
Michigan has a defensive tackle wise beyond his years in Mason Graham, who was ready to make an impact right out of the box and has done nothing but impress while the season has gone on. He finished the day with 3 tackles (1 for loss), a sack and a quarterback hit. Graham's bull rush has been the most impressive as a true freshman, but we have also started to see him add a swim move to his arsenal as he remains a stalwart in the lineup. He has the chance to be a special player for a long time.
Michigan football honorable mentions
Freshman RB CJ Stokes: The Wolverines had to turn elsewhere this week with Edwards out of the game early, and Stokes made the most of his opportunity. He finished with 8 carries for 68 yards in his most extensive playing time in Big Ten games thus far.
Senior wide receiver Ronnie Bell: The wide receivers are taking a lot of heat — rightfully so — for how Saturday's game went. Bell had the best day of the bunch with 4 catches for 72 yards and a touchdown. He should have had a second TD, but fumbled right at the goal line. Thankfully, Andrel Anthony was there to recover for a U-M touchdown. He gets a shoutout, too.
Freshman tight end Colston Loveland: Graduate Luke Schoonmaker missed Saturday's game, opening up Loveland for a start. He looks like someone who will be an impact player on the offense before too long with 2 catches for 40 yards and a solid day's work in the run game. Loveland can be a weapon even when Schoonmaker returns.
Sophomore linebacker Junior Colson: Colson played a clean game at linebacker and finished the day with 6 tackles and a sack. He has had some ups and downs at times, but the sophomore still looks like one of the best all-around players on defense.
Freshman cornerback Will Johnson: We have reached the point where it feels like Johnson is a starting cornerback for the long haul at Michigan. He made his second career start on Saturday and had a pair of tackles and a pass defended. At this point, he looks like Michigan's best corner. It may not be all that close.