8 NC State athletes make Athlon preseason All-ACC team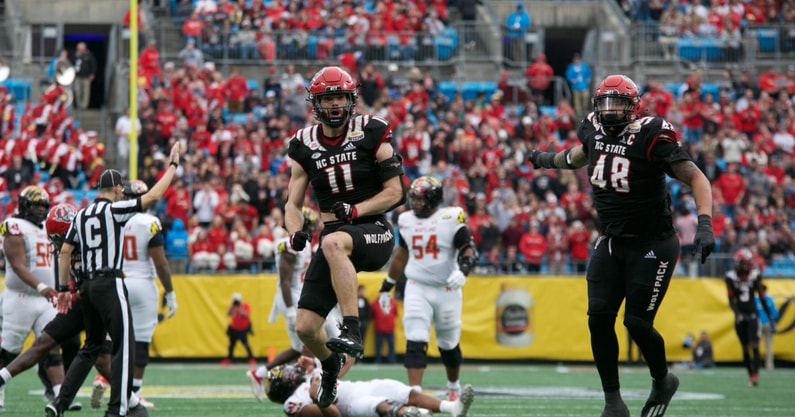 AthlonSports.com released its annual preseason All-ACC teams May 22, and a total of 8 NC State athletes received recognition. Star linebacker Payton Wilson and elite cornerback Aydan White both made the first team squad.
In addition to the two star defenders, defensive lineman Davin Vann, kickoff returner Julian Gray, offensive lineman Timothy McKay, center Dylan McMahon, cornerback Shyheim Battle and kicker Brayden Narveson all secured a spot on the list.
Wilson and White, a pair of returning starters from last year's senior-laden defense, are the program's two representatives on the first team.
Subscribe to The Wolfpacker today with our limited-time $29.99 deal for premium access until 8/31/23
White recently received a lot of positive buzz from On3 as a top-10 cornerback in the nation and the No. 40 player overall in college football. He earned first-team All-ACC honors in 2022 after recording four interceptions, which ranked second in the conference. He also made 46 total takes and defended 9 passes that year.
After deciding to use his sixth and final season of college eligibility, Wilson returns to Raleigh for one last run with the Pack. He recorded 83 total tackles, the second-best total of his time at NC State, over 11 games during the 2022 season. The linebacker finished the year with career-highs in tackles for loss with 12.5 and sacks with 4.5.
No Wolfpack athletes made the all-conference second team, but Vann and Gray both appeared on the third team.
Vann has emerged as one of the team's most reliable defensive lineman, disrupting plays and recording 8.5 career sacks over the past 3 seasons. He played in all 13 games for the Pack in 2022, recording 8 tackles for loss, which almost doubled his total from the previous year, and 4.5 sacks.
Gray made the third team as a kickoff returner after stepping into that role and excelling last year. Per GoPack.com, the redshirt-sophomore receiver finished second in the ACC in kickoff return average at 23.8 yards with 16 total attempts. His longest run back was 44 yards, and he also caught 11 passes for 105 yards.
McKay and McMahon were the only members of the Wolfpack offense to appear on the list, and they both made the all-conference fourth team after holding down roles as starters during the 2022 season. This is McMahon's first year starting full-time at center, taking over from Grant Gibson— last year's first-team All-ACC honoree at that position. According to GoPack.com, McKay led NC State in pancake blocks with 58.
Teaming up with White as one of the nation's top cornerback duos, Battle made the fourth team's defensive squad. The redshirt-junior intercepted 2 passes last year and defended 7 more, recording 34 total tackles and 2 for loss.
Narveson rounds out the list. He is the fourth-team kicker and the only incoming NC State transfer to receive recognition. The graduate-student is a former Lou Groza Award semifinalist and hit 15 of 21 attempts during the 2022 season, which included a 51-yard boot. He will have large shoes to fill if he wins the starting job, with Lou Groza Award winner Christopher Dunn departing for the NFL.