Watch NC State basketball coach Kevin Keatts' summer press conference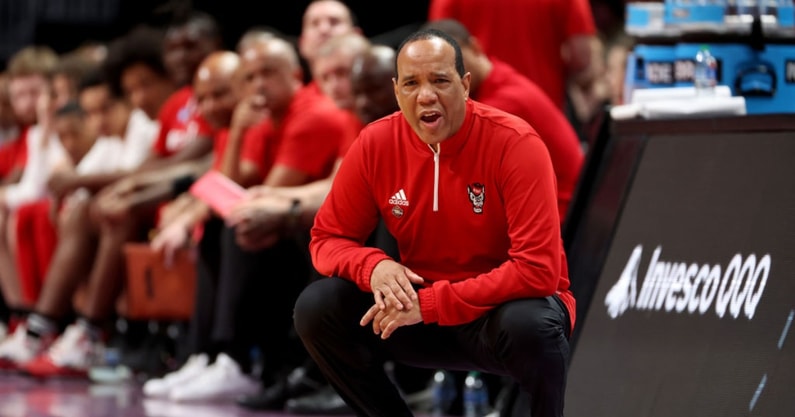 NC State basketball coach Kevin Keatts met with the media Wednesday after completing his roster with the addition of Stanford point guard transfer Michael O'Connell. Keatts joked that there was no offseason, as work to build the team began the day after the NCAA Tournament loss to Creighton.
Keatts added six transfers to the NC State basketball team from the portal, and he spoke about each during the press conference. You can read many of those comments on the newcomers here.
In addition to discussing O'Connell, Missouri junior forward/center Mohamed Diarra, Arizona State grad guard DJ Horne, Clemson sophomore forward/center Ben Middlebrooks, Kansas freshman wing MJ Rice and Butler sophomore guard Jayden Taylor, Keatts touched on a variety of other subject matters as well.
When asked about the update on the non-conference schedule, Keatts noted that NC State basketball has formally announced that the Pack would participate in a tournament in Las Vegas that also includes Arizona State, BYU and Vanderbilt, but otherwise he was not prepared to discuss publicly other potential opponents.
Keatts also explained that the changing dynamics of roster-building in college basketball via the transfer portal has slowed down the scheduling process, as teams like NC State are waiting to see how opposing teams stand following all the offseason movement.
Additionally, Keatts discussed some of his plans to build roster chemistry in the wake of having eight newcomers arriving, the six transfers and incoming freshmen forward Dennis Parker Jr. from Richmond (Va.) John Marshall and Fayetteville, N.C., native and guard Trey Parker. The Pack won't have the benefit of going on a trip to the Bahamas in the summer like NC State did in the summer of 2022, but Keatts has ideas he hopes will offset that.
Among other topics covered by Keatts:
• The impact of the return of fifth-year senior post player D.J. Burns Jr., for an extra season of eligibility, and where he would like to see Burns improve.
• Why Keatts believes the NC State basketball roster has a nice, diverse mix.
• An in-depth discussion about the perception of the ACC, and why its members, NC State included, need to perform better in non-conference play in November and December to improve the conference's standing come March for the NCAA Tournament.
• How his relatively new-look assistant coaching staff continues to shine a year after being assembled.
You can watch Keatts' summer press conference below courtesy TheWolfpacker.com's YouTube channel.