NC State basketball quick hits from win over William & Mary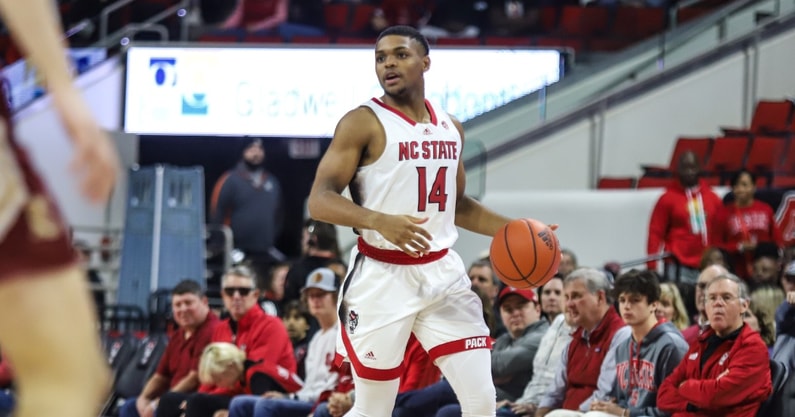 Quick hits and notes from the NC State basketball 85-54 home win over William & Mary. The game was played in front of a crowd of 10,029 fans at PNC Arena in Raleigh on Tuesday evening.
Play Of The Game
William & Mary actually led 19-17 nearing the midway point in the first half. That's when NC State sophomore guard Terquavion Smith made a long, contested three-pointer to retake the lead for the Wolfpack.
Then, after a series of missed shots from both teams, Wolfpack super senior forward Dusan Mahorcic's blocked shot led to a transition opportunity where senior guard Casey Morsell had a nice finish.
From that point forward, NC State would pull away and eventually build a 37-point lead.
Highlight Of The Game
Four out of five NC State players on the court touched the basketball at some point in the steal turned three-pointer.
Player Of The Game
Morsell in eight games thus far this year has matched how many treys he had in two seasons combined at Virginia before he transferred to NC State before the 2021-22 season. That's after he connected on 6 of 9 three-pointers against William & Mary Tuesday, matching his career-high in made threes in a game that he set earlier in the season against Florida International.
He finished with a game-high 23 points for the Wolfpack vs. the Tribe Tuesday.
Morsell made 25 of 123 three-pointers in two seasons at Virginia before arriving in Raleigh. After making 35 of 100 attempts beyond the arc last year for the Wolfpack, he has improved to 25 of 47, or 53.2 percent, through eight games to start his senior campaign.
Switching Up The Rotation
NC State basketball coach Kevin Keatts used the same starting lineup for the first seven games of the season, but he switched Mahorcic out in favor of fifth-year senior D.J. Burns Jr. on Tuesday.
Keatts explained afterwards, "The way I look at it right now, I've got six starters. I just felt like in this game I wanted to go with D.J. over Dusan. You know both of those guys are going to end up playing half of the game anyways. It just matters who starts, and who I sub first."
In addition, the first reserve for starting fifth-year senior forward Jack Clark was not sophomore Ernest Ross, as has been. Instead, redshirt junior Greg Gantt received early run. Gantt, a former Providence transfer, hit a long jumper for his first career points at NC State. He added 3 rebounds.
Ross did play slightly more minutes (11:28) by the end of the game than Gantt (9:27). Ross finished with 2 points, 2 blocks and a rebound.
The Pack Winning Halves All Season
NC State basketball outscored William & Mary in both halves Tuesday.
That continued a season-long trend. Thus far, the only half the Wolfpack has bene outscored was the first against Kansas, when NC State trailed 39-31 at the break.
| | | |
| --- | --- | --- |
| Opponent | First Half | Second Half |
| Austin Peay | 49-21 | 50-29 |
| Campbell | 39-34 | 34-33 |
| Florida International | 57-32 | 50-42 |
| Elon | 37-27 | 37-36 |
| Kansas | 31-39 | 43-41 |
| Dayton | 36-32 | 40-32 |
| Butler | 35-22 | 41-39 |
| William & Mary | 43-28 | 42-36 |
Strong Three-Point Shooting (At Home)
The Wolfpack would finish Tuesday's game shooting 12 of 28 on three-pointers. That is the fourth time this year that NC State has made double-digit threes in five overall home games at PNC Arena. The season high is 15 vs. FIU.
NC State also made 11 threes in the opener against Austin Peay and the win over Elon.
In five games, NC State is 53-of-139 on treys at home, or 38.1 percent.
The next step for the Wolfpack is to make their beyond-the-arc attempts away from PNC Arena. In three games in the Bahamas, NC State shot 19 of 59, or 32.2 percent, and never made more than 8 in any of the three contests.
NC State Basketball Plus/Minus
Here is the plus/minus for each player (the difference between points scored while they were on the floor) for NC State basketball:
Smith: +36 (31:32 played)
Super senior guard Jarkel Joiner: +35 (29:20)
Morsell: +22 (26:04)
Clark: +19 (25:57)
Burns: +18 (12:18)
Mahorcic: +17 (22:00)
Ross: +11 (11:28)
Freshman guard LJ Thomas: +5 (10:16)
Sophomore guard Breon Pass: -1 (7:06)
Walk-on guard Chase Graham: -12 (2:40)
Walk-on guard KJ Keatts: -12 (2:40)
Walk-on guard Alex Nunnally: -12 (2:40)
Walk-on guard Jordan Snell: -12 (2:40)
Junior center Ebenezer Dowuona: -16 (3:52)
NC State Basketball Game Scores
Using Hollinger's measure of productivity, players are graded 1-40 with 10 being average for an NBA player.
Morsell: 18.7
Mahorcic: 16.1
Clark: 12.8
Smith: 12.0
Joiner: 10.3
Thomas: 6.2
Burns: 3.3
Ross: 0.9
Snell: 0.6
Nunnally: 0.0
Pass: -0.8
Graham: -1.0
Dowuona: -1.1
Keatts: -2.4
What This NC State Basketball Win Means
The Pack is 7-1 and will finish November with the most wins in the opening month during Keatts' tenure (see below).
NC State is 10-1 all-time against William & Mary. The lone loss came the last time the two met — the 2015-16 season opener. The Pack threatened to set a new largest margin of victory in the series, but a 17-1 run by the Tribe to finish the contest made the final spread the second largest behind the 27-point NC State win in 1955.
The game was broadcast online by ACC Network Extra. Throughout the year, we'll keep track of the Pack's record on the different channels:
• ACC Network Extra: 4-0
• ESPN2: 1-0
• ESPNews: 1-0
• RSN: 1-0
• ESPN: 0-1
We also track NC State's records by month:
• November: 7-1
This was the most wins in the opening month of the season in six seasons under Keatts. Here are NC State's records in the month of November previously under Keatts:
• 2017: 6-2
• 2018: 6-1
• 2019: 5-2
• 2020: 2-0
• 2021: 5-1
Other stats of note
NC State won the turnover margin 17-14, but both teams had 25 points off turnovers. William & Mary was able to narrow that gap to an even point with the Wolfpack walk-ons in the game.
The Pack had a 20-13 edge in fast break points.
The Wolfpack had a 32-26 advantage in points in the paint.
NC State won on the boards, 42-33 overall and 14-11 on the offensive glass. The Pack had an 11-8 win in second-chance points for the Pack.
The Tribe's bench outscored NC State's reserves, 33-24.
Defensively, NC State had 7 blocks, 2 altered shots and 11 steals. William & Mary rejected 2 shots, altered 7 and stole the ball 11 times.
NC State led for 36:03 while William & Mary had the edge for 2:38. The Pack's largest lead was 37 points and the Tribe's was three.