NC State and East Carolina unveil uniforms for Saturday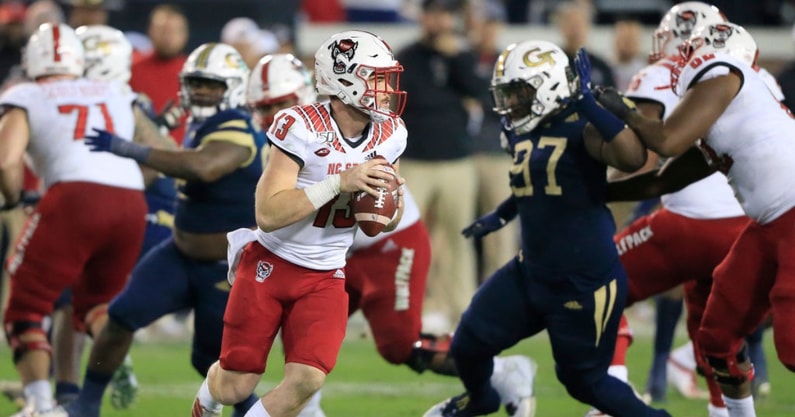 The uniform craze in college football can probably be attributed to Oregon's colorful combinations that were mixed and matched starting around the 1996 season. Now every team, No. 13-ranked NC State football included, tries to vary the combinations of the school colors on a seemingly weekly basis.
On Thursday, both East Carolina and NC State unveiled their different uniform combinations for Saturday's 2022 season opener for each team. The kickoff is scheduled for noon at Dowdy-Ficklen Stadium in Greenville, N.C., and the Pack is an 11.5-point favorite.
Each team is going with traditional colors for the in-state rivalry showdown.
Subscribe to The Wolfpacker today for a limited-time $1 deal for a year of premium access
NC State football uniform
For this game, NC State football is wearing white helmets and jerseys mixing with red pants.
That is actually an unusual combination for NC State to utilize for a road game. In fact, the last time that the Wolfpack broke out that some uniform combo was for a Thursday night road game at Georgia Tech on Nov. 21, 2019.
In the midst of a tough season, NC State fell 28-26 on the road, but positives emerge from that night. NC State rallied from down 21-3 at halftime to nearly win. More notably, that is the game that current Pack star quarterback Devin Leary credited with being his confidence-builder. Leary completed 19 of 31 throws for 227 yards and a TD in the loss.
Also having a big evening that night was then-freshman running back Jordan Houston, who rushed 16 times for 89 yards and caught 3 passes for 39 yards. Houston is expected to be the Wolfpack's primary running back this fall.
East Carolina
East Carolina is sticking true to the Pirates' school colors Saturday, going with purple helmets and jerseys and gold pants.
The lone time that the Pirates wore that combination in 2021 was when East Carolina hosted Charleston Southern. The Bucs were quarterbacked by Jack Chambers, who is now with the NC State football team.
Chambers that day accounted for more total yards by himself, 456, than East Carolina had as a team (388). He helped Charleston Southern jump out to a 14-0 first quarter lead before ECU scored 31 unanswered points to seemingly seize control of the game at 31-14 going into the fourth.
However, Chambers led a late push by Charleston Southern, who closed the deficit to 31-28. The Bucs though could not recover an onside kick with 1:49 left, and was pinned deep at their own 3-yard line by an ECU punt with just 37 seconds left, proving too much field in too little time.
Chambers has won the backup quarterback job at NC State for this fall, according to the depth chart that was released Tuesday afternoon.