NC State football schedule early snapshot: North Carolina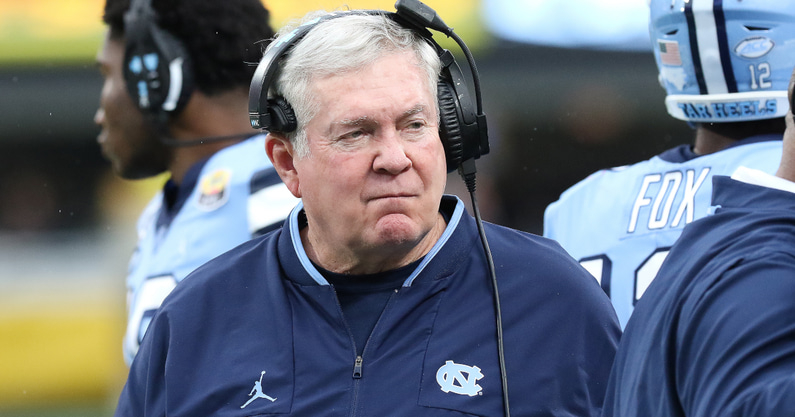 The NC State football schedule begins Sept. 3 with a road date at East Carolina. That's the start of four straight non-conference games to start the year. Then it's all ACC action from that point forward.
The regular season finale will be at North Carolina on Nov. 25.
With much anticipation for the upcoming Wolfpack season, here's an early look at North Carolina.
North Carolina in 2021
The preseason top-10 ranking busted in week one with a 17-10 loss at Virginia Tech, but few realized at the time the extent to which North Carolina would prove to be overrated.
Weeks three and four were emblematic of how the UNC season went. In Week Three, UNC cruised past a good Virginia team, 59-39. Just one game later, however, the Heels were crushed 45-22 at Georgia Tech, one of the weaker teams in the ACC.
UNC, against some of the best teams in the ACC, beat Wake Forest at home in a shootout (58-55), pushed Pittsburgh to overtime before losing on the road (30-23) and probably should have closed out NC State in Raleigh before collapsing in a 34-30 Wolfpack win.
Yet, North Carolina was uncompetitive in less-than-impressive double-digit losses at home to Florida State and in Charlotte against South Carolina in the Duke's Mayo Bowl.
The final results tallied up to a losing record both overall, 6-7, and in the ACC, 3-5.
Spring Outlook
Fourth-year UNC head coach Mack Brown made a few changes to his coaching staff, notably bringing in Gene Chizik as his defensive coordinator to replace Jay Bateman. North Carolina finished tied for 95th out of 130 teams in total yards allowed per game and 105th in points allowed in 2021.
Chizik is switching North Carolina's scheme, going with a four-man front vs. the three-man unit that Bateman incorporated, but the new coordinator should be working with a largely experienced unit.
Yet more attention is going to be focused on the other side of the football, where record-setting UNC quarterback Sam Howell left school early to enter the NFL Draft. The competition to replace Howell is expected to be decided in the fall between sophomore Jacolby Criswell and redshirt freshman Drake Maye.
The Heels must also replace three starters from an offensive line that was suspect last season, which allowed more sacks than any team in the FBS level outside of Liberty and Akron. Running back Ty Chandler, a 1,000-yard rusher, also exhausted his eligibility.
——
Talk about NC State football inside The Wolves' Den
Subscribe to our YouTube channel
Learn more about our print and digital publication, The Wolfpacker
Follow us on Twitter: @TheWolfpacker
Like us on Facebook