Jeremiah Charles chooses Nebraska, Huskers see him as a home run threat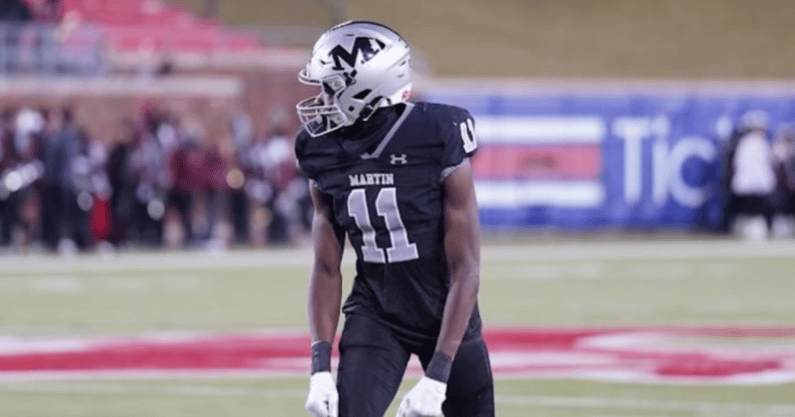 Arlington (Texas) Martin wide receiver Jeremiah Charles didn't play football before his senior year. The 6-foot-2 and 170-pound Charles was encouraged to play by his then-head coach, Bob Wager. Wager left Martin at the end of the season to join Matt Rhule at Nebraska. Charles is now headed to join his former head coach in Lincoln after he committed to the Huskers following his official visit to Nebraska.
"It's the energy, the vibe," Charles said. "Everyone there is so willing to help you. It felt like a second home to me on my trip. Lincoln is a great college town. I feel like I can go up there, get focused, and I can really get the job done. The coaches are great and the school is great."
Click here for a limited time, register, and get full access until the start of the next football season for only $29.99!
Jeremiah Charles could lead to some big plays for Nebraska
Nebraska made it clear to Charles that he could play an essential role in their offense. The Huskers told Charles about their plans to get him involved in early downs to take shots down the field.
"They want to take shots with me because I have speed. Nebraska said that they like me on first downs to go and burn the defensive backs and they want to take shots. They want to see if they can get home runs."
Charles and his Arlington Martin teammate, Ismael Smith Charles, had a basketball game on Friday and made it to Lincoln at about noon on Saturday.
"We got to visit the whole campus on Saturday," Charles said. "We saw the stadium, the construction on the new facilities, we ate, and then we met with our player host and had some fun."
Charles was hosted by a Nebraska legacy who told him things have already improved since Matt Rhule came to Lincoln.
"My host was Barron Miles, Jr. He was born in Canada and played high school football in Arizona. He told me the team wasn't good last year and that he's excited about the future with Nebraska under Matt Rhule. He really feels like things are on the come up and things are more connected now, and it's more like a family now."
Charles and Flores were in meetings for most of the day on Sunday ranging from academics to the coaches.
"On Sunday we got to go in and have meetings with the academic folks, talked to the wide receiver position coach, and also the offensive coordinator," Charles said. "We had a lot of meetings on Sunday. We also talked about NIL."
Jeremiah Charles loves everything about Nebraska
The official visit to Nebraska was the first time Charles visited Nebraska. He had some things in mind that he thought he might see while there, which all turned out to be false.
"That was my first time going to Nebraska. I thought Nebraska was going to be a cornfield, just sitting there, not a lot of people and I didn't think that the city was going to be very nice either. I am not going to lie.
"Nebraska looks good! I was so surprised by everything that I saw including the city of Lincoln. I am excited about it."
RELATED – Ismael Smith Flores commit: What does it mean for Nebraska?
The visit got a perfect rating from Charles. Looking back at the trip, he says that the facilities and the people at Nebraska made it special for him.
"It was a "10 out of 10″!" Charles said. "That's why I committed. The facilities are great! The people there are just amazing. They are all great."
Charles said that he and fellow Husker commit Ismael Smith Flores will be at the Nebraska spring game.
Never miss breaking news or another HuskerOnline article again. Click HERE to sign up for HuskerOnline's Daily and Breaking News Newsletters.