Three takes on Nebraska's addition of Walter Rouse from the transfer portal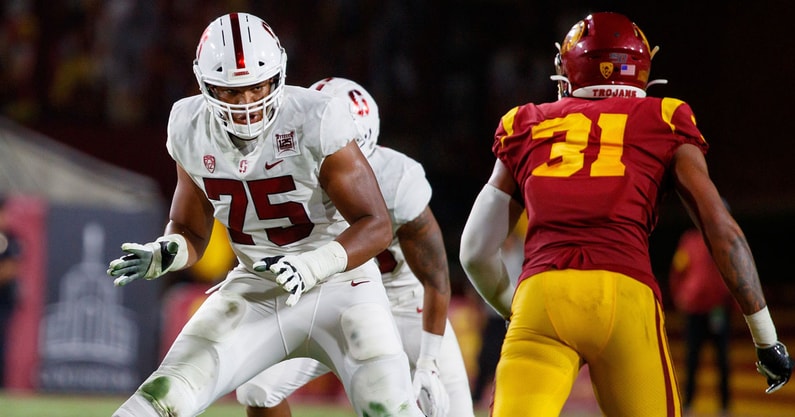 Nebraska continues to experience success landing players from the transfer portal. The latest example is former Stanford offensive tackle Walter Rouse, a 39-game starter for the Cardinal, who on Wednesday announced his intentions to join NU's program. Three quick takeaways:
Click here for a limited time, register, and get full access until the start of the next football season for only $29.99.
His presence will be felt immediately
At the very least, Rouse will challenge for a starting job. Some people will write him in as an immediate starter. We'll see.
The 6-foot-6, 318-pound Rouse, who has one season of eligibility remaining, played 2,552 snaps at left tackle for the Cardinal. Those 39 starts occurred over the past four seasons. There's a ton of value in such an abundance of experience. He'll know exactly what's expected of him both on and off the field. He's essentially a grown man. There's a ton of value in that.
Nebraska's tackle group is led by Teddy Prochazka. But the 6-foot-9, 320-pound sophomore has suffered season-ending knee and shoulder injuries, respectively, the last two seasons. Fellow sophomore Turner Corcoran made nine starts at left tackle this season, while another sophomore, Bryce Benhart, made 11 starts at right tackle.
It should be noted Corcoran has started games at guard. Could Benhart move inside to guard? I've been told a few times by coaches that he's much better at tackle than guard.
Nebraska adds commitment from Virginia transfer WR Billy Kemp IV
Nebraska's o-line may have much different look
Nebraska already has added Ben Scott, a transfer from Arizona State who was apparently brought in to take over as the Huskers' starting center in the wake of 2022 starter Trent Hixson completing his eligibility.
The 6-foot-5, 290-pound Scott started all 13 games for ASU at right tackle in 2021 and 11 games at center in 2022. He has logged 28 starts over the last three seasons and 1,776 total snaps in three seasons, according to PFF. As is the case with Rouse, his experience is critical. Experience and maturity in the trenches is especially vital.
Bottom line, overall competition in Donovan Raiola's group just picked up a few notches.
Rouse brings impressive credentials
Stanford led the nation this season with four first-team academic All-Americans, with Rouse among them. A native of Silver Spring, Maryland — near Washington, D.C. — Rouse carries a 3.52 grade-point average in biomechanical engineering and was named a finalist for the William V. Campbell Trophy, regarded as the Heisman Trophy of academics.
He was an honorable-mention All-Pac 12 choice for his on-field play
Before Stanford, Rouse was a four-star recruit at Sidwell Friends High (D.C.).
Yes, it all matters. It's all part of an impressive package.
Never miss breaking news or another HuskerOnline article again. Click HERE to sign up for HuskerOnline's Daily and Breaking News Newsletters.