Trev Alberts on radio: Matt Rhule "far surpasses" A.D.'s expectations in terms of work ethic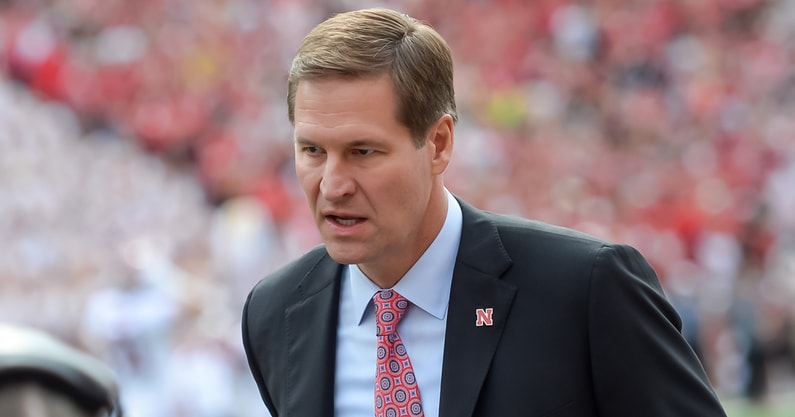 Nebraska athletic director Trev Alberts' monthly appearance Tuesday on statewide radio quickly turned into quite a lovefest for new Husker football coach Matt Rhule.
Of course, that's to be expected. Rhule has been on the job for two months. The honeymoon period is in full bloom.
"Well, it's been fun to watch his staff work," Alberts said. "It's been a challenge — when I say 'challenge,' that's the wrong word — it's been great for our administrative staff as well. This (coaching staff) is a group of workers. They're passionate. They've got a vision. They push. And they're leading the way culturally in terms of work ethic within our department. I think that's really important.
Click here for a limited time, register, and get full access until the start of the next football season for only $29.99!
"It all starts at the top. It starts with coach Matt Rhule. It's just been wonderful."
Alberts noted he spent Monday in Omaha with Rhule meeting with donors.
"His ability to communicate and connect with people is really remarkable," the A.D. said. "Obviously, it's a football coach, and he has to win. But you start with creating relationships.
"Those aren't just relationships with the administration, it's not just relationships with donors — it's relationships with high school coaches, it's relationships with prospective student-athletes and their parents. I'm just grateful to coach Rhule for his hard work."
During the school's hiring process that ultimately landed Rhule, Alberts mentioned to the coach that Nebraska "is a job you've got to work at."
"Let me tell you something, he's far surpassed my expectations in terms of work pace," Alberts said. "Man, it's been great to watch."
Alberts also appreciates that Rhule and his staff have wrapped their arms around Nebraska's storied gridiron tradition, noting Rhule has had multiple conversations with former Husker head coaches Tom Osborne and Frank Solich "just trying to pick their brains on what worked, and what didn't work."
At the same time, Alberts said, Rhule must be innovative in his approach to trying to win. The A.D. said he thinks Rhule and his staff can "thread that needle."
Other nuggets from Alberts …
*** He thinks Rhule recognizes the importance of having plenty of in-state players on the roster.
"It's our culture," Alberts said. "That's who we are. It's our toughness, right? Matt recognizes that, and I just love their investment into the state."
*** Alberts was asked about Nebraska's season-ticket request list for football.
"People are responding, and we're a little past where we've historically been," he said, nothing there's 6,700 requests from people who would like to be part of the season-ticket base.
"We think it's a really good sign as we get started here."
*** Alberts said he thinks Rhule will continue with morning practices, as was the case for Nebraska under previous head coach Scott Frost.
*** Alberts thinks the Spring Game on April 22 will be a worthwhile endeavor for everyone involved, including the fans.
"It's going to be a game," he said. "It's going to be football. I'm really looking forward to seeing what this version of Husker football looks like under Rhule's leadership."
*** Alberts said he "really enjoyed" working with former Big Ten commissioner Kevin Warren, who recently took over as the Chicago Bears' team president and CEO. Alberts noted Warren was in charge as the Big Ten reeled in USC and UCLA from the Los Angeles market. Warren also negotiated mega-deals with media and multi-media partners.
"I think it's a loss, I really do," Alberts said.
He added, "At a time of transformational change in intercollegiate athletics, finding a commissioner that can bring some unity of purpose and some cohesion and collaboration between the athletic directors and presidents — and still be innovative and forward thinking at a time of real disruption — it's going to be hard to find.
"But it's going to be critically important that we do."
Never miss breaking news or another HuskerOnline article again. Click HERE to sign up for HuskerOnline's Daily and Breaking News Newsletters.