Notre Dame DL/LB Kahanu Kia leaves program for two-year mission trip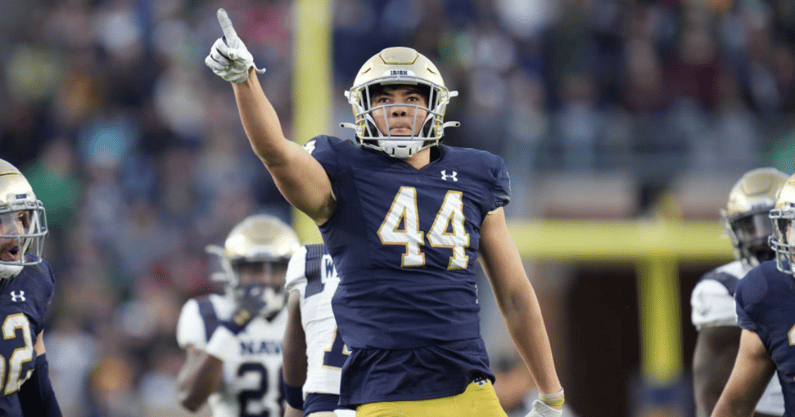 Kahanu Kia intends to one day be back in a Notre Dame Fighting Irish football uniform. But first, the rising sophomore defensive lineman/linebacker must take care of business near and dear to his heart.
Kia announced on Twitter Monday afternoon he will leave the Notre Dame program indefinitely to serve on a two-year mission trip for The Church of Jesus Christ of Latter-day Saints.
This trip was always in the works for Kia dating back to his recruitment out of Punahou High School in Honolulu. Kia will be serving in the Raleigh, N.C., mission.
"I would like to express my gratitude to Coach [Marcus] Freeman and the University of Notre Dame for allowing me to pursue my religious goals," Kia said in his social media statement. "In just six months I truly consider Notre Dame my home and I can't wait to come back to play for the Irish!"
Kia told BlueandGold.com's Mike Singer during his recruitment that the timing of his mission trip would be up to the coaching staff he signed with. Obviously, Notre Dame's head coach has changed since Kia signed. Freeman and Kia must've had recent discussions and decided now would be the best time for Kia to fulfill his religious obligation.
Kia only played 11 defensive snaps as a true freshman, but he made himself a fixture on special teams. Kia recorded 121 special teams snaps; 46 kickoff snaps, 35 punt return snaps, 33 kick return snaps and seven punt team snaps. He had seven tackles this season, four of which came in the Irish's win over Navy.
The former three-star recruit landed in South Bend from Hawaii in large part due to connections with Hawaiian players on the Notre Dame roster. Most notably, Kia and fellow linebacker Marist Liufau had a preexisting relationship. Kia also looked up to former Notre Dame linebacker Manti Te'o, who was of Hawaiian descent.
Kia would have likely been behind a few players on the depth chart had he not departed for his mission trip this year. Notre Dame lost strong-side defensive end Myron Tagovailoa-Amosa to the NFL Draft but returned "vyper" ends Isaiah Foskey and Justin Ademilola. Kia translates as more of a vyper, so he would have been way back on the depth chart had Freeman kept him on the defensive line.
At linebacker, which was an avenue for playing time for Kia given him being a bit undersized at 6-1 and 217 pounds, senior Jack Kiser is back at rover with senior Jordan Botelho patiently waiting for his big break.
Liufau is coming off his injury rehab to contend with JD Bertrand, last season's leader in tackles, for reps at Will linebacker. Rising sophomore Prince Kollie also is waiting his turn for a chance at either of those positions.
The Irish are losing starting middle linebacker Drew White, and Bo Bauer has not yet announced if he'll return to the team for a fifth season. If he does, he'll slide into White's position. If he doesn't, the Irish will lose their top two guys from the depth chart at Mike linebacker. Kia's departure is unrelated to that developing situation, though.
The Notre Dame depth chart in the front seven will obviously change quite a bit in two years. It'll be interesting to see where Kia fits in if and when he comes back from his mission trip.