Where Notre Dame stands in The Athletic's post-spring top 25 rankings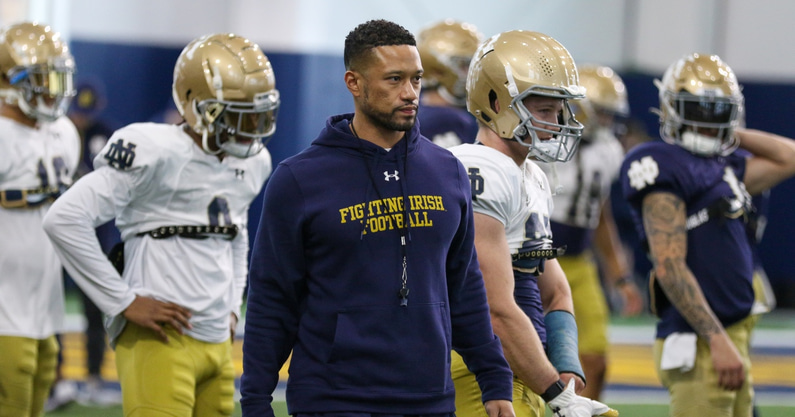 Anyone looking for a reason to move Notre Dame up in post-spring top-25 rankings had to evaluate the Irish's 15 spring sessions themselves. There was no splashy transfer addition in the past couple months whose mere commitment is worth a multi-spot jump. There was no five-star recruit who reclassified. Notre Dame's roster and coaching staff has barely changed since mid-February.
Those looking to assess the Irish's roster from afar lost their one chance to evaluate the player who might have more impact on the outlook this fall than any other. Quarterback Tyler Buchner missed the April 23 Blue-Gold Game due to an ankle sprain suffered a few days earlier. The favorite to claim the starting quarterback job will remain out of the public eye until Sept. 3 at Ohio State.
PROMOTION: Sign up for just $1 for your first year at Blue & Gold
The only media viewing of Buchner in an 11-on-11 setting came in a late March open practice. There might only be a couple of those in fall camp. He will remain wrapped in a cloak of mystery until taking the field for the opener, provided he beats out Drew Pyne for the job as expected. To believe in Buchner right now — and by extension, Notre Dame as a surefire top-10 team in 2022 — is to buy into the idea of his ceiling.
Count The Athletic's Stewart Mandel among the national media members who are buying Notre Dame stock, but not just because of Buchner. Mandel ranked the Irish as the No. 5 team in his post-spring top-25, moving them up two spots from his prior edition this winter. A defense that has the talent to be one of the nation's premier units is a big reason why. So is Buchner's supporting cast.
RELATED: Notre Dame football recruiting
• TE commit Cooper Flanagan moves Notre Dame official visit, talks recent trip
• 2024 four-star safety Ricardo Jones has unique connection to Notre Dame's Chansi Stuckey
"Marcus Freeman's first team will be loaded on defense, where returning stars defensive end Isaiah Foskey and linebackers JD Bertrand and Marist Liufau will be joined by former All-American Northwestern S Brandon Joseph and spring up-and-comers DE Rylie Mills and DT Howard Cross [III]," Mandel wrote. "Buchner gets to play behind a pair of future NFL tackles in Joe Alt and Blake Fisher and throw to standout TE Michael Mayer."
No. 5 is as balmy an outlook for Notre Dame as any other offseason top-25 has provided. The Irish are appearing in the top 10 of most of them, with a couple rankings in the teens. In Mandel's top 25, they're behind only No. 1 Alabama, Ohio State, Georgia and Utah. They climbed to the fifth spot by leaping Texas A&M, which stayed at No. 6, and because of Clemson's tumble from No. 4 to No. 11.
The Tigers' drop is quarterback-related. Returning starter D.J. Uiagalelei's 2021 struggles bled into the spring and threaten to dampen the impact of a potentially elite defense.
"Even with no Brent Venables, Clemson should field another dominant defense in 2022, led by the loaded front four of Xavier Thomas, Myles Murphy, Bryan Bresee and Tyler Davis," Mandel wrote. "Trenton Simpson is the next great linebacker. But last year's anemic offense looked no better in the spring game … Uiagalelei struggled, and Dabo Swinney seems to be in no rush to anoint five-star early enrollee Cade Klubnik."
Clemson visits Notre Dame on Nov. 5. The Tigers are one of four Irish opponents in Mandel's rankings, along with Ohio State (No. 2), USC (No. 13) and BYU (No. 25). The Trojans' addition of Pitt receiver and reigning Biletnikoff Award winner Jordan Addison was one reason they jumped seven spots from Mandel's last ranking. BYU was not ranked in his previous edition.
The Athletic's post-spring top 25
1. Alabama
2. Ohio State
3. Georgia
4. Utah
5. Notre Dame
6. Texas A&M
7. Michigan State
8. Michigan
9. North Carolina State
10. Baylor
11. Clemson
12. Oregon
13. USC
14. Ole Miss
15. Tennessee
16. Wake Forest
17. Oklahoma State
18. Pittsburgh
19. Houston
20. Arkansas
21. Kentucky
22. Minnesota
23. Cincinnati
24. Iowa
25. BYU