Noah Potter excited, grateful to get back to work after 'terrible' eye injury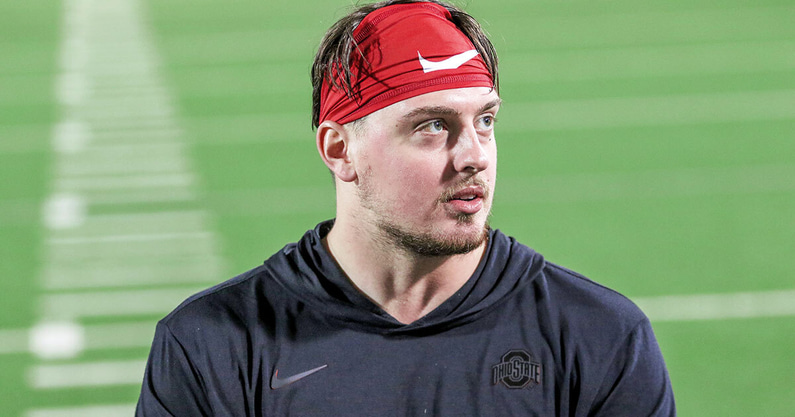 COLUMBUS — Noah Potter knew something was wrong when the doctors were huddling away from him.
The Ohio State defensive lineman had already been concerned enough to go get checked out in the first place after losing peripheral vision in his right eye. But the whispered conversation around Potter certainly wasn't helping put him at ease.
Eventually the diagnosis came back — along with a scary, immediate timeline to get it fixed.
Potter had a detached retina. And without surgery, there was a looming threat of losing sight in his damaged eye permanently.
"I had just had surgery on my foot, and when I was about to get back and ready to practice, I noticed I didn't have any peripheral vision in my right eye," Potter said after practice on Thursday. "I'm like: That's kind of weird. I went to get that checked out, and then they were talking me through it. My retina had torn off, it was detached. Don't know how it happened, probably through football. They told me I needed surgery on my eye or I was going to go blind probably in the next 30 minutes. I was like: Oh, crap.
"I don't recommend getting eye surgery. It was probably the worst experience of my life, it was terrible."
From feeling the stitches in an eye with a gas-bubble added to maintain its shape and a six-week recovery that had him laying on his side for extended periods of time, Potter clearly wasn't spending his season the way he envisioned.
After an impressive spring camp a year ago when he bulked up physically to move inside to play the three-technique role, Potter had already had his momentum thwarted when a lingering foot injury sidelined him ahead of the opener. And once he was nearing a return and a chance to solidify the depth on the interior for Ohio State, the far more serious issue popped up for the redshirt junior.
"It was really tough," Noah Potter said. "I had always been dealing with a foot thing for my whole college career, and I didn't know it until me and [defensive line coach Larry Johnson] looked at the film. He was like: Dude, what's up with your foot? I've never had surgery before. So going through it with my foot and then trying to get back from that — I was really excited to get back, because even in high school I haven't played on a healthy foot in a while.
"Plus, going inside [to defensive tackle], I was really excited. I was playing well. I was ready to bring that [energy], because you look at Tyleik [Williams] and Taron [Vincent], they bring different body types to three-technique. And with my quickness and pass-rush ability, I was really excited to get back into it. Now I'm just trying to get back to where I was before."
That process will likely take some time, and Potter understandably admitted there has been some rust through the first couple weeks of spring camp.
But the foot is fully healed. Potter is back in pads with the Buckeyes. And those doctors helped make sure that he's able to see clearly out of his right eye.
"I'm fully good to go now," Potter said. "But it was crazy. You just kind of take eyesight for granted, especially as a young person. Not being able to see out of it, it was humbling.
"Anything can change, and I'm just grateful for the doctors that they were able to fix it and get me back healthy."
The scary part is over for Noah Potter. Now he can again just set his sights on football and carving out a role for the Buckeyes.