Buckeyes climb in latest AP Poll after dominant win, chaos elsewhere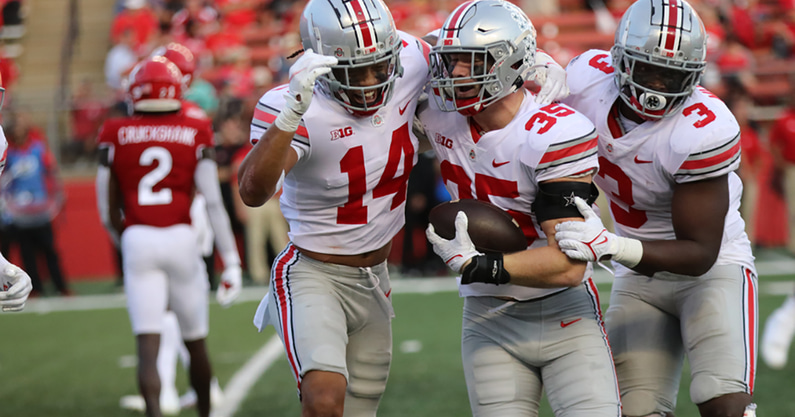 COLUMBUS — Ohio State went on the road and dominated an inferior conference opponent.
Just as the Buckeyes are supposed to do.
Ryan Day and the Buckeyes now have two Big Ten road wins down, and they've shown plenty of signs of growth in the month between the first and the latest.
Poll voters agree, moving Ohio State up four spots to No. 7 in the freshly-released AP Poll, which came out Sunday afternoon.
Alabama retained the top spot after an impressive win. The Crimson Tide are followed by Georgia, Iowa, Penn State and Cincinnati to round out the top five.
Ohio State can continue building, especially as chaos reigns across college football and top teams keep falling. The young Buckeyes are getting better with time, especially after winning another game on the road.
"It's good to get those two wins, for sure," Ohio State coach Ryan Day said. "With a young team, the way that this first half of the schedule played out, it's just what it was. We had to handle it. I think it made us stronger, though. I think it has. Going on the road and obviously handling a loss in the second game of the year and those type of things has made a stronger. And I think we can continue to build on this.
"That's been the whole goal. If we just get better week-in and week-out, continue to get these guys reps, keep coaching better and giving our guys the better opportunity to be successful, then hopefully we'll pick our head up here in about a month where need to be going in November."
The Buckeyes are on their way. It's just taking time, and they are starting to do what they are supposed do: blow out inferior opponents.
The full AP Poll can be found below.
Week 5 AP Poll (Oct. 3)
Alabama (53 first-place votes)
Georgia (9)
Iowa
Penn State
Cincinnati
Oklahoma
Ohio State
Oregon
Michigan
BYU
Michigan State
Oklahoma State
Arkansas
Notre Dame
Coastal Carolina
Kentucky
Ole Miss
Auburn
Wake Forest
Florida
Texas
Arizona State
NC State
SMU
San Diego State