Ohio State offense gets back on track in streak-snapping win over Iowa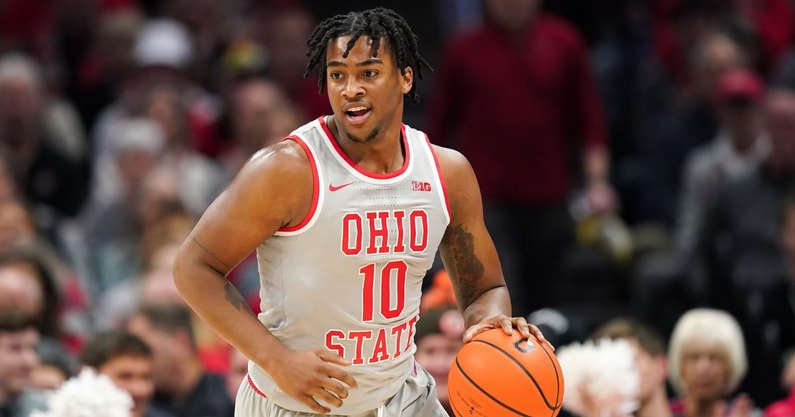 COLUMBUS — Facing a five-game losing streak and the danger of being lost in the Big Ten shuffle against Iowa Saturday, Ohio State turned to its defense to get its offense — which, at one point earlier this month, was first nationally in KenPom adjusted efficiency — back on track.
A pair of blocks by Buckeyes freshman center Felix Okpara and a deflection by Wright State transfer guard Tanner Holden did the trick.
The first Okpara rejection came at the rim when Iowa center Filip Rebraca tried to slam home a dunk. That led to a bucket from Oklahoma State grad transfer Isaac "Ice" Likekele in the post on the other end. Immediately after that, Holden tipped a pass from Hawkeyes guard Josh Dix. Sean McNeil was there for the interception and pushed the ball in transition, ultimately pulling up from NBA range for a triple.
It was the first of two 3-pointers from the West Virginia grad transfer guard during what transformed into a 12-0 Ohio State run. Because of that surge, the Buckeyes had as large as a 11-point lead in the opening frame. Iowa closed that gap, but what mattered more was that Ohio State's slumping offense had returned to form.
And that showed early in the second half when the Buckeyes exploded for nine straight points. They held off the high-octane Hawkeyes — the top-scoring team in the Big Ten — the rest of the way, en route to a much-needed 93-77 victory.
"Certainly needed it, like our next breath," Ohio State head coach Chris Holtmann said postgame.
"I thought we had some players that really stepped up and really made plays, and I thought we were a group that was really, really dialed in today."
Holtmann went with his fifth different starting lineup in the last six games. Sixth-year forward Justice Sueing and McNeil, both of whom had started the first 18 games of the season for the Buckeyes (11-8, 3-5 Big Ten), came off the bench. McNeil (dental emergency) was a game-time decision.
Freshman guard Roddy Gayle Jr. made his first career start, and, for the second time in the last three games, Likekele got the nod.
The opening half started and end the same way: with turnovers. Saturday's game began with a giveaway on each of the first four possessions — two for Ohio State and two for Iowa (12-7, 4-4).
Buckeyes star freshman forward Brice Sensabaugh was largely responsible for Ohio State's sluggish start. He committed three turnovers in the first 81 seconds of play. Then again, he was also responsible for the teams' first five points. It was a roller coaster first few minutes for Sensabaugh, who finished with a team-leading and season-high 27 points.
"I think I did a better job of hitting shots today," said Sensabaugh, who started the previous game at Nebraska 0-of-8. "Just calming down and watching the ball go in. Seeing it go in a couple of times early fueled me a little bit."
Iowa's leading scorer, Kris Murray, was getting it done early for the Hawkeyes, too. He scored five of Iowa's first eight points and registered a team-high nine in the first half.
But, in many ways, Likekele was the star Saturday. He notched his first double-double of the year with a season-high 18 points, not to mention 10 rebounds and even seven assists.
"I thought Ice's fingerprint was all over the game on both ends," Holtmann said.
It started with Likekele cashing in a wide-open 3-pointer from the right wing. The bucket stemmed from a loose ball after Likekele had tried to feed Ohio State center Zed Key down low. No one went to close out Likekele, who had scored a combined 10 points over the Buckeyes' last seven games and hadn't hit a triple all season.
Likekele made the Hawkeyes pay, and he proved to be the architect of a rejuvenated Buckeyes offense.
The next possession, he dialed up an alley-oop for Okpara. That was the start of the Buckeyes' 12 straight points that gave them a 25-15 advantage over Iowa.
The Hawkeyes didn't go away before intermission, though. There was a sequence down the stretch of the opening period where they hit four of five shots, including a 3-pointer from Payton Sandfort, turning what was an 11-point deficit into a one-possession game.
It stayed that way going into the locker room, particularly because neither team scored the final 3:06 of the first half. The culprit? Once again, turnovers.
Except, the Buckeyes committed only three giveaways in the second half — what went down as arguably the best 20 minutes of offense they have played all season.
Two minutes into the period, they embarked on a 9-0 run that gave them a double-digit lead they'd never surrender. That stretch featured a dime from Sueing to Likekele, a coast-to-coast layup by Likekele, plus an and-one turnaround jumper by Sensabaugh.
Iowa shot the ball well in the second half. Very well, in fact. The Hawkeyes were 48.4% from the field in the final frame, notably converting 7-of-15 attempts from beyond the arc. Murray tacked on 13 more points to round out the day with 22, and Rebraca wasn't far behind with nine second-half points.
Similar to the end of the first half, Iowa enjoyed a 4-of-5 sequence near the midway point of the second period. This time, though, the Hawkeyes knocked down a trio of 3-pointers.
The problem for head coach Fran McCafferey's team was that it couldn't stockpile stops like it could field goals.
Meanwhile, Gayle and Okpara were going to work. The freshmen teamed up for nine straight Buckeyes points. Gayle, in particular, enjoyed a breakout, nine-point performance.
The springy guard's defense has been ahead of his offense most of this season. Not Saturday.
He flexed that confidence with a thundering dunk, courtesy of a no-look pass from Likekele, putting Ohio State up 10 again, 71-61.
Shooting a blistering 64.7% in the second half, the Buckeyes coasted to their fifth 90-point game of the season. The only blemish on an otherwise perfect final frame was Key suffering a left knee injury in the waning seconds.
With the game already in hand, but a handful of Ohio State starters still in, the junior received a three-quarter court pass, spun and dunked on the wide-open basket. But he came up limping after the dismount. Moments later, he had to be helped off the floor by Buckeyes trainers.
At the moment, Holtmann doesn't believe the injury to be long term, and Key tweeted to Buckeyes fans that he's "good" Saturday night.
Injury scare aside, the 14-point victory was exactly what Ohio State needed.
"Obviously, it ain't been the brightest lately. Five Ls in a row," Likekele said. "But it just feels good and does something for the players and the team's confidence to just get back in that win column."
He later added: "It's only one win. It's really nothing. It's one win to a long season, long league game that we have ahead of us. But it could be the start of something. We're just going to look to build on it."