Matt Corral leads Ole Miss into record books with Egg Bowl win, vows to play in bowl game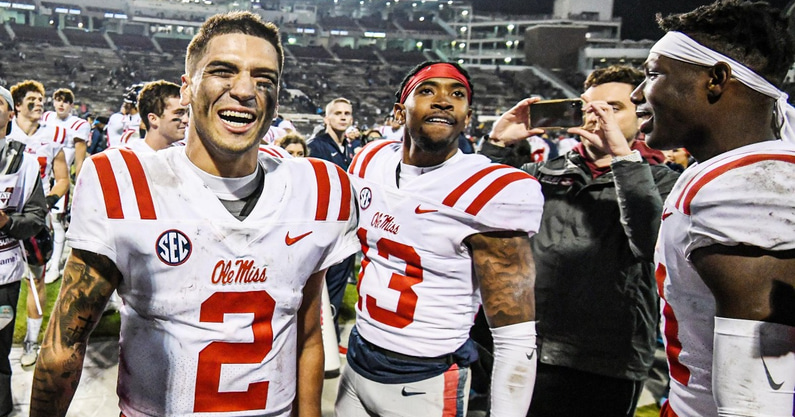 Superlatives are running low when trying to find new ways to describe Matt Corral's meaning to the Ole Miss football program.
The junior quarterback provided more reasons to expound on his importance in the No. 8 Rebels' 31-21 win over Mississippi State to retain the Golden Egg trophy.
Corral joins Eli Manning and Bo Wallace as the third Ole Miss quarterback to have multiple wins over Mississippi State since the early-2000s. That is just one way to see how important Corral's time in Oxford has meant and will mean when the history books are examined years from now.
The chance to etch his name in the history books was not known to Corral until after the Vanderbilt victory five nights prior. That was when the potential for a historic regular season was revealed by Kiffin.
"I didn't know that and Kiffin always preaches one game at a time, one game at time," Corral said. "He laid it all on us because this was our last game and what we had at stake was a New Year's Six bowl and we had this 10-win regular season. That really gave us extra motivation, for sure."
Corral has been the lifeblood of not just the offense, but the entire team, throughout this season.
Battling through two ankle injuries and missing zero games, Corral was the integral piece of the 10 wins. Thursday was no different, using his legs to keep drives alive for first downs and rushing for a touchdown.
Corral finished his final Egg Bowl with 234 passing yards, a touchdown and one interception — only his fourth of the season.
Thursday's performance made him a very safe bet to hoist the Conerly Trophy next week as Mississippi's top college football player. But, that is not what Corral is settling for, it is just another item to put on his mantle that provides further evidence of his importance to Ole Miss.
Following the conclusion of last season and coming off their Outback Bowl victory in January, Corral was looked upon as the catalyst to spark what has ended up as a historic 2021 regular season.
Without the quarterback buying into Kiffin and his staff first, the uphill climb to get the program back to national prominence would be much harder.
"They wanted it to come from me from the beginning, to be the believer as a leader," Corral said. "That's what I did. At times it wasn't easy, but I had my teammates to have my back like Braylon (Sanders), Chance (Campbell).
"Everybody in each position room, there's one or a couple leaders in each room. I think that was the biggest difference."
Projected as a first-round NFL Draft pick and one of the top quarterbacks to get taken off the board, Corral has his future mapped out.
There are those players who will tell their coach and teammates that they are now going to bow out and prepare for next spring's NFL Draft. Matt Corral does not have that same mindset.
With over a month before they will take the field again in a competitive game, Corral's focus and mindset is still with his current team and "brothers"
Asked if he will play in whatever bowl game Ole Miss ends up in, Corral's response was nothing short of what would be expected from him.
"I'm healthy. I'm playing."