All eyes on Ole Miss tight end Casey Kelly with Michael Trigg out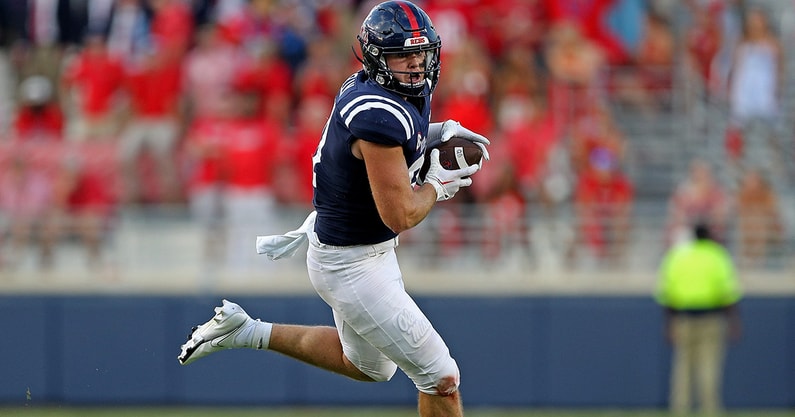 Casey Kelly might have expected to have the spotlight on him this season as the veteran tight end of the Ole Miss offense but as things happen with the transfer portal, plans change.
Michael Trigg entered the equation when he transferred in from Southern California with quarterback Jaxson Dart last January, adding a bit of intrigue into the equation.
Going from de-facto starting tight end for the 2022 season to a position battle of his own, Kelly took it all in stride. From spring practices through summer workouts and fall camp the junior tight end embraced the competition and formed a camaraderie with Trigg.
Two weeks ago the equation changed after Trigg went down with an injury, breaking his collar bone on a late-game catch against Vanderbilt.
Suddenly what was considered a stacked tight end room, once Trigg got going, turned into Kelly and a true freshman who is untested.
"(The workload) has definitely added up," Kelly said. "I just do what I'm told and go out to do the best of my abilities and perform the best I can."
Related: Ranking Ole Miss' remaining games this season
Kelly's production has not been very high as he was used primarily in the blocking schemes.
Through the first six games Trigg had become the go-to weapon at the tight end position with 17 catches for 156 yards and three touchdowns.
In comparison to Trigg's numbers Kelly has two catches for 16 yards with his longest being a reception for 13 yards against Auburn last weekend.
Never breaking through as the premier tight end playmaker in the SEC has led some to question if Kelly is just a blocking tight end and not a true threat as a receiver in the Ole Miss offense.
"I don't listen to any of that," Kelly said. "I'm going to come (up) with my own mindset and I'm not going to let other people's thoughts or actions dictate what I'm doing day-to-day. They don't see what I do on a daily basis and I'm not going to let that affect me."
Ole Miss plays at LSU on Saturday at 2:30 p.m. CT on CBS, which could jump start Kelly's season.
At least that is what it did for Kelly two years ago when the Rebels traveled to Baton Rouge. In the final game of the COVID-affected 2020 season Ole Miss wrapped up the regular season at Tiger Stadium on Dec. 19.
Kelly had only one catch but it went for 57 yards in his first start that year. A few weeks later Kelly had his best game of the season with six catches for 49 yards and a touchdown against Indiana in the Outback Bowl.
A similar positive performance in Death Valley this year could possibly be the catalyst for Kelly to play well the final four games of the regular season. Or at least there is some semblance of precedence in this theory.
"It was a good game," Kelly said. "We came out with the loss but we did have a chance to win it at the end. It was COVID year so there wasn't as many fans as there will be this year."
Watch Casey Kelly's full post-practice interview from Tuesday below.