Oregon surges in college basketball poll following recent roster news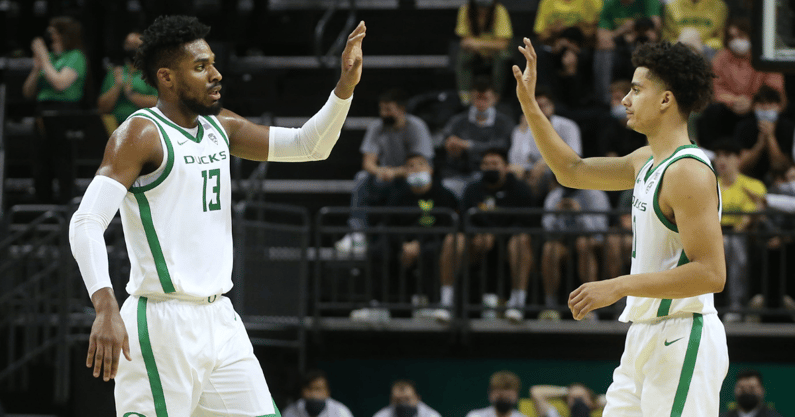 There were already plenty of reasons to be optimistic that the Oregon men's basketball program would take a step forward next season.
Following Thursday's news that the Ducks' leading scorer, Will Richardson, is returning for one more season in Eugene, though, the optimism surrounding Dana Altman's program is as high as it has been in quite some time.
On Thursday, CBS released an updated version of its preseason top-25 rankings, and Oregon saw the greatest leap of any team.
The Ducks were not ranked in the publication's previous poll after a tumultuous end to the 2021-22 season. In the latest rankings, though, Oregon surged all the way to No. 19.
Here's CBS's rundown on why the Ducks' stock is up.
"The Ducks' ranking is based on Oregon returning three of its top six scorers – among them double-digit scorers Will Richardson and Quincy Guerrier. A recruiting class featuring 5-star prospects Kel'el Ware and Dior Johnson, plus JUCO All-American Tyrone Williams and Colorado transfer Keeshawn Barthelemy, should allow Dana Altman to have a nice bounce-back season and possibly compete for what would be a third Pac-12 title in a four-year span."
Of course, navigating the Pac-12 won't be easy. UCLA brings back veteran stars Jamie Jaquez and Tyger Campbell and is welcoming two 5-star signees. The Bruins landed at No. 10 in CBS's rankings and have enough talent to make a final four run.
Arizona was the only other Pac-12 team to crack the top-25 and landed at No. 20, one spot behind the Ducks.
After an unlikely run to the national title game last season, North Carolina landed at No. 1. Houston, Kentucky, Gonzaga, and Arkansas round out the top-five.