Noah Cain says goodbye to Penn State family, commits to LSU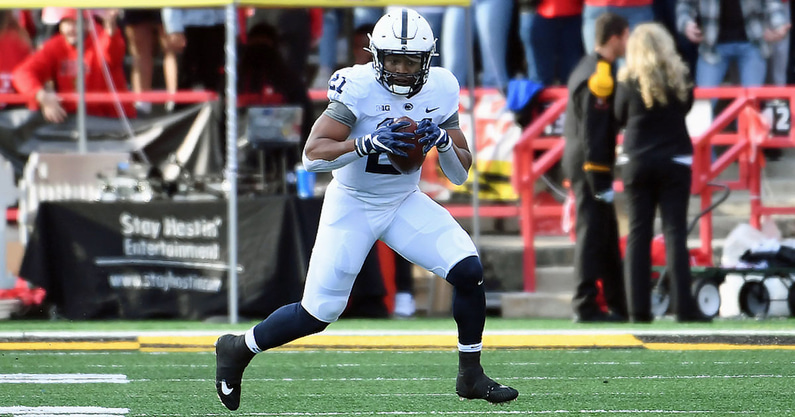 UPDATE 8:10 p.m.: After saying his goodbyes to Penn State, Cain announced his commitment to join the LSU football program Thursday evening.
Original story: One day after entering the NCAA transfer portal, running back Noah Cain publicly expressed his gratitude for his Penn State experience.
Releasing a statement via Twitter, the third-year Nittany Lion addressed it to "Nittany Nation," sending thanks, explaining his decision to transfer out of the program, and what's next in his football career.
Full statement:
"Nittany Nation. 
"Throughout the last three years I have been in Happy Valley, I have learned endless things about myself on and off the football field and I have been blessed with opportunities which I will carry with myself for a lifetime. Penn Slate has provided me with a myriad of opportunities athletically, academically, civically and socially. For that, I could never be more grateful. 
"I would like to thank the Academic Advisors, Counselors and Professors who supported and guided me through my academic endeavors these past three years. To be graduating with a Bachelor of Communications Degree in Journalism in May 2022 would not be possible without the untiring support of the professional team around me. 
"To Coach Franklin and the rest of the Penn State Football Staff, thank you for taking a chance on a young, Southern kid and welcoming me into Happy Valley with open arms. The memories I created with my teammates and the lifelong relationships I made along the way throughout my Penn State career will forever be enshrined in my heart. I will never forget December 19th, 2018 when I officially became a Nittany Lion. 
"I would also like to thank Nittany Nation, both students and alumni for the constant love and support. Playing in Beaver Stadium was always a dream of mine. Thank you for making my reality even better during each game. I am grateful for the opportunity afforded me to be a part of THE Penn State Community. 
"Penn State University has helped me grow in ways I could never repay. With that said, after discussions with my family and seeking God's guidance, I have entered the NCAA Transfer Portal as a Graduate Transfer with 2 years of eligibility remaining. At the end of this semester, I will be proud to call myself a Pennsylvania State University Alumnus. We Are!
"#21Out"
Next steps for Noah Cain
Cain's transfer out of the program ends a three-year run that, at least initially, showed great promise.
Arriving to Penn State from IMG Academy ahead of the 2019 season, Cain split carries but emerged as the top option in an Oct. 26 win at Michigan State. Rushing six times for 21 yards in the first quarter during the game, Cain suffered the first of two successive injuries that would then derail his career at Penn State.
Managing a return in the Cotton Bowl two months later, Cain notched 92 yards and two touchdowns on the ground on 15 carries, setting up what was expected to be an ascendant 2020 season.
It never happened, though.
In the absence of Journey Brown, who was forced into a medical retirement from football before the start of the COVID-19-amended campaign, Cain ran three times for 13 yards on the first possession of the Nittany Lions' game at Indiana. Injured on the drive, Cain wouldn't return the rest of the season, missing virtually the entire season.
Again rehabilitating into shape ahead of the 2021 season, Cain's fortunes were mixed in Penn State's disappointing 7-6 campaign.
Finishing the year with 106 carries for 350 yards and four touchdowns, Cain finished behind Keyvone Lee on the rushing chart for the season. He added 19 receptions for 114 yards.
According to Cain's statement Thursday, he will graduate from Penn State after the spring semester, at which point he will transfer to another program intending to play two more seasons of college football.