James Franklin has nothing 'new to report at this time' on his Penn State football future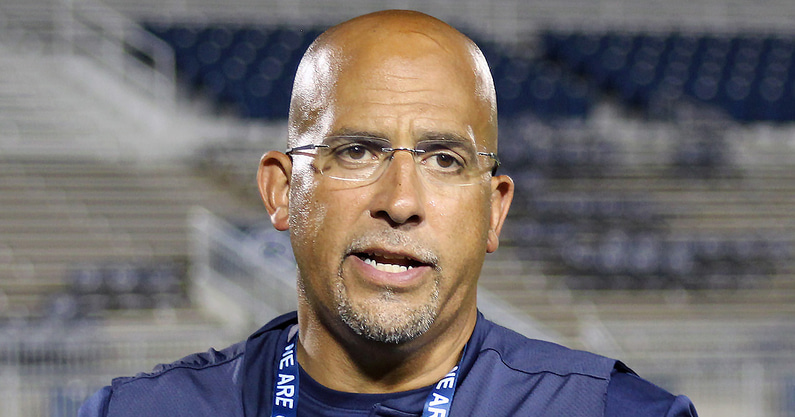 Penn State coach James Franklin hinted after Saturday's win over Rutgers that he might discuss his future with the Nittany Lions during his initial news conference of Michigan State game week.
He did not.
Franklin's first chat with the media is at 12:30 p.m. ET every Tuesday. It was not moved despite a PSU Board of Trustees Committee on Compensation meeting that is set for 3:45 p.m. today. Most assume that the lone undescribed "personnel matter" on the four-person group's agenda will discuss and vote on is a new deal for Franklin.
Of course, it might not be. But, the math adds up. Regardless, the timing of both events led to yet another exchange between the head coach and reporters that yielded no clarity as Franklin continues to be linked to other jobs.
Will James Franklin be the Penn State coach in 2022?
Franklin was asked Tuesday, "Are you going to be Penn State's football coach in 2022?"
"Yeah, fair question, and I get it," Franklin said. "I was hoping that I'd be able to have a conversation with you guys at this stage, but I don't have any new anything new to report at this time. Hopefully, I will get with you guys on Wednesday. I don't mean to keep kind of moving this thing out, but like I told you guys before, I want to make sure when I say things to you guys that you know it's completely transparent and totally honest, and, you know, there's still some moving parts going on.
"I understand the question, and again, I think last time I met with you [after the Rutgers game], I was hopeful that I'd be able to talk to you guys about it today in more detail."
Later, Franklin was asked if he could "at least clarify that [being the PSU coach next year], that's your desire on next year, or is that up in the air?"
He said:
"I think I have shown my loyalty and commitment over eight years. Obviously, this is much more complex than a yes or no question I get in these press conferences. I know a lot of coaches handle it differently, but when I speak, I want to be able to speak in detail, and I want to be able to know exactly what's going on.
"So you guys keep asking me these questions. It's not a simple yes or no answer. I think I have displayed and showed my commitment and loyalty over the last eight years."
What to watch for next
All eyes now turn to the 3:45 p.m meeting. It figures to be short and unanimous, whatever is decided. Again, there is a chance, albeit a small one, that the gathering has nothing to do with Franklin or Penn State football. But, that would be a shocking outcome.
Franklin next addresses reporters on Wednesday evening after practice. His usual appearance on the Penn State Coaches Show, which has been moved to tonight because of Thanksgiving, will be filled by the program's director of player personnel, Andy Frank, "due to this week's modified holiday schedule."
The current Penn State-James Franklin deal
Franklin's current deal was agreed to and announced in December 2019 and runs through 2025. However, the term sheet was not released until late February 2020.
In other words, don't be surprised if something is approved Tuesday with little in the way of specifics. Also, not everything that is negotiated shows up on that sheet. Franklin's money does, of course, but other commitments made by the university have not in the past, even if they are a keystone part of any agreement.
RELATED: Penn State tasked with choosing height of football's winning future: Column
As for what those things might be, the eighth-year leader of the Nittany Lions did not go into specifics.
"I'll get into that in a little bit more detail here soon," Franklin said. "I'd like to focus on Michigan State as much as possible. But, I think it just aligns, and I actually think [the media has] the ability to tell this story and the media has the ability to educate as much as anyone, and I've said it really since I got here.
"We have to compete the 364 other days a year with everything. Everything matters."