Penn State coach James Franklin speaks for first time on new 10-year contract: Everything he said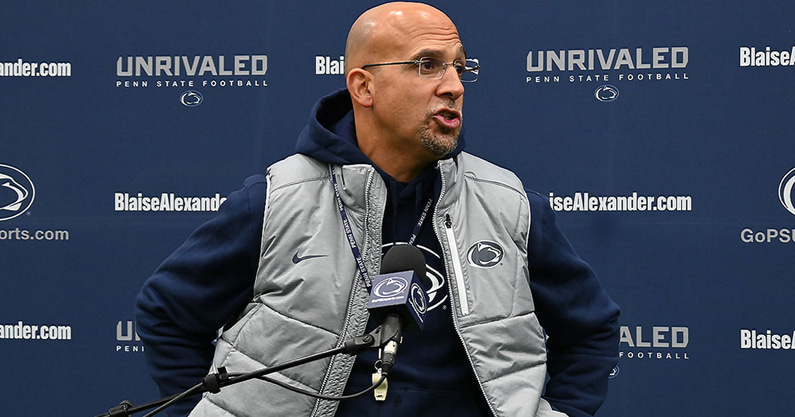 Penn State coach James Franklin made his first public comments about his new 10-year contract with the Nittany Lions on Wednesday night.
The leader of the Nittany Lions (7-4) spoke after practice on Wednesday night. It was his last media session before his team travels to take on Michigan State (9-2) Saturday at Spartan Stadium. It is the regular season finale for both programs.
"Well, it's kind of the same thing that I've said before," Franklin said. "This is home. I've coached all over the country in every major conference. In the NFL, as well. I had an opportunity to come back home which is very unusual. But, I'll be honest with you. For me, it's about people. I'm committed to these kids and the staff and the people that I've gotten to know in the community, I'm very fortunate and blessed.
"I'm one of the few guys in this profession that, my children have a chance to go to the same school from the time they're in elementary school all the way through high school and possibly college. It's very unusual in our profession, and I'm more than just a football coach, I want to be a good dad too."
What else did the Penn State coach say about his longterm contract?
All quotes below are from Franklin Wednesday night. All references to "you guys" are in reference to the media in attendance.
– On the timing of the new deal with Penn State
"I told the team a week ago, and the recruits probably a week ago. It's kind of been a moving target, but I wanted to make sure they heard first. And, the leadership council knew the whole time."
– On the process of getting from the first conversations with Penn State nine weeks ago to now:
"The reason it was nine weeks is because it wasn't really about me. That was kind of the first conversation, about me, and the conversation kind of led into, these are all the things we need to discuss. Conversations between Sandy [Barbour], and the chair of the [Board of Trustees]. Obviously, with the transition in the president's position, Dr. Barron has been phenomenal, but with the transition, that played into it as well. But, just making sure we can do everything we possibly can the other 364 days.
"That was the biggest thing. It wasn't really the process. That is kind of how it goes. The hard part was you guys asking and me not being able to answer the question, because it was still lingering out there with some of the details. To be honest with you, I wasn't really kind of involved in that.
Sign up for Blue-White Illustrated and On3. It's $1 for an entire year of access. Click here to learn more.
– On the goal of the buyout
"It wasn't really a goal. I don't really have an answer for that because I really didn't have kind of a goal going into it. I think what happens is there's kind of standard practice out there that the administration uses and that the people that handle this contractual type stuff do, but I didn't really have a goal going into it."
– Was it about being able to renegotiate in the future?
"There probably was a little bit about things tied to timeline on facilities, but this was a model that they felt they were more comfortable with.
"That would probably be a better question for somebody else. I don't feel like, I don't know if I can necessarily answer that. Probably a better question for somebody else. But yeah, I think that played into it."
– How does this help for the longterm?
"To be honest with you, that's what it's all about. That's what the whole contract is about. And, I do think you guys have heard me talk for a long time about alignment. Alignment with the board and specifically the chair of the board, you know, the president of the university, the athletic director, the head coach; you guys have heard me talk about that for a long time. So that's what it's all about.
"It's about alignment and truly competing with the people that we expect to compete with. I also think it's important for you guys and I don't want this to come off the wrong way. I hope it does not. But, you know, I don't really want to answer those questions. I'd love for you guys to do your own studies because all the information is out there. It's pretty readily available."
– How far away is Penn State from where he wants it to be?
"Obviously you guys talk about those things. You know the things that we have done. When you compare our conference, when you talk about New Year's Six bowl games, you talk about New Year's Six wins. When you talk about beating some of the people in this conference that we've beaten that other people haven't, when you talk about a Big Ten championship, and there haven't been too many other people get big 10 championships.
"I think we've done some good things but obviously there's a next plateau that we have to get to, and I recognize that. I'm committed to doing whatever possible to help us get there, with the help of a lot of other people that it takes that's back to the alignment."
– On the need for philosophical changes at Penn State
"We have to get a little bit better. One of the things we talked about a lot of the time is when you're outside of the top-25 and haven't been in, and you're trying to get in, that's a battle and it's hard. Then, once you get into the top-25, then it is challenging to get up into the top-10. Once you get up in the top-10, that gap between the top-10 and the top four to five programs, that's more of a significant gap than any of those other stages we talked about. And then again, to get to that, that national championship. It's all of it. Recruiting, it's facilities, it's scheme, it's coaching. it's fundamentals, it's strength and conditioning. It's nutrition, because you can lift all you want, but if you don't have a training table, you know, all those things. It all matters.
"Sleep, the dormitories; it's everything. If you get three or four more blue-chip recruits a year, over four years, that adds up. Once they get on campus, if you have everything that you need to develop them, those little margins that you're scratching and clawing for, they all add up.
"We've been really close in some games. We've been really close in terms of getting into the Playoffs, been ranked pretty high at times, we've got to be able to sustain it and that's what this is all about. I'm glad we can finally talk about so many things in more detail. I do think sometimes it's better coming from you guys than it is for me. Like I said all the information is pretty available."
Discuss Franklin's comments inside The Lions Den for just $1. That gets you an entire year of access to Blue-White Illustrated, On3, and the latest Penn State football conversations.
Reviewing Franklin's deal
Franklin's contract runs through 2031. It will pay him a guaranteed $85 million should he be on the sideline for Penn State for his entire term.
The agreement also includes performance escalator bounces for performance. That includes bowl games or a College Football Playoff appearance, among other things. There is also a one-time $800,000 guaranteed payment boost for all years following a national title, should Penn State win one.
Read the full contract terms here.
As for his buyout, that information for both sides is as follows:
If James Franklin leaves voluntarily to assume NFL/collegiate coaching position, he would owe PSU (CY means contract year):
CY2022 – $12 Million (prior to 4/1/22); $8 M (through 12/31/22)
CY2023 – $ 6,000,000
CY2024 – $ 2,000,000
CY2025 – $ 2,000,000
CY2026 – $ 1,000,000
CY2027 – $ 1,000,000
CY2028 – $ 1,000,000
CY2029 – $ 1,000,000
CY2030 – $ 1,000,000
CY2031 – $ –
If Penn State fires Franklin without cause it would owe him his current year base/supplemental/loan salary times the number of years remaining on his contract.