Penn State set to name Mike Rhoades next basketball coach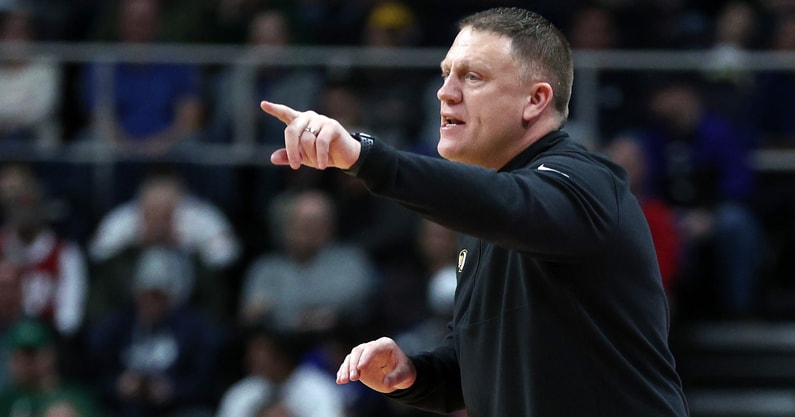 Penn State men's basketball is set to hire its next head coach. Athletic director Pat Kraft has targeted VCU's Mike Rhoades to fill the vacancy and Rhoades has, in principle, agreed to take the Nittany Lions' offer, according to multiple sources. His deal will need to be approved by the Penn State Board of Trustees compensation committee, which is scheduled to meet at 4:30 on Wednesday afternoon.
The move replaces Micah Shrewsberry one week after the second-year head coach left for Notre Dame. This, following a run to the Big Ten Tournament final and into the Round of 32 in the NCAA Tournament for the Nittany Lions last season.
A product of Lebanon Valley College as a player, Rhoades cut his teeth as an assistant coach with Shaka Smart at VCU during a run of unprecedented success for the Rams. An assistant in 2009, then promoted to assistant head coach in 2011, Rhoades helped propel the program to a run of seven-straight NCAA Tournament appearances.
Leaving for Rice to become the Owls' head coach in 2014, Rhoades compiled a 47-52 overall record. He landed back in Richmond, Va, for a second stint at VCU in 2017 coming off a 23-12 campaign. Back with the Rams since then, Rhoades has delivered a 102-53 overall record. He's won the Atlantic 10 twice, both in 2019 and 2023. And he won the A10 Tournament this past season, completing a 27-8 overall season. As a 12-seed in this year's March Madness, VCU dropped a 63-51 decision to 5-seed St. Mary's. It just wrapped his 19th season as a head coach.
Penn State next steps
Rhoades will be taking over a Penn State program that will look dramatically different for the 2023-24 season. Penn State loses six players to graduation, including the team's top five scorers last season. That also includes an All-American in Jalen Pickett. And it includes the first- and second-leading 3-point shooters in the Big Ten in Seth Lundy and Andrew Funk. The Nittany Lions also had two players enter the transfer portal last Wednesday, and another since then.
On top of those eight exits, the three-man Class of 2023 of has disintegrated. Carey Booth, Braeden Shrewsberry, and Logan Imes have all sought releases from their signed letters of intent. To date among the freshman class, however, only Evan Mahaffey entered the transfer portal on Monday. Still able to return, he is one of Penn State's five true freshmen from last season – Kanye Clary, Mahaffey, Kebba Njie, Demetrius Lilley, and Jameel Brown.