Live Updates: SMU vs. Tulsa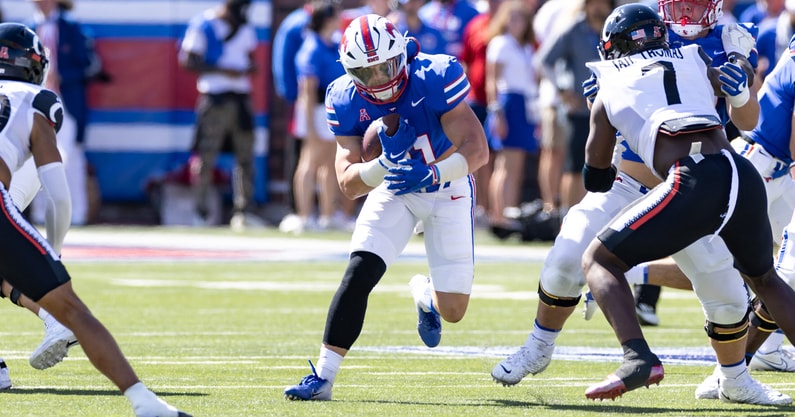 SMU is on the road at Tulsa playing on ESPN+, looking to get back to .500 on Saturday. Follow along below for live updates from the game as the Mustangs look to bounce back.
Want to join the conversation with SMU fans? Subscribe for a 7-day FREE trial and jump on the live message board chat here.
SMU opened up with the football and Preston Stone hit Rashee Rice for a 75-yard touchdown pass to put SMU up 7-0. After a defensive stop, SMU went right back down the field thanks to a big play by Rice once again. Rice set up a short TD run for Tyler Lavine.
Tulsa marched right back down to open the scoring on their side of things. Isaiah Epps caught a 7-yard score from Brin Davis to cap a 8-play, 75-yard drive.
After both teams stalled, the Mustangs opened the 2nd quarter scoring with Lavine's second touchdown of the game. Rice set that up with a 15-yard catch and run. Lavine put the Mustangs up, 21-7.
In the middle of the 2nd quarter, Stone went down with a shoulder injury and Kevin Henry-Jennings entered the game at quarterback. Jennings led the offense on a field goal drive to end the half. SMU led at halftime, 24-7.
2nd half of SMU-Tulsa
Tulsa took the ball and rolled right down the field to the SMU 1-yard line. On 4th and 1, Braylon Braxton scored, but SMU blocked the point after attempt. Tulsa's 8-play, 75-yard drive drive took just 3:04 off the clock.
Henry-Jennings led SMU down the field with clutch throws to Austin Upshaw and Ben Redding. Aided by a facemask penalty on Tulsa, Lavine punched it in for his third rushing touchdown of the game to make it 31-13, SMU. SMU answered with a 6-play, 74-yard drive in 2:16.
Tulsa once again answered, making it a 31-20 ballgame after Brin Davis ran his way into the endzone on two big runs on the drive. SMU went on an 11-play, 75-yard touchdown drive capped by a Rice touchdown to make it 38-20.
SMU wasn't done scoring though as Elijah Chatman picked up a fumble and scored for the Mustangs to make it 45-20.
Keylon Stokes made a huge play for Tulsa, scoring on a 50-yard touchdown pass to close the gap to 45-27 early in the 4th quarter. SMU took over and moved into Tulsa territory, but Henry-Jennings fumbled and that gave Tulsa the ball back.
Tulsa was once again able to get the ball in the endzone with a completion to Jordan Ford out of the backfield. That closed the gap to 45-34. Tulsa drove down the field, but SMU's defense stepped up in the redzone to force a field goal, which Tulsa missed.
From there, SMU's offense milked the clock and the defense go another stop. The Mustangs closed it out to win, 45-34.