Second annual Gamecock Central Kickoff Party at Steel Hands Brewing set for August 20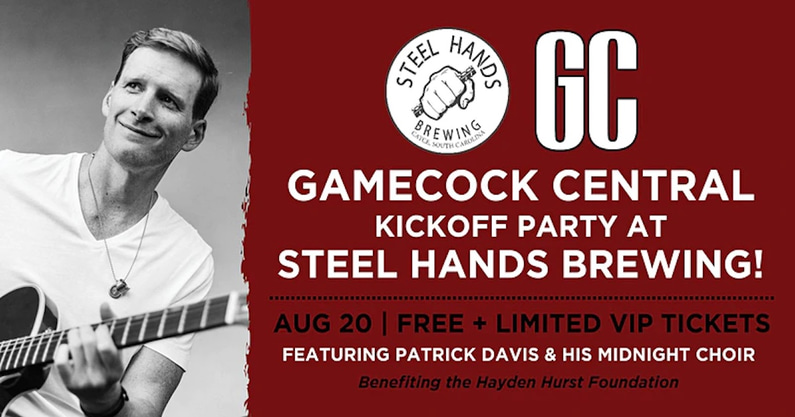 With one of the most anticipated seasons in recent South Carolina football history on the horizon, Gamecock Central and Steel Hands Brewing are excited to welcome Gamecock fans everywhere to our second annual kickoff party on Saturday, August 20!
This year, Gamecock Central and Steel Hands Brewing are thrilled to introduce a charity element to the event as the party will benefit the Hayden Hurst Family Foundation.
Like last year's landmark event, there will be live music, special guests, coach appearances, and more as we go even bigger and better in Year 2.
The on-stage program will officially begin at 4 p.m. but fans are invited to come out for our "pregame" before the main show from 1-4 p.m. in the hours leading up to its start.
"Steel Hands and Gamecock Central teamed up last season to throw one of the best preseason parties in Carolina football history and we can't wait for you to join us as we try to top it this year!" Gamecock Central's Wes Mitchell said. "There will be even more drinks, even more guests, even more music and even more fun this year at our second annual kickoff party! South Carolina fans everywhere are welcomed to come out and celebrate with us as we get ready for one of the most highly anticipated football seasons in recent memory!"
Like last year's event, the on-stage portion of the party is free but VIP tickets will feature included food, drink vouchers, and an opportunity to meet some of our featured guests to soon be announced.
As Gamecock Nation prepares for season two of the Shane Beamer era, Gamecock Central and Steel Hands Brewing can't wait to welcome South Carolina fans everywhere to the event.
The event will feature live music from Camden native and University of South Carolina graduate Patrick Davis and His Midnight Choir plus appearances from former football players, Gamecock-related giveaways and maybe even a few special guest appearances!
A portion of the proceeds from event sponsorships and VIP tickets will benefit the Hayden Hurst Family Foundation. The Foundation's mission focuses on helping youth, military, and others in need regarding their health, education, and wellness. Hayden Hurst is a former Gamecock football player who broke numerous records and earned the nickname "Garnet Thor", but not before battling depression.
Hayden's story is one of a phoenix rising from the ashes only to prosper in his professional football career and be selected in the first-round of the NFL Draft by the Baltimore Ravens. After two great seasons in Baltimore, Hayden was traded to the Atlanta Falcons in 2020 where he still plays today. He
and his family continue to run the Hayden Hurst Foundation that is making an impact on youth mental health in South Carolina and creating programs to help support, train and place K9s that have been specially trained for veterans in need.
"We can't wait to host this event and welcome a wave of garnet back to the taproom. This event is not only cause for celebration with football season just a few short months away but offers the opportunity to bring mental health awareness to the big stage, Steel Hands Brewing Marketing Director Ashley Lambert said. "Hayden's story is extremely powerful, and we look forward to supporting the Hayden Hurst Family Foundation's mission to come together to break the stigma on mental health."
For more information on this event or how to sponsor it, please visit the event website.
For information on the Hayden Hurst Foundation, please visit HaydenHurstFoundation.com.
Steel Hands Brewing opened December 1st, 2018 in Cayce, South Carolina and is the largest production brewery in the Midlands. The 15,000 square foot facility offers a 30-barrel production brewhouse, custom designed taproom, full restaurant on-site, outdoor gathering space, and live entertainment stage. Our story is inspired by the surrounding hard-working industries that have shaped the founding principles of commitment to quality products, and we are dedicated to serving the highest quality beer with exceptional consistency. We are an advocate to the locate movement and we aspire to support the community and its organizations. For more information, visit our website at SteelHandsBrewing.com.
Founded in 1998, GamecockCentral.com is a fully-credentialed media outlet dedicated to in-depth, accurate, and professional coverage of South Carolina athletics and recruiting. An online home for thousands of fans, Gamecock Central combines unrivaled coverage with a passionate community.
For media requests, please contact Ashley Lambert at [email protected] or [email protected]
Looking for a place to stay for the party – or for 2022 Gamecock football home games? Check out special rates at our sponsor locations – The SpringHill Suites Columbia Downtown/The Vista and the Courtyard Columbia Downtown at USC! Lock in your special rates today by booking!