Gamecocks' hosting chances tumble in anemic offensive day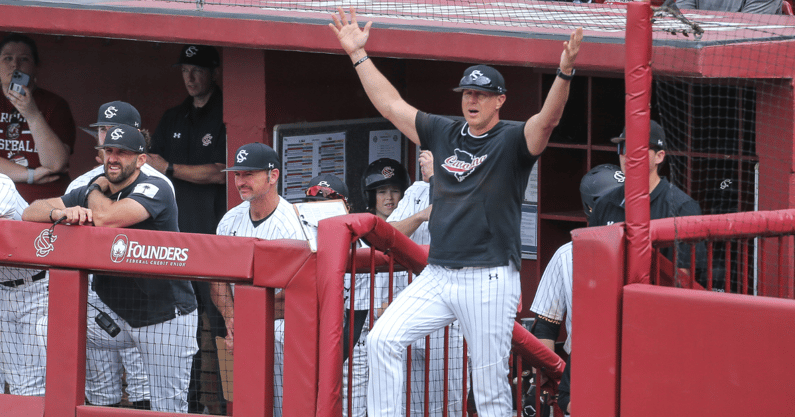 South Carolina had everything in front of it heading into an elimination game Thursday against Texas A&M. 
A win and it all but guaranteed the Gamecocks a top 16 seed in next week's NCAA Tournament. A loss and that resume takes a big hit with other teams surging and making their cases. 
With all of that on the line, South Carolina's offense turned in a slothful one-hit, shutout performance in a 5-0 loss to the Aggies to muddy their hosting chances.
[Win a mini helmet autographed by Spencer Rattler]
"I think if you look at the full picture, if you look at everything in totality, yes, absolutely. If I had watched us over the last few weeks, I would say, yeah, I understand why there are concerns," Mark Kingston said. "So I'm not going to stand up here and bang the table for why I think we should be a host. I think the numbers speak for themselves very loudly."
The on-paper resume for the Gamecocks certainly screams regional host. They have a top-10 RPI and a third-ranked strength of schedule paired with 20 Quad wins. It's why Kingston trumpeted his team as a "slam dunk" to host after the Tennessee series. 
But a deeper dive definitely puts the Gamecocks on the bubble. And an anemic offensive showing Thursday didn't help their cause. 
South Carolina (39-19) finished the season losing 13 of its last 18 games and won just one of its final seven SEC series, including a split against LSU. 
[Get 6 months of GamecockCentral for only $29.99!]
The Gamecocks went 3-5-1 in nine series against teams D1Baseball projects to make the NCAA Tournament as of Thursday. They're 14-15 in 29 games against projected tournament teams, including going 0-2 in the SEC Tournament against them.
In the case they ultimately do get a host seed, it will be for the entire body of work and less about the last month of the season.  
"If a game in March is as important as a game in April, as important in May, then yes, it's pretty clear the metrics scream that we should be a host. If we're not, I think that's a penalty to the SEC," Kingston said. 
"And it's a penalty to us for saying that there are too many teams that are good enough to host in the league, and we're not going to reward all the teams that have earned it. If that's the case, then I think that's a topic for another day."
[Get South Carolina baseball news and analysis via email]
Entering Thursday, D1Baseball had South Carolina on the right side of the hosting bubble as the No. 15 overall seed. That was before the Gamecocks mustered one hit–an infield single–all day against a depleted Aggies pitching staff. 
After scoring nine runs against Georgia on Tuesday, the Gamecocks finish the SEC Tournament scoring three runs on six hits in 18 innings with 21 strikeouts. South Carolina hit 1-for-20 with runners in scoring position over that stretch. 
"We don't have time to be concerned. We have to get to work and try to recapture that magic. We just do," Kingston said. "We need to get all those guys that were really important to make us an elite team. We need to get them back going all at once, and we've got one less week to figure it out." 
[Become an NIL supporter of your South Carolina Gamecocks!]
South Carolina will find out if its hosting Sunday night (8:30 p.m. ET) then the draw in the NCAA Tournament Monday at noon. 
The Gamecocks might be at another disadvantage in another way, too. D1Baseball projects seven other SEC teams projected to be top 16 national seeds. 
"So an SEC athlete, they should not be penalized for being on one of the teams that deserve and has earned a spot in the NCAA tournament," Kingston said.
"If you're rewarding the best teams that have earned it since February, what was it, 17th or 18th, then I think you should put the 16 teams that have the most metrics. If the metrics matter, let's use the metrics. And if the RPI matters, let's use it. If the strength of schedule matters, let's use it, if quadrant 1 wins matter, let's use it. If last 10 matters and that's against us, fine. But if you're using it, use it. Use it all. Use it all and come up with the best 16."