South Carolina basketball 3-2-1: Three things we know, two questions, one prediction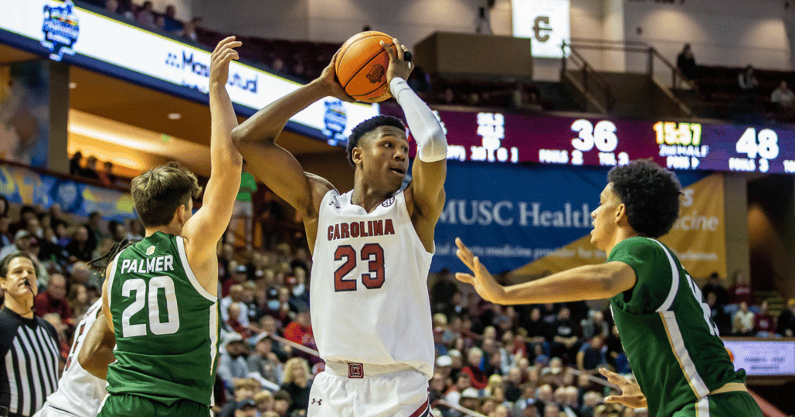 It's been a bumpy week for South Carolina basketball, but the Gamecocks now turn their attention to a holiday game at the end of the week. 
After going winless in the Charleston Classic, South Carolina returns home to play USC Upstate in what the Gamecocks hope is a get-right game before two games on the road.
With the season just over two weeks old now, here's a look at three things we know, two lingering questions and a prediction for the next few weeks. 
•Subscribe to Gamecock Central until the 2023 football season for only $10!
Three things we know about South Carolina
It's important to keep perspective–Yes, it's easy to get very frustrated on a three-game skid, all to mid-major programs. But let's lay out just where South Carolina is right now. The Gamecocks are replacing over 80 percent of production from a team last year that missed the NCAA Tournament. 
No returner averaged more than 15.6 points per game (12.8 in SEC play). The four impact transfers–Hayden Brown, Benjamin Bosmans-Verdonk, Meechie Johnson and Ebrima Dibba–haven't played extensive minutes at the high-major level. Dibba, a big piece, is out for the year and the other three have dealt with injuries in the preseason. 
And the three teams who the Gamecocks played were all veteran groups. Colorado State and Davidson made the NCAA Tournament last year and Furman played Paris's UTC team last year in the SoCon title.
And the focal point of the roster is 17 years old and still adjusting to the college game. Yes, fans want to see winning basketball, but it's important to keep perspective on where things are currently. 
South Carolina has to improve defensively–Perspective or not, where the Gamecocks have been from an individual defensive perspective is nowhere good enough. South Carolina ranks 93rd nationally in adjusted defensive efficiency at 97.3 points per 100 possessions. The Gamecocks rank 286th in effective field goal percentage against, 293rd in defensive turnover rate and 302nd in three-point defense. That has to improve. 
GG Jackson has shown those flashes–While it was a tough week in Charleston for South Carolina, the Gamecocks' five-star freshman certainly showed growth. In three games he scored 51 points (17 points per game), hauled in 22 rebounds had three blocks, four steals and one assist. He shot 21-for-45 from the field (46.7 percent). He did have 10 turnovers and shot 4-for-14 from three, which both have to improve, but the flashes were there.
•Get your 'Cocky Top' t-shirt from BreakingT!
Two questions about the Gamecocks
Can the Gamecocks get healthy?
The Gamecocks aren't really at full capacity right now, dealing with a big injury to starting point guard Meechie Johnson. He missed Friday's game against Davidson and struggled in the two games he did play. Paris said Sunday Johnson is a shell of what he was in the preseason right now and needs to get healthy. If South Carolina does want to continue improving, getting someone like Johnson healthy is a big key. If healthy, it helps out someone like Jacobi Wright, who won't be asked to play 35 minutes a night and he can play his role better. 
Can South Carolina be a balanced attack?
This season can't just be the Jackson and Chico Carter show. South Carolina needs to find more offense than what's currently there because teams are going to begin running defense to take away Jackson and Carter's three-point shooting. Getting Johnson healthy will help, but the Gamecocks need more from other guys like Brown, Bosmans-Verdonk and others. Getting Josh Gray settled into a role offensively could also be big. 
One South Carolina prediction
The Gamecocks will finish at least .500 over the final eight non-conference games
Will South Carolina go undefeated in its final eight non-conference games? Probably not, and KenPom doesn't think so either. But the Gamecocks do have a solid shot at least at finishing even. 
•Win a framed print of 'The Taunt' (D.J. Swearinger)
The Gamecocks are given at least an 80 percent chance to win three of the final eight before SEC play: home games against USC Upstate, Presbyterian and Eastern Michigan. That leaves winning one of the other four against George Washington, Georgetown and UAB on the road, Western Kentucky at home and East Carolina at a neutral site. 
KenPom gives the Gamecocks a slight edge against George Washington, East Carolina and Western Kentucky. The Gamecocks might not win all of them, but getting at least four wins is certainly attainable.