VIDEO: Eric Douglas looks ahead to final season in Garnet Trust Exclusive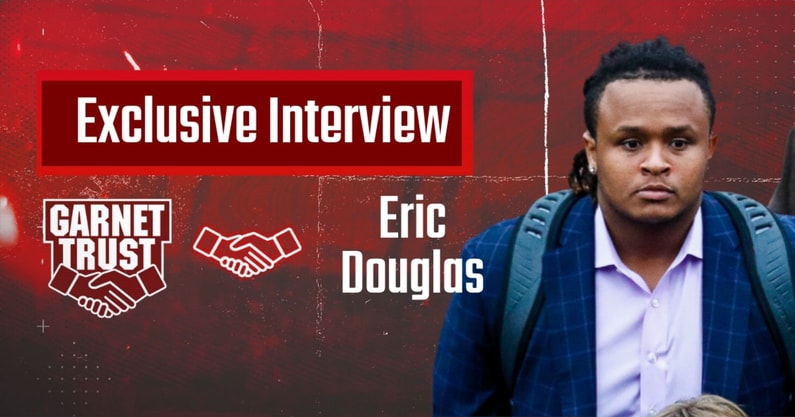 Super senior offensive lineman Eric Douglas is just months away from beginning his final season with South Carolina football and the Charlotte native was Gamecock Central's latest guest for a Garnet Trust exclusive interview.
Garnet Trust interviews are presented first to Garnet Trust supporters before then being posted on all of Gamecock Central's platforms.
Douglas has started all 23 games at center for South Carolina over the last two seasons and has appeared in 44 total games in his Gamecock career.
The 6-foot-4, 297-pounder discussed his feelings going into his final season in Columbia and much more.
"Just building every day, becoming a better person — not only just a better football player — but just becoming a better person every day," Douglas said. "That's the main thing that I'm looking forward to this last year. I feel like everything just happens for a reason and everything is going to come to fruition this year just because of how it's supposed to be. You've just got to wait. What's delayed is always not denied, so that's how I look at things.
"I feel like everything happens for a reason and I just feel like this is perfect timing. I'm just ready for this last year, ready to go out there with my brothers one last time, and go out there and give it our all and bring some excitement again back to Columbia this year."
Earlier this year, Douglas linked up with Garnet Trust, Columbia Firehouse Subs and The Boys and Girls Club to host a zoo day for local kids.
"We're here today, just to give back for the kids," Douglas said then. "The Boys and Girls Club is something that's special to my heart, growing up, just being a part of it, and these past two years just being in the community, working with them as an internship, just being around the kids and helping set up things, I knew that one day if I was going to start my own foundation or have my own ideas, I knew the first people I was going to call was the Boys and Girls Club. That's really why we're here, is just giving back to the kids and letting them know, 'You've got a big brother in us.'"
Check out the full video with Douglas below…
Watch the show on YouTube | Apple Podcasts | Spotify | App Store | Google Play | Spreaker | TuneIn Radio | PlayerFM | Stitcher | RSS feed
About Garnet Trust
Garnet Trust is the platform for fans and businesses to connect with and support University of South Carolina student-athletes through name, image, and likeness deals. Garnet Trust is not affiliated with the University of South Carolina. Learn more about Garnet Trust at https://www.garnettrust.com/.