VIDEO: Exclusive Arkansas game week discussion with Darius Rush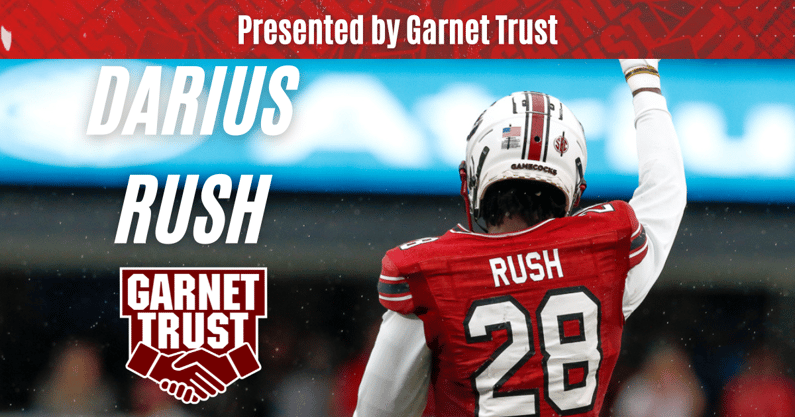 One year after taking over as a starter at cornerback, South Carolina football's Darius Rush is now a veteran contributor to the Gamecocks' secondary.
In the latest in Gamecock Central's series of exclusive interviews — presented by the Garnet Trust — we sat down with the Kingstree, S.C. native to look back on the Georgia State game and look ahead to Arkansas.
The interview, conducted earlier this week, takes fans into the life of a South Carolina student-athlete including what a game week looks like for Rush and his teammates, his thoughts on the atmosphere at Williams-Brice on Saturday, and more on his journey to becoming a starter.
Like what you hear from Rush? Check out the Completely Cocky podcast with Darius Rush and Josh Vann.
Check out the video below and, as always, fans can support South Carolina student-athletes via NIL deals like this one by joining the Garnet Trust.
Special: Get one year of Gamecock Central for $10 or one month for $1!
Click here to subscribe to the Gamecock Central YouTube page for FREE!
Garnet Trust completes over 100 deals with Gamecock athletes
Over 100 South Carolina Gamecocks student-athletes have signed NIL (name, image, and likeness) deals with Garnet Trust, according to a statement released by the organization on Tuesday.
"In less than one year Garnet Trust has created NIL deals for over 100 student-athletes," said Jeremy Smith, who directs operations for the company. "These deals have creating a wealth of unique content and connections between Gamecock fans and Gamecock athletes. We still have a long way to go, but are very excited about where we are and where we are going".
Originally launched in November 2021, Garnet Trust has in the past signed multiple Gamecock football players to long-term content and endorsement agreements, such as Spencer Rattler and Jaheim Bell. South Carolina baseball pitcher James Hicks recently inked a multi-month agreement as well.
Back in April, the company launched Connect, a program offering all current Gamecock student-athletes a name, image, and likeness deal. Components of the deal include compensation for licensing of athletes' NIL for profiles, social media posts, and commissions on referrals for new Garnet Trust members.
Last weekend, several South Carolina Gamecock athletes such as GG Jackson, MarShawn Lloyd, Dakereon Joyner, and Jovaughn Gwyn were contracted on behalf of the organization to appear at the Gamecock Central Preseason Kickoff Party.
Other notable Gamecock athletes to have completed deals with Garnet Trust in the past include Catherine Barry from women's soccer, women's basketball's Raven Johnson and Olivia Thompson, baseball pitcher Will Sanders, tennis star Sarah Hamner, and a host of players from the football team.
South Carolina fans that join Garnet Trust gain access to different perks based on individual member level, including exclusive athlete experiences and content.
The organization has been featured in Sports Illustrated, Sports Business Journal, and FiveThirtyEight.
Here is more on this South Carolina NIL collective, according to the organization's website:
Garnet Trust was launched in November 2021 with one mission in mind: to connect South Carolina fans with their favorite athletes like never before. Through Garnet Trust's usage of legal and compliant name, image, and likeness deals, fans gain access to unique experiences while athletes in Columbia are able to capitalize on the NIL era in ways that actually build their brands. Deals have included content offerings, social media promotions, in-person and virtual events, and charitable causes.
Garnet Trust also bridges the gap between brands and Carolina athletes, using industry media knowledge to unlock highly-engaged audiences for the businesses while allowing athletes to make the most of NIL opportunities.