Shane Beamer explains decisions to go for fourth downs, aggressive mindset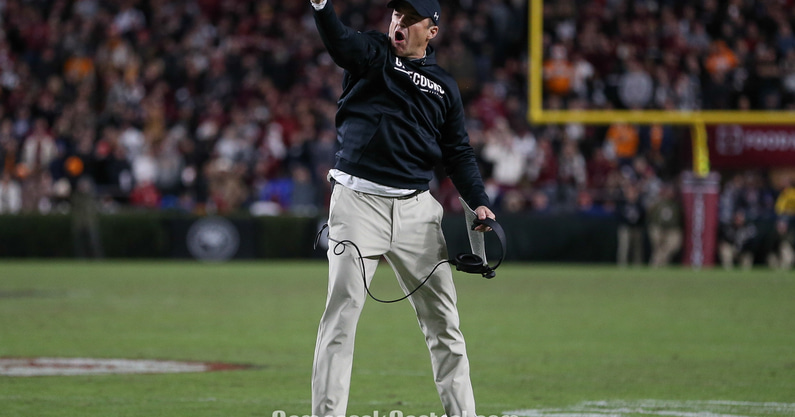 Shane Beamer knew if South Carolina was going to beat Tennessee, the Gamecocks weren't punting in typical punt situations. 
They didn't, coming out of the gates firing with two fourth-down conversions in what was ultimately a blowout win. And it might be something the Gamecocks continue this week against another top-10 team. 
• Subscribe to Gamecock Central until the 2023 football season for only $10!
"A lot of it honestly is gut feel and how the game is going," Beamer said. "Every game is different as well, but we always want to be aggressive and attack." 
The Gamecocks set the tone early, going for it on fourth-and-short in their own territory and also opting to go for it again on a fourth-and-six even after getting backed up because of a penalty. 
South Carolina converted–Spencer Rattler finding Juice Wells–and scored a touchdown on the drive.
"It was a point of emphasis going into that game. Fourth-and-mediums, we're going to go for it most of the time," Nate Adkins said. "I think it was just a tone-setter for the rest of the game." 
And aggressive is something Beamer wants to be, Tennessee the prime example. Since taking over, the Gamecocks have gone for 38 fourth downs the last two seasons. 
This season, South Carolina is 10-for-18 on fourth-down conversions. It's the second-best rate (55.6 percent) since the 2013 season. Only the 2020 COVID season (73.9 percent) was better. 
• Get your 'Cocky Top' t-shirt from BreakingT!
But that mentality of not only wanting to go for it but also being efficient on it is something that trickles over to the entire offense. 
South Carolina is averaging 6.3 yards per play on fourth down this season. The Tennessee game was just a microcosm of the entire season. 
"Coach Beamer told us we're not going to be punting the ball like these other teams have, especially versus Tennessee," Rattler said. "It's like we were a down ahead. We were thinking second down on third down. We had confidence."
Having that extra down to work with gives offensive coordinator Marcus Satterfield another down to work with and an extra play call. For instance, his play call on a third and medium might shift if he knows the Gamecocks will try on fourth down afterward. 
South Carolina doesn't go for it on every fourth down, not ranking near the top of fourth down attempts in the SEC. But Beamer and his staff pick their opportunities closely, and it paid off Saturday. 
And the Gamecocks might have to be just as aggressive Saturday on the road at Clemson. 
• Win a framed print of 'The Taunt' (D.J. Swearinger)
"It's probably game plan and gut feel," Beamer said. "I'm not knocking (analytics), but we don't go by the book necessarily. It's more opponent, game plan, and gut feel. I told the team Friday night we're not going to punt five times or a lot on fourth and manageable. That's something strategically we needed to do. You're not going to beat Tennessee by punting six times."