Jimmy Lindsey expects 'everyone' in defensive line room to make big jump during camp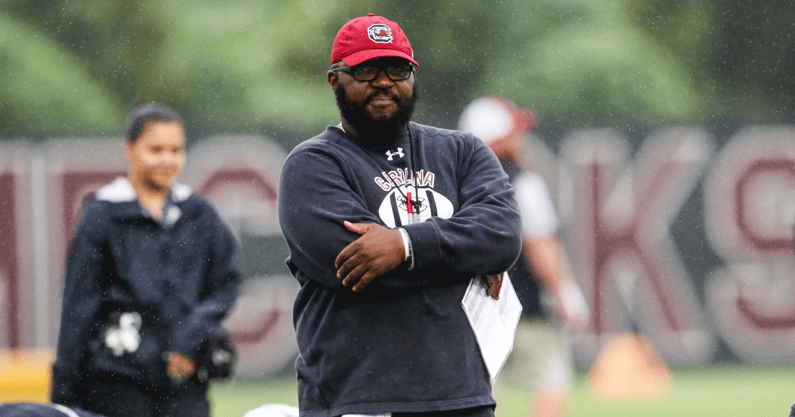 South Carolina defensive line coach Jimmy Lindsey said that he was driving down Interstate-22 when get got the news. 
That's when he got the call and found out Zacch Pickens elected to come back for another year.
"It was a great feeling to know that we have him for one more season," Lindsey said. "Excited to work with him because I think Zacch has a ton of potential. I think he'll only get better."
[Preseason Camp Offer: Subscribe to Gamecock Central and get 50% off an annual subscription!]
The return of Pickens is no doubt a welcome one, especially after the likes of JJ Enagbare and Jabari Ellis took their talents to the professional levels. 
Pickens is coming off a 38-tackle, four-sack year. He's already received his preseason flowers and All-SEC honors. The defense is expecting him to be a safe bet to be an anchor of the defensive line.
The senior has made it clear that he plans to only get better during fall camp. Heading into his final year of college ball, and Lindsey is holding him to that standard. 
"My expectations, first and foremost, is for Zacch, to be a great teammate and set the standard for how we want to play by the way he practices, by the way he pays attention in meetings, asking questions, the way he prepares," Lindsey said. "I think all those things coincide with being a really good player."
[Join us Aug. 20 at Steel Hands Brewing for the 2022 Gamecock Central South Carolina football Kickoff Party]
South Carolina's defensive line is still loaded with talent, even excluding Pickens. Lindsey had trouble pinpointing just one player that he expects to take a jump this season. 
"I expect everybody to take a jump, to be honest with you. I think I think the guys have really made tremendous strides," Lindsey said. "As long as we just work as a group and a unit and work to play really good team defense and do our job…I think the whole group can improve from where we were last year."
Shane Beamer spoke highly of Alex "Boogie" Huntley last week. Pickens doubled down on that praise of Huntley, and others, during USC's media day. 
Huntley is expected to have an increased role this year. He saw playing time in all 13 games last season and was named to the 2021 Freshman All-SEC.
South Carolina's stregnth staff is one of the reasons the redshirt sophomore made the progress he did.
"Last year's summer I made huge strides. This year's summer I think I made another huge stride. So I'm really excited about this year and how the whole defense is gonna play. Because everybody's made such big strides as a team," Huntley said.
Huntley emphasized the importance of the connection between the defensive linemen in order for the unit to be successful. 
"We just get closer and we know each other more, our connection is better, because connection on the D-Line is really important, knowing that that guy is gonna do the right thing you know, you can do some independent stuff together," Huntley said. 
"So I think we've all come together not only mentally just as brothers, but physically too. We're a lot more disciplined, a lot stronger, faster, so it's really good."
Younger and less established players will have to also make that vital connection. Lindsey doesn't expect it to be hard for the younger guys to merge into the fold. 
"It may not be perfect every day with our younger guys. But that's where we're fortunate in our room to have a group of guys that have a ton of experience," Lindsey said. "So hopefully our guys, our young players, our freshmen out of here, they gravitate to that and they continue to improve daily."
With talking season officially on its way out the window, both Pickens and Huntley are very excited to finally hit the practice field and show everyone just how good the South Carolina defensive line can be.
"I feel like the D-line is gonna do their best to do whatever they got to do," Pickens said. "I already know the d-line is going to be good, but it's time for other people to see."