Way too early look at South Carolina's 2023 schedule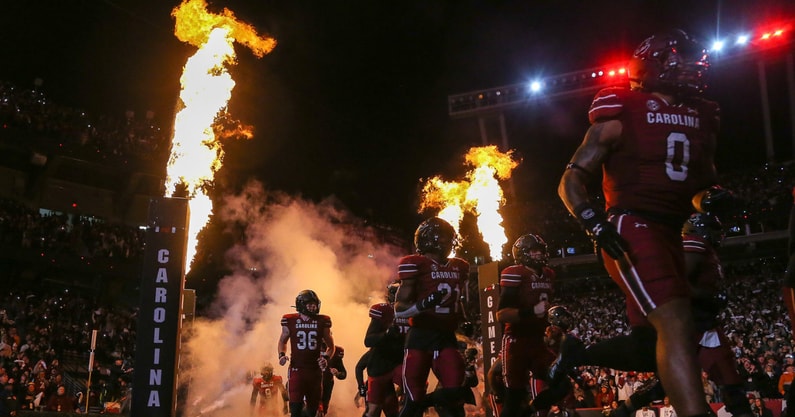 South Carolina's season might have ended less than a month ago but it's never too early to look ahead to next year.
The Gamecocks will play six teams that lost five or more games in 2022 and four opponents that won at least 10 games. Their bye week comes on Oct. 7.
There could be some early season hiccups but there's also a chance that they take a leap forward in Shane Beamer's third year.
Sept. 2 vs. North Carolina (Charlotte, NC)
What better way to kick off the new season than with a quarterback duel between Drake Maye and Spencer Rattler. Each will have a lot to play for, as they'll try to impress NFL scouts right out of the gate.
Besides that, the Gamecocks and Tar Heels could enter the year ranked in the AP Top 25. The last time these teams played in 2021, Beamer had mayonnaise poured all over him. It should be a highly-contested battle at Bank of America Stadium, home of the Carolina Panthers.
Sept. 9 vs. Furman
South Carolina heads back home for its home opener against a talented FCS opponent. The Paladins won 10 games in 2022, reaching the second round of the FCS playoffs.
The Gamecocks should be able to take care of business but it would be wise to not take Furman lightly. It could be a nice "tune-up" game before a tough three-game stretch to close out September.
Subscribe (for free) to the Gamecock Central YouTube page
Sept. 16 at Georgia
Depending on how South Carolina fares in its first two games, this could be the most anticipated matchup of week three. Georgia has been in a league of its own, winning two straight national championships.
Since the Gamecocks pulled off an upset win in Athens in 2019, the Bulldogs have outscored them 133-36. Most will probably write off the Gamecocks entering this game but it's important to keep in mind that Georgia is losing a lot of talent from those championship teams. This will be the next key win they'll be looking to obtain moving forward.
Sept. 23 vs. Mississippi State
It won't be the same without Mike Leach and his notorious Air Raid offense on the opposing sideline. Mississippi State enters year one with new head coach Zach Arnett, who took over after Leach's tragic passing last December.
There's inevitably going to be a different looking offense for the Bulldogs with a new head coach and offensive coordinator calling plays. However, Will Rogers returns for his fourth season under center as one of the better quarterbacks in the country.
South Carolina will need to limit Rogers in the passing game to have a chance. It's going to be a must-win game for the Gamecocks if they are to have a successful season.
Sept. 30 at Tennessee
Make no mistake, Tennessee will look to avenge last year's upset loss to the Gamecocks. It took the Volunteers out of the playoff race and ended Hendon Hooker's season.
Back in the comfort of Neyland Stadium, the Gamecocks will need to come ready to play. Tenessee's offense will look different with Joe Milton taking the reins at quarterback. He closed out last year with a three-touchdown outing against Clemson in the Orange Bowl.
South Carolina beat the Volunteers with early scoring the last time around. It's going to take another Heisman level performance from Rattler to leave Knoxville with a win.
Oct. 14 vs. Florida
Every game is a must-win but every game in the month of October is incredibly winnable. South Carolina comes off its bye week to play an inconsistent Florida squad.
Granted, last year was head coach Billy Napier's first season. Things should improve for the Gators in 2023. But in order for the Gamecocks to get to where they want to go, they need to win this game.
Get South Carolina football alerts and analysis via email
Florida killed South Carolina in the run game last year, rushing for 374 yards. Montrell Johnson Jr. and Trevor Ettiene, who combined for 261 of those yards, will be back for the Gators. Keeping them one dimensional without an experienced quarterback is a must.
Oct. 21 at Missouri
It feels like it's time for the Gamecocks to get one of the biggest monkeys off their backs by beating Missouri.
South Carolina hasn't won versus the Tigers since 2018. Last year could've ended that skid, but the Gamecocks fell 23-10.
Outside of Georgia, Missouri is the only other SEC East team that Beamer hasn't beaten in his coaching tenure. That has to change in year three.
Oct. 28 at Texas A&M
One monkey the Gamecocks finally got off their backs was beating Texas A&M for the first time in 2022. Can they do it again?
The short answer could be yes. Despite having highly-ranked recruiting classes every year, the Aggies have underperformed. They went 4-8 last year and could struggle again. South Carolina is only getting better and shouldn't slow down against a team its clearly better than.
However, it's never easy playing at Kyle Field. The Gamecocks have never beaten Texas A&M on the road. Maybe this year can bring an end to another losing streak.
Nov. 4 vs. Jacksonville State
South Carolina will play at home throughout November, which could prove to be pivotal. It starts the home stand against Jacksonville State in the battle of the Gamecocks.
Outside of a blowout loss to Tulsa, Jacksonville State had a great 2022 and finished 9-2. This should be a very winnable game for South Carolina, who could be firing on all cylinders at that point.
Nov. 11 vs. Vanderbilt
The Gamecocks haven't lost to Vanderbilt since 2008. The Commodores have always been considered to be the bottom feeders of the SEC and rightfully so.
Things might slowly be changing in Nashville, though. Vanderbilt showed promise after winning two conference games against Kentucky and Florida in November. It put up a good fight against South Carolina, only losing 38-27.
Become a NIL supporter of your South Carolina Gamecocks
Nov. 18 vs. Kentucky
Kentucky's season fell into a downward spiral after losing to South Carolina last October. The Wildcats lost four of their last seven games.
In what will be an entertaining late season matchup, Kentucky will be looking to dominate the Gamecocks. But the Wildcats will have to replace Will Levis and Chris Rodriguez Jr. on offense. This gives South Carolina an advantage with many of its weapons returning.
If Kentucky wins, it's going to be interesting if Mark Stoops trolls Beamer by wearing the "stupid sunglasses" that he once despised during last year's SEC Media Days.
Nov. 25 vs. Clemson
The Palmetto Bowl has gotten much more interesting with South Carolina's reemergence into the national spotlight.
Clemson, who was in line to reach the College Football Playoff, lost to the Gamecocks at Memorial Stadium last year. It wasn't the outcome the Tigers were expecting.
It should be another battle when both teams play each other again. One advantage that South Carolina will have is playing at home. It's been a decade since its beaten Clemson at Williams-Brice Stadium. This could be the year to do it in front of a raucous crowd.