Texas A&M RB Devon Achane might be the fastest player at NFL Combine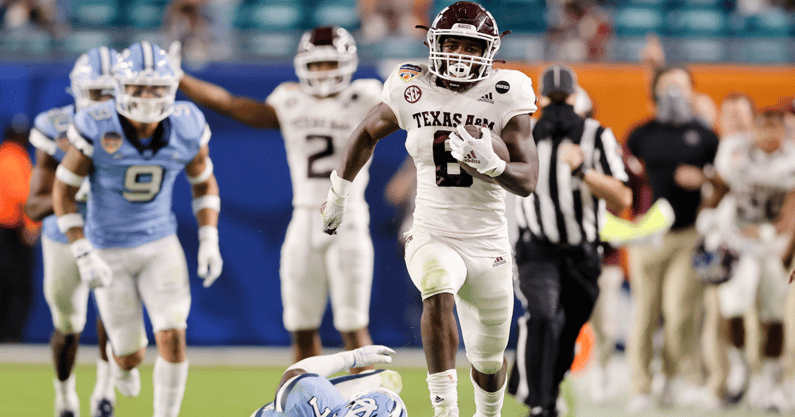 Today, February 28, marks the first day of the 2023 NFL Combine. The first couple of days are designated for medical tests and team interviews. What all football fans are interested in though is the positional drills, workouts, and testing numbers.
There is one measurement that the NFL combine is synonymous with, and everyone tunes when it is on.
The 40-yard dash.
In the days and weeks leading up to the event, there is always a major discussion of who will be the fastest 40-time of the draft. There are even sports betting props on the occasion, which has turned into a spectacle over the years
And this year, a Texas A&M offensive star is among the favorites to run the fastest time.
Running Back Devon Achane has long been a runner with elite speed. He used his short area quickness and long speed to tear defenses up regularly.
Achane hit 22.2 miles per hour on a kick-return touchdown during A&M's upset of Alabama in 2021, according to Reel Analytics.
The 2022 Aggies star is also a sprinter on the school's track team. He is the owner of a verified 10.14-second time in the 100-meter dash.
Achane has reportledy steadily run 40 times under 4.3 seconds in preparations for the NFL Draft Combine.
The current combine record is held by Jon Ross at 4.22.
So, can Achane threaten that record? We will see.
Unfortunately, Texas A&M and all other football fans will have to wait until Sunday, March 5, to watch Achane run. Running backs and offensive line is scheduled to workout and test from 11 AM – 4 PM CT.
A workhorse for Texas A&M
Achane appeared in 30 total games in his three seasons in College Station. At the running back position, Achane accumulated 2,376 rushing yards and 21 touchdowns on 369 carries. He averaged 6.4 yards per rush in his career and 79.2 yards per game. His junior season, he averaged 110.2 rushing yards per game. 
Achane also had 65 receptions for 554 yards and five touchdowns through the passing game. As a return specialist on kickoffs, he returned 20 kicks for 613 total yards with two touchdowns. Achane has two career returns of 95+ yards. 
In 2022, his junior season, Achane reached the 1,000 yard rushing mark for the first time. In 10 games played, he finished with 1,102 rushing yards with eight touchdowns. 
Achane, a former four-star prospect, was ranked as the No. 16 running back and No. 136 overall prospect in the nation in class of 2020.
More on the 2023 NFL Draft for Achane
The 2023 NFL Draft takes place from Thursday, April 27 through Saturday, April 29 in Kansas City, Missouri. The event location this year is the plaza just outside of Union Station.
Round 1 of the NFL Draft begins at 8 p.m. ET on Thursday, Apr. 27. Rounds 2-3 will begin at 7 p.m. ET on Friday, Apr. 28, and Rounds 4-7 will begin at 12 p.m. ET on Saturday, Apr. 29. The draft broadcast runs throughout the weekend on both ESPN and NFL Network.
To be eligible for the NFL Draft, players must be at least three years removed from their final year of high school while having used up their collegiate eligibility. Underclassmen are able to request league approval to become eligible for the draft, as are players who have graduated prior to using up all of their collegiate eligibility. One hundred underclassmen gained approval for last year's draft. Seventy-three of those 100 underclassmen received special eligibility while 27 of them were underclassmen who had completed their college degrees.