What we learned from Texas' first Junior Day Part II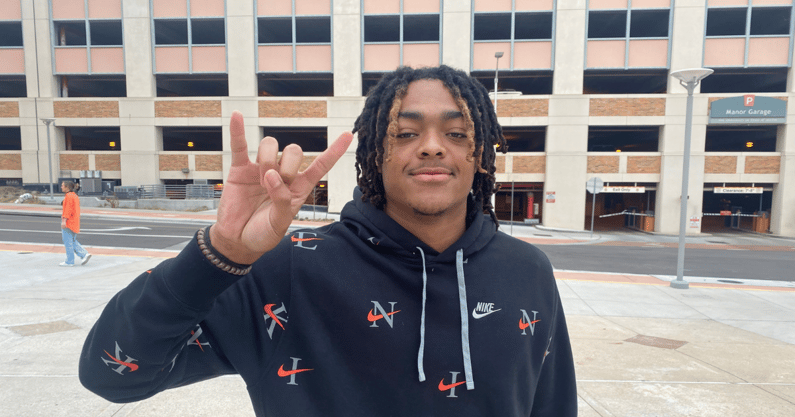 Saturday was part Junior Day, part Sophomore Day, and part cattle call. By IT's count Texas hosted somewhere between 80-90 recruits in total, with around 30 of them holding Texas offers. Exit interviews give the strong impression it was a worthwhile trip for recruits, which means it was a successful event for the Texas program. 
The cliched but important 'family atmosphere' was mentioned by most recruits we talked to. That sort of comfort is a necessary step in the relationship building process.
It will be interesting to learn how the staff will reshuffle its board as we get ready to enter the spring evaluation period.
Given all the recruits on campus and our access to immediate information, here are some things we learned from the event.
Edge
Because he lives in Georgia, has a lofty On3 Consensus ranking of No. 37 in the nation, and is very active on Twitter, I had been downplaying UT's chances to land KingJoseph Edwards. That changed rather quickly after interacting with Edwards and his mother Alicia. I don't think Texas is the leader but the staff and academic structure definitely struck a chord.
We didn't catch him after the Junior Day, but Texas offered Conroe Oak Ridge Edge Joseph Jonah-Ajonye at some point over the last couple of days. He announced the offer on Tuesday a.m. He'd likely be a Jack while Edwards, if Texas can land him, would play Buck.
Interior Defensive Line
We learned Texas understands it needs more big bodies, but not just in the coming classes. During the weekend Texas offered 2023 defensive tackle Jonathan Davis from Mississippi. All that did was draw attention to him which motivated offers from Mississippi State and Ole Miss.
Texas also hosted Juco defensive tackle Jaden Hamlin from Southwest Mississippi Community College. The Mississippi theme is common with Bo Davis, but the bigger story here is Texas understands it needed more than just Sydir Mitchell in the 2023 class.
That info may carry over to the 2024 class. Texas hosted Alex January and has a good chance to land the legacy. He really fits the mold of what they're looking for in someone lining up over the ball. Texas also brought in out of state options Dominick McKinley, Melvin Hills who was offered, D'antre Robinson, and others.
After talking to McKinley's father, I expect interest in Texas to continue.
Linebacker
Texas went big on numbers in 2023 which allows Jeff Choate to be selective in 2024. While those numbers certainly help the roster, it could make for an uphill climb with elite targets in search of early playing time.
Getting Justin Williams on campus was a huge win for Texas. Oregon had a large lead at one point.
Payton Pierce also made it in. Notre Dame has been viewed as making a move after Arkansas was believed to be the early leader. Texas has been a constant school with him. When I saw him last spring his dad was wearing a UT hat with more wear and tear than dos bobby's lone pair of Wranglers.
The recruit, or recruits, Texas lands in this class will be telling the world they're confident and competitive. As previously opined, it could take a while for recruiting at this position to play out.
There was no cattle call at linebacker. Most of the players in attendance with that position attached to their name are really Edges.
Defensive Back
Similar to the offensive line in Part I, there's the feel the DB class could be compiled by those who were in attendance on Saturday.
Texas already has cornerback Jaden Allen committed and will likely be looking for three or four more.
In the 2023 class, Texas only took six years of eligibility between transfer Gavin Holmes and Malik Muhammad. Texas will receive value from all six of those years, but numbers were still a bit low at corner.
The 2024 class sets up very well for Texas' preferred approach of signing DB's rather than position-specific players. Sure, they want a lead corner like Muhammad and a lead safety like Derek Williams, but the rest will be filled by versatile players who can cover, are smart, and will hit.
Kobe Black would be the lead corner in the class. Braylon Conley and Corian Gipson would both be players who get a look at corner but also add value at nickel or safety. Conley would be a great nickel, and Gipson is more often regarded as a safety than corner but he prefers corner. That works for Texas, because knowing their approach that's where they'd start him out anyway (like with Terrance Brooks and Austin Jordan).
I think Texas is in a great position at defensive back in the class.