Musings From Arledge: Beating Fresno State, the Upcoming Schedule, and Trojan Tailbacks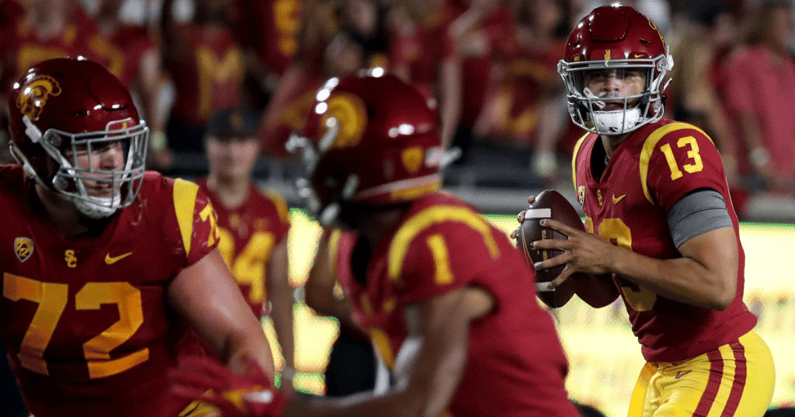 I was overseas for the opener, so this was my first time in the Coliseum during the Lincoln Riley era. The contrast to Western Kentucky Amateur Hour was significant. True, USC will never compete with some of the other major football powers when it comes to game-day atmosphere. It takes a lot to get us to show up, and it takes even more to get us loud. Nebraska is basically fielding a high school team, and they're still selling that place out. I think you could squeeze 90,000 drunk Cajuns into Tiger Stadium to watch a Brian Kelly-Napoleon Dynamite dance off. USC isn't like those places.
But make no mistake: that crowd was happy and excited. It was like a carnival atmosphere before the game as opposed to the funeral atmosphere of the last few years, where the few fans who still bothered to attend — it was a funeral for somebody who wasn't well-liked, based on the numbers — were in various stages of grief: some depressed, some angry, some numb. This was clearly different.
It was also different in another sense. I didn't detect much concern that USC might lose the game. This despite the fact that USC was playing a pretty good football team — one with a quarterback who might make an NFL roster, one with a history of playing USC tight, and that we knew would come into the game highly motivated with a giant chip on its shoulder. Let that sink in. USC fans weren't nervous about an opponent like that? Over the last few years, such confidence would have been unthinkable. I walked into the stadium this week surrounded by a group of Pop Warner kids. Last year I would have been nervous that even those kids might beat the Trojans.
Most college-football observers understand that the single most important factor for success is the quality of the head coach. I've been preaching this for years. Yes, some programs have higher ceilings than others, and no program has a perfect situation. But if the head man is good, the team is going to be good.
And this head man is good.
As for the game itself, that was not a flashy performance from the offense. The first half against Stanford was a clinic in domination. It was easy. ASU coed in a night club easy. (I'm just guessing.) USC didn't even need third down against the Tree. It often didn't need second down.
The Fresno State game was different — workmanlike, tough, gritty. USC had to make plays on third down to salvage drives. Caleb Williams threw incompletions. The yards-per-play numbers were not superhuman. But if you take away the two drives to end the first half — one that effectively ended with an offensive pass interference penalty and both of which involved a seemingly confused and frustrated Caleb Williams — this was another dominant performance by one of the top offenses in college football. Nine drives. Six touchdowns and a field goal. Only one three and out. Forty-five points; 517 yards; excellent balance; and, once again, no turnovers.
If this USC offense doesn't turn the ball over, this team will be difficult to beat. (Well, we could call it one turnover this week, because 15-yard penalties on the offense are almost the equivalent of a turnover.)
The defense — well, it is what it is. The pass defense wasn't great last night. But the truth is that in modern college football, it's very difficult to shut down a passing attack with a good quarterback. The offenses are so good at spreading people out, you can no longer intimidate receivers by belting them in the mouth, and if you so much as breathe on a receiver, it draws a flag. (Both defenses were the victims of questionable pass interference penalties this week. As usual.) I wasn't thrilled with the pass defense. But just about everybody struggles in pass defense these days.
The run defense is maddening. There are just too many obvious breakdowns and big plays. I hate it.
At the same time, the defense continues to make big plays (four sacks, two turnovers), and the red zone defense continues to be very good. Teams will not beat USC with field goals. And they will not beat USC if they score on three of their ten drives, as Fresno State did. Fresno State had 1.7 points per drive. That will never get it done against this USC team.
USC has playmakers at all three levels. Tuli is a monster. Eric Gentry is the strangest-looking stud ILB I've ever seen. Calen Bullock will be an All-American before he's done. And it's developing some new guys that are going to be difference makers, like Solomon Byrd, who is going to take the majority of reps at his spot going forward, I suspect. At the same time, this defense will also have a few possessions every game where it looks like a scout team. Or like they dressed up the song girls in football uniforms and sent them on the field as a prank.
Bottom line: this defense will not remind anybody of Lofa Tatupu's group — and Lofa still looked like he could dominate, didn't he? — but it can continue to be opportunistic enough to give USC a very good chance to win every game. And until the overall talent level improves on that side of the ball, that's going to have to be enough.
---
Speaking of winning games, this schedule is setting up quite nicely. Oregon State will be a challenge next week. That's a good football team, they're well coached, and away games at Oregon State have been an Achilles heel for USC teams for a long time. That's obviously no gimme. That being said, let's not overstate what the Beavers are. They're good; they're nowhere near great. They are on Fresno State's level, as their matchup with the Bulldogs showed. USC is far more talented. Oregon State will have no answer for USC's offense other than hoping USC turns the ball over, ends drives with penalties, or gets abducted by aliens. And that means Oregon State knows it has to score 40 points to have a chance … and that puts tremendous pressure on an offense.
And after that, there's a six-game stretch where only the huge matchup at Utah presents any kind of threat. Arizona State, Washington State, Arizona, Colorado, and Cal just aren't any good. None of those teams have the offensive firepower to challenge USC. That means USC needs to win this weekend — it really should — and it is one big showdown with Utah from being 10-0 and ranked in the top three going into the rivalry games. That's incredible in light of where USC was just ten months ago. (Where was that? Somewhere between this year's Nebraska and Poland in September of 1939.)
About those rivalry games: UCLA is still going to be a problem in the Rose Bowl. They'll be up for that game, and they have some offensive firepower on that roster. But, geez, what an embarrassing performance by the Bruins this weekend. Jessica Simpson performed better on the SATs. South Alabama, not only a small-school team but a team that is mediocre compared to the small schools it plays, should not have been within 30 points. I really don't understand what has happened to Chip Kelly. Is he just extraordinarily lazy? I think the only thing he works hard at these days is sullying his reputation as a college football genius.
At least nobody was there to see it. I think UCLA is the reason the Pac-12 Network exists. The Bruins know that if their games are actually televised, half of their performances will essentially be that scene in A Star is Born when Bradley Cooper wets himself on live TV during the Grammys. Better just to play on a station that nobody, anywhere can watch.
As for the Irish, what can you say? That defense is pretty decent, but pretty decent defenses don't shut down high-powered attacks in modern college football. USC will have no trouble scoring. And how is that Notre Dame offense supposed to score points on anybody? Just put eight in the box — hell, put nine or ten in the box — and dare that passing game to beat you. The quarterback is awful; I think he's left-handed and is throwing with his right to be funny. And other than the tight end, nobody running pass routes on that roster should scare anybody. I'd match Brandon Pili one-on-one with any of them.
How humiliating must this be for long-time Irish fans or their former players? Unlike UCLA, they actually expect not to suck. And those guys were genuinely excited about Marcus Freeman. They thought this was a great hire, that their program would be better without Purple Face. Just imagine the shock when the season started. Notre Dame fans are like a college professor who takes his new girlfriend — the one he has plastered all over social media — to the physics department Christmas party and watches in horror as she tells all of his co-workers that her research has uncovered overwhelming evidence that the earth is flat. What can he possibly say to that? No hole is deep enough. No rock big enough. Will Smith enjoyed his televised conversation with Jada more than Irish fans have enjoyed this season.
I can't wait for that game. I generally look forward to USC-ND matchups where both teams are highly ranked. But our Trojans really owe those guys right now, and I think that game will look like the scene in Above the Law where Steven Seagal takes a cue ball and a towel to the entire bar.
Oh, and one more thing: with Oregon and Washington looking good this weekend, the Pac-12 has four solid teams at the top of the conference. That means a one-loss Pac-12 champion USC team has a pretty good chance of making the college football playoff.
---
Austin Jones and Travis Dye are good football players. Neither one has outstanding measurables. Neither is a burner. Dye, especially, is small. But these guys have good vision, and they run hard. I loved seeing USC with two different runners reach triple digits.
And let's give credit to that offensive line, which really had its way with the Bulldogs. Those guys are exposing as foolish all that talk in the offseason from pundits who knew nothing about USC and kept talking about how USC's offense might have great skill-position talent but still had a huge question mark upfront. For those paying attention — and in light of what the last half of last year looked like, I don't blame those who weren't — it was clear last year that offensive line had made real strides and was likely to be a solid group this year. Good job, guys.
---
There has been chatter in recent years about getting rid of kickoffs. I'm fully on-board. Not because of the usual reason given: avoiding injuries. No, I want to get rid of kickoffs for my own mental health. I'm starting to think USC doesn't have a designated special teams coach so nobody knows who to blame for those two units. Every coach maintains plausible deniability. The Trojans haven't yet been burned by the kickoff or kickoff return units, but it's just a matter of time unless we see substantial improvement. At this point, if you gave me the option of just having USC always start at its own 19 yard line and have the other team always start at its own 31, I think I'd take the deal.
---
I know I'm getting old, and I'm not the target demographic here, so you can take this with a grain of salt. But the on-field DJ? Why do we need that? It just feels silly. I'd almost rather have a juggler on a unicycle if we're that starved for entertainment during breaks in the action. Or maybe an improv acting troop. Or Enrico Palazzo.
---
I paid $22 for three birria tacos outside the stadium. They weren't bad. At $10 or $12 for that plate I would have been quite pleased. But at $22, I felt violated.
---
This week's Meteor Game of the Week was Miami – Texas A&M. Games like that are so frustrating. I hate it when both teams deserve to lose and only one can. The good news is that with the Aggies' future schedule, they still have a very good chance of going 7-5.
---
Georgia is a great football team. I'm not sure anybody can play with them this year. But have you looked at that schedule? What a joke. Only four away games, and not one of those opponents is all that good. Kentucky is the best, and, no, the Wildcats are not very good; don't buy the hype. Pac 12 teams rightly get mocked for the quality of their schedules. But SEC East teams who miss Alabama don't exactly face a murderer's row.