Offensively and Defensively Speaking: Stanford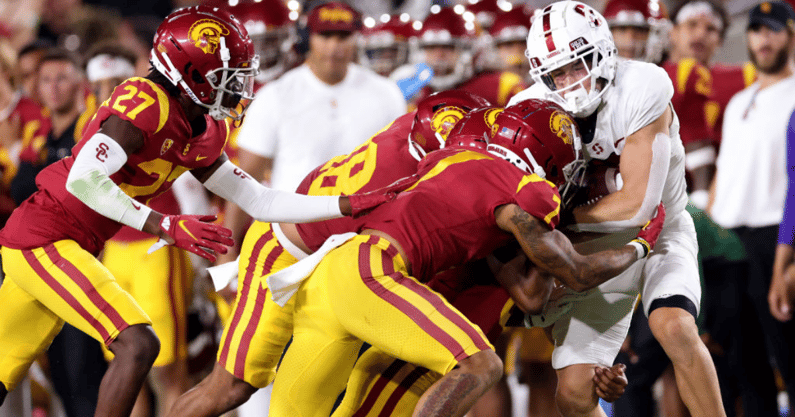 These beat downs from Stanford (and others) is just getting to be too much. Coach David Shaw continues to beat up the Trojans on national television and then steal Clay Helton's lunch money in front of all to see. USC football is being destroyed by coaches who seemingly have no clue about what it takes to win championships.
Offensively Speaking
What really stood out was the commitment to the run game and a much-improved run blocking game by the offensive line. What Stanford knew is that our run game wasn't going to beat them. It's our passing game where the points and yardage are. The passing game lacks any cohesive plan to attack relative to the defensive conditions and field position. So when Slovis has another ordinary, pedestrian day, the drops (seven by my count) are killers. Both drive killers and game killers. When we can't advance a drive and turn the ball over to Stanford, we ask for trouble, which we got in bucketfuls. The statistics are deceptive since the game was 42-13 well into the second half and our subsequent points were primarily against the Stanford twos.
So what has happened to our passing game? Why is Slovis so ordinary now as we know he has talent? We've managed to coach him down and not let him make easier throws. We routinely do give him a first down distance route and teams are in a zone coverage and going to combination of zone and man coverage. Have you noticed that very few deep throws are post or middle zone? It seems he's been coached to not throw the ball there late or early. So it is a steady diet of fade routes and out routes with check-downs to running backs. When a team tackles well and we don't get yards after catch (YAC), we have problems, whether it was San Jose State or Stanford. 
Offensive Shoutouts
Running backs: Good, hard running, blocking and no fumbles
Offensive line: Best run blocking in years
Defensively Speaking
Where do I start here? The general diagnosis is this; Orlando is better when he is coaching and managing the front seven. He stunts, slants, moves folks around and blitzes folks to create pressure. It is a risky proposition, which we saw in abundance yesterday.
When it comes to the secondary, we put the cornerbacks on an island and give them almost no help. So there is trade-off between the front seven and the back four (sometimes a nickel package). Stanford stomped on us in an embarrassing fashion with one exception: Tuli Tuipulotu.  He had a monster game against Stanford's big offensive line package.
What was apparent is that the secondary wasn't ready for this quarterback and our lack of pressure made this easy pickings.
Stanford tries to score points, not rack up yardage. Our defense gave up too many big plays and didn't make any, especially turnovers, combined with only 3 tackles for loss and no sacks…again.
We had no good answer for Stanford's Jumbo 22 package (two tight ends and two running backs). This set up other formations and the pressure on the cornerbacks. By the way, Drake Jackson had a very quiet day. And what happened to Korey Foreman? I didn't see him on the field, unless they changed his number.
Defensive Shoutouts
Tuli Tuipulotu: Led the team in tackles at defensive tackle
So, yet again another David Shaw schooling of Clay Helton and his Trojans. It's not just a pattern or trend, it's a certainty. Stanford got better in Week Two, we regressed to the bad old Trojans in Week Two.
---
I want to recognize the passing of Sam Cunningham. I knew him as a teammate and as a gentle, humble superstar. He casts a long shadow and I'm going to miss him. God bless his family.