Offensively & Defensively Speaking: UCLA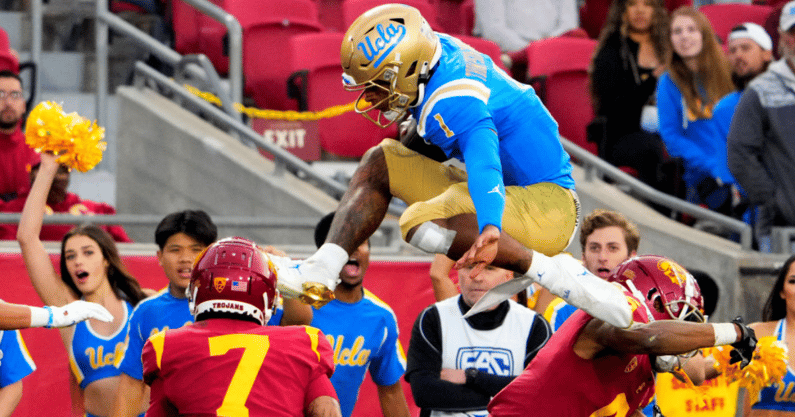 Saturday's UCLA game was one for the record books for all the wrong reasons. By now you know about the record-setting beat down that took place. We will hear about this game and certain plays for as long as people talk about UCLA vs. USC football games.
My guess is that the hurdle by Dorian Thompson-Robinson of Isaac Taylor-Stuart will be highlight reel material forever and may replace OJ's 23-blast touchdown run. Head down and eyes closed makes it tough to tackle.
We had a chance to make this game competitive but dropped passes, penalties (including some Pac-12 questionable calls), kickoff return and
ultimately a collapsing, limping defense proved to be too much for this team.
This 62-33 beat down really does tell the story of this game, this season and this team. Folks, this is likely going to be the worst team in USC history.
Honestly, it is difficult to write up a synopsis of this game other than to say we got steamrolled at every opportunity.
This has been a year of terrible performances, especially in the Coliseum,
but none were as bad as this one. It was plainly obvious that many of these players and coaches have essentially quit. There are a few that are still providing an effort but many are not. What are these coaches going to say, "We're going to check the film and correct these problems."
You can't correct an implosion. You let it take its course and you start over.
Regrettably, we have two more games to play before this waterboarding is over.
Offensively Speaking
I know that a lot of folks were hoping that Jaxson Dart would repeat his Washington State performance. Didn't happen and how could it with a 100% predictable game plan, dropped passes, no Drake London and Dart's gimpy knee? Frankly, if he didn't have to play, I would have put him on the bench to save his legs. Our running game was reasonably effective but you can't win a game gaining 4.1 yards per carry but give up 5.9. Nor can you win a game passing for 6.9 yards per catch but give up 15.9 to UCLA. You can't win a game punting 5 times vs once for UCLA.
We had the same number of penalties as UCLA (8) but their's didn't seem to matter much but ours were drive-killers. We were pretty good on 3rd and 4th down conversions at 11 of 21, but giving up 6 of 9 by UCLA more than offset this statistic.
Bottom line: we couldn't produce enough offense and convert turnovers to points to offset UCLA's juggernaut of an offense.
Offensive Shoutouts
Keaontay Ingram – 96 very tough yards and banged up ribs
Vavae Malepeai – three rushing TDs
Gary Bryant – nine receptions and a TD
Jaxson Dart – hung tough in the face of a ferocious pass rush
Defensively Speaking
What started out very promising with two interceptions in the first quarter ended up as a complete and utter embarrassment. UCLA gained 609 yards of total offense and 62 points.
The points scored were the most by either team since the schools started to play each other. How's that for a headline??!! I've written before that this isn't about X's and O's.
Plenty of NCAA teams are successful with 3-3-5 base sets. This is about players not playing well routinely and coaches that are clueless about what to do about it. And that includes Donte Williams too as his CBs are the biggest weak links on the entire defense. Simply put, our coaches and players make for an inferior football defense…for all season.
Nothing has improved and the same players perform at the same sub-par level. This unit is living off the reputations earned by others.
What I see is a weak imitation of prior USC defenses that controlled the line of scrimmage and played physical football. I'd like to insert something nice here but what's the point?
The defense is awful, started awful and continues so. Some might think firing Orlando would help. And do what? Taylor Mays as DC? Or maybe somebody else? It's too late for that…just finish this abomination of a football season, get a new head coach and staff and move on.
Is there a limit to the number of portal players we can take?
Defensive Shoutouts
Nick Figueroa – 100% effort
Tuli Tuipulotu – One sack and routinely double-teamed
Kanai Mauga – 14 tackles (net of missed ones)
Special Teams
Just a quick mention of the special team play. At the start of the season, I was very pleased to see Coach Snyder in charge of the special teams. What a disappointment with routinely poor kickoff coverage. Same problem…no lane discipline and poor effort by some. The 100 yard KO
return really did KO this team. That give-up spelled the end of any real chance of a comeback.
Donte Williams should have forgotten about a silly onside kick that routinely just gives the opponents great field position and a short field. Good job by Alex Stadhaus in a losing effort with 2 for 2 field goals made.
Summary
There is no amount of film work or fundamental work that will help this team. The downward spiral is going to be tough if not impossible to stop now. There never was much real hope but we're Trojans and our DNA drives us to improve and perform. That will have to wait until next season and a new staff. I'm never ashamed of being a Trojan but I'm very weary of explaining why they are so pitiful on the field.