The new guys: Transfer portal additions to pay close attention to this weekend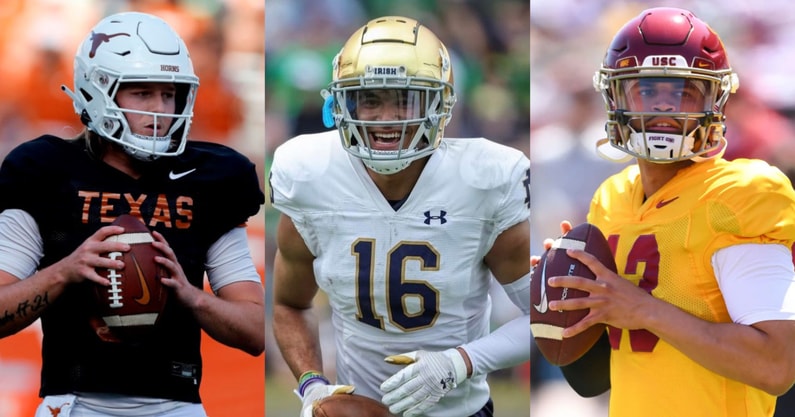 Week 1 of the season is upon us, and that means the vast majority of the players who changed schools via the transfer portal will be putting on their new uniforms for the first time (remember that 18 FBS teams opened in Week 0).
Here are 10 transfer "situations" to pay extra attention to this weekend. Some involve the biggest names who entered the transfer portal during the offseason; others involve important players who have interesting storylines this week.
Utah LB Mohamoud Diabate
Opponent: at Florida, 7 p.m., ESPN
The buzz: Utah lost both starting linebackers from its 4-2-5 set, including first-round pick Devin Lloyd. Mohamoud Diabate was Florida's leading tackler last season, and while he missed spring ball with the Utes while recovering from shoulder surgery, he had a great preseason camp. He adjusted so seamlessly, in fact, that he seemingly is in line to contend for All-Pac-12 honors this season. And – gee – look who the Utes play first. Florida is going to be a run-first team, and if a rebuilt Utes front six (four new starters) struggles, the Gators could pull the slight upset (Utah is favored by 2.5 points).
Alabama RB Jahmyr Gibbs and WR Jermaine Burton
Opponent: vs. Utah State, 7:30 p.m., SEC Network
The buzz: The Tide is going to roll, but anytime Alabama is breaking in a new feature back and a new go-to receiver, it's interesting. Jahmyr Gibbs (from Georgia Tech) and Jermaine Burton (Georgia) were important transfer portal additions, given that the Tide didn't have clear-cut options on the roster to fill those roles. Burton caught more than four passes in a game just twice in two seasons with the Bulldogs; he could have five by halftime Saturday. Gibbs had three 100-yard games in his two seasons at Tech; this figures to be No. 4 unless it's an absolute blowout and he goes to the bench early.
Notre Dame S Brandon Joseph
Opponent: at Ohio State, 7:30 p.m., ABC
The buzz: Brandon Joseph is a former All-American at Northwestern, and his first game with the Fighting Irish comes against a Big Ten team he has seen once. Joseph had an interception, a pass breakup and five tackles in Northwestern's loss to Ohio State in the 2020 Big Ten Championship Game. Saturday's game figures to be an even tougher test, given the quality of Ohio State's receivers and the explosiveness of the Buckeyes' passing attack. Joseph is the only new starter in the Irish's secondary, and that group must hold up if the Irish are to pull the big upset.
Tennessee WR Bru McCoy
Opponent: vs. Ball State, 7 p.m. Thursday, SEC Network
The buzz: Bru McCoy was an On3 Consensus five-star recruit and a national top-20 prospect in the 2019 recruiting class. His career totals heading into this season? He has 21 catches in six games, all in 2020 at USC. McCoy originally signed with USC in December 2018 and enrolled in January 2019. But he transferred to Texas a few weeks later and went through spring practice with the Longhorns. He went back to USC in the summer of 2019. Then came the 2020 season. He didn't play at all last season and transferred to Tennessee in May. McCoy has the ability to be an important complementary threat for the Vols, teaming with WR Cedric Tillman. Ball State was 91st in the nation in pass defense last season and will struggle against the Vols.
Oregon QB Bo Nix
Opponent: vs. Georgia in Atlanta, 3:30 p.m., ABC
The buzz: Bo Nix started for three seasons at Auburn – where he was 0-3 against Georgia – before he hit the transfer portal. He gets another chance at the Bulldogs in their backyard. He is part of a new-look Oregon offense, one that features a new coordinator, a new quarterback, a new feature back and a new go-to receiver. One positive: All five offensive line starters return, and the Ducks figure to be a run-heavy team. While Georgia has eight new starters defensively, it still will have one of the best units in the nation. The secondary, in particular, looks quite good. By the way, in three games against Georgia, Nix is 72-of-128 (56.3 percent) for 639 yards, one touchdown and two picks.
The quarterbacks in Pitt-West Virginia
The players: Pitt QB Kedon Slovis, WVU QB JT Daniels
Game time: 7 p.m. Thursday in Pittsburgh, ESPN
The buzz: Two former USC quarterbacks will battle in a game being played 2,435 miles (as per Google maps) from the L.A. Coliseum. Slovis has the tough task of replacing Kenny Pickett, who threw 42 TD passes last season in leading Pitt to the ACC title. Daniels has the tough task of trying to lower the temperature under WVU coach Neal Brown, who is on the hot seat because his offenses have been less-than-impressive during his three-year tenure. Daniels faces the tougher test Thursday night; Pitt's defensive front is one of the best (and most aggressive) in the nation, and the Panthers also return four starting defensive backs. Slovis, on the other hand, will be facing a WVU secondary with five new starters.
The receivers in Penn State-Purdue
The players: Penn State WR Mitchell Tinsley, Purdue WR Charlie Jones
Game time: 8 p.m. Thursday in West Lafayette, Ind., Fox
The buzz: This is an important Big Ten game right out of the gate. Purdue should be able to contend in the West Division, while Penn State is looking to rebound from back-to-back disappointing seasons. Both lost their go-to receiver: The Nittany Lions' Jahan Dotson was a first-round pick by Washington, while Purdue's David Bell went in the third round to Cleveland. Tinsley comes from Western Kentucky, where he was one of the nation's most productive receivers, with 87 receptions for 1,402 yards and 14 TDs. He did all that as Western's No. 2 receiver; he will have the same role at Penn State, with Parker Washington WR1. Jones figures to be Purdue's go-to guy after transferring from West Division foe Iowa. Milton Wright would've been the No. 1 receiver, but he is academically ineligible. Jones had just 21 catches in two years at Iowa, but figures to at least triple that this season. He can line up in the slot or out wide, and had a great preseason camp.
The three big-name quarterbacks
The players: Texas' Quinn Ewers, South Carolina's Spencer Rattler, USC's Caleb Williams
The games: Texas vs. ULM, 8 p.m., Longhorn Network; South Carolina vs. Georgia State, 7:30 p.m., ESPN+; USC vs. Rice, 6 p.m., Pac-12 Network
The buzz: OK, first, it's going to take some work to see any of these guys on TV on Saturday. South Carolina, by far, has the toughest opponent; Georgia State's ground-oriented offense will make the Gamecocks' defense work. Texas and USC should be able to overwhelm their foes with sheer athleticism. Ewers has seen action on two plays in his college career; you assume there will be jitters, so how soon does he overcome them? Rattler is hoping for a fresh start in a different locale. Williams heads into his second season in Lincoln Riley's offense, and that is one reason he figures to have the smoothest start to the season among this trio.
The Arizona pass-catch combo
The players: QB Jayden de Laura, WR Jacob Cowing
The game: at San Diego State, 3:30 p.m., CBS
The buzz: Arizona's offense was … well, it was pitiful last season. The Wildcats didn't even get to the 20-point mark in 10 games and averaged 17.2 on the season. Enter de Laura from Washington State and Cowing from UTEP via the transfer portal. De Laura threw for 2,789 yards and 23 TDs in 2021 while leading Washington State to a 7-6 record. Cowing was ninth nationally in receiving yards with 1,367; he had 69 receptions and averaged 19.81 yards per catch. They (along with true freshman WR Tetairoa McMillan, an On3 Consensus national top-50 prospect) should rev up the passing attack. But the first game is a tough test. San Diego State annually has one of the nation's stingiest defenses, and the Aztecs' ball-control offense likely will limit touches for de Laura and Arizona's offense.
The new-look LSU secondary
The players: CB Sevyn Banks, CB Jarrick Bernard-Converse, NB Greg Brooks, S Joe Foucha, CB Mekhi Garner, CB Colby Richardson
The game: vs. Florida State, 7:30 p.m. Sunday in New Orleans, ABC
The buzz: LSU had to rebuild its secondary because of graduations, transfers and NFL decisions. Expect at least three of those listed – Bernard-Converse (from Oklahoma State), Brooks (Arkansas) and Garner (Louisiana) – to start; Foucha (Arkansas) also is a possible starter. Banks (Ohio State) and Richardson (McNeese State) are going to play. Florida State is a run-first offense, but LSU's front is its defensive strength. Can FSU win if it has to pass? Then again, can LSU's rebuilt secondary handle things if FSU throws it around?