Notre Dame linebacker Prince Kollie transfers to Vanderbilt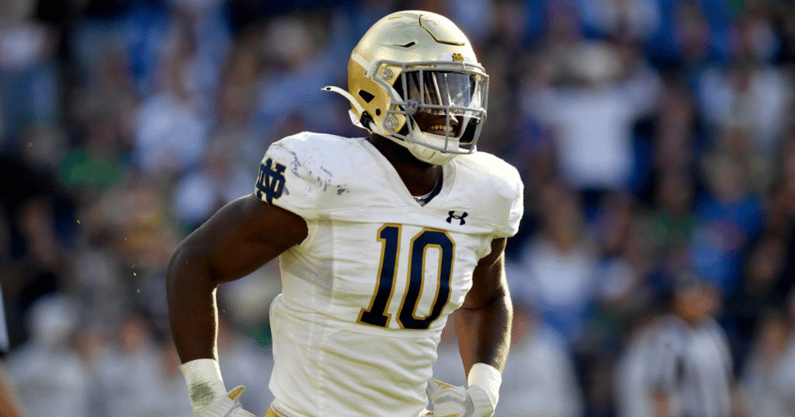 Former Notre Dame linebacker and four-star recruit Prince Kollie, one of the top remaining prospects in the transfer portal, told On3 on Monday he has committed to Vanderbilt.
The jump to the SEC reunites Kollie with Clark Lea, who was the primary recruiter for Kollie when he was a top-100 prospect in the 2021 recruiting class. After spending two seasons with the Fighting Irish and racking up 33 total tackles, he is ready to move to Nashville and be around a staff he has a familiar comfortability with.
"It's been kind of complicated, I kind of had an idea going into it where I wanted to go," he told On3 in a phone interview. "But I had to really figure out what I valued and stuff like that. It's been long; I've heard from just about every school. I've had to weigh my options. But I came to the decision to go to Vandy."
Ranked by On3 as a five-star prospect, Kollie played in all 13 games for Notre Dame last year. He blocked a punt and added 2.5 tackles for loss. Coming out of Davy Crockett High School in Jonesborough, Tennessee, however, he held offers from Georgia, LSU and Tennessee. The pull to play in college football's best conference was key to his next landing spot, he said.
While he gets to be around Lea again, working with Nick Lezynski played a role. A former defensive grad assistant at Notre Dame, he is viewed as a rising star in the coaching ranks and works with linebackers at Vanderbilt.
The duo of former Notre Dame staffers made a strong impression during Kollie's intial recruiting process. Due to COVID-19, he did not have the opportunity to visit South Bend before making a decision. Lea and Lezynski were a driving reason behind the decision. Now he gets to try and lead a Vanderbilt defense that allowed 36 points per game in 2022.
"From the first time around, I didn't even know where Notre Dame was at," Kollie said. "I was on Zooms because of COVID, just their character and how genuine they were. That's really what got me the first time, and they certainly still are today. Easy for me to make that decision. We've still had a good relationship since he left."
The Commodores have focused on adding defensive talent through the portal this offseason, picking up defensive linemen Jacob Katona, cornerback Nyzier Fourqurean, EDGE Aeneas DiCosmo and linebacker Carson Casteel.
Vanderbilt opens the season on Aug. 26 against Hawaii.
"There's a lot of different things that went into it," Kollie said. "First, coach Lea recruited me at Notre Dame and coach Nick. To find out he's coaching out at Vanderbilt, it was a no brainer for me. Honestly, school was a big thing for me and the SEC. Playing in the best conference."