Transfer portal: Projecting the 10 most impactful transfers in the Pac-12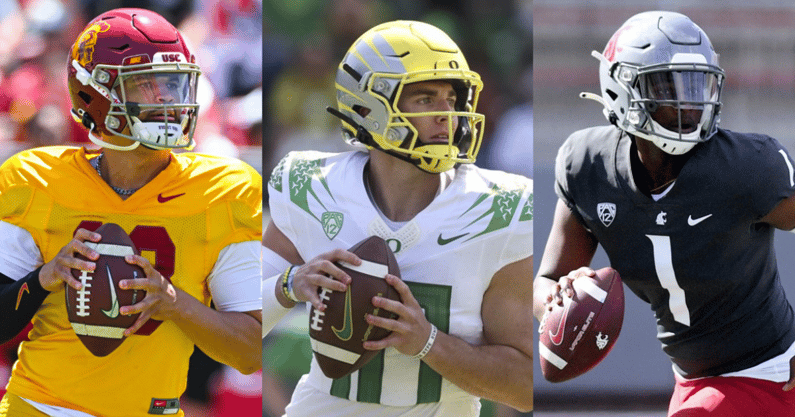 Let's dive back into the transfer portal pool on a league-by-league basis. With preseason camps opening in earnest this week, here's a projection of the 10 most impactful transfers in the Pac-12 this season. (We already have looked at the most impactful ACC and SEC transfers.)
A few teams in the Pac-12, most notably UCLA and USC, dipped heavily into the portal pool, with new Trojans coach Lincoln Riley remaking his offense.
With these 10 transfers, this is not a measure just of sheer talent. Instead, the most important aspect is expected production. And it's fair to say that if these guys do not produce, their teams as a whole will suffer.
10. QB Jayden de Laura, Arizona
The particulars: Transfer from Washington State
The skinny: Arizona coach Jedd Fisch did good work in the transfer portal and on the recruiting trail in an attempt to spruce up the offense. Arizona's offense was pitiful last season; the Wildcats didn't even get to the 20-point mark in 10 games and averaged 17.2 on the season. Jayden de Laura threw for 2,789 yards and 23 TDs in 2021 while leading Washington State to a 7-6 record; he also started in 2020 as a true freshman. De Laura's arrival gives Fisch, a former NFL offensive coordinator and quarterback coach, a nice building block. Another huge addition was WR Jacob Cowing from UTEP. He was ninth nationally in 2021 in receiving yards with 1,367; he had 69 receptions and averaged 19.81 yards per catch. The top signee in the freshman class was four-star WR Tetairoa McMillan, a national top-50 prospect. And keep an eye on freshman RBs Jonah Coleman, who had a good spring, and Rayshon Luke, a national top-225 prospect. All of this is to say that defensive problems aside, Arizona figures to be a tough opponent this fall; still, a difficult non-conference schedule will make it hard to get to a bowl.
9. LB Mohamoud Diabate, Utah
The particulars: Transfer from Florida
The skinny: Utah runs a 4-2-5 set and lost both starting linebackers: All-American Devin Lloyd and Nephi Sewell. There is some intriguing young talent at linebacker, but no veteran. Thus, the addition of  Mohamoud Diabate. He was Florida's No. 2 tackler in 2021 with 89 stops; he was a part-time starter in 2020, when he made 68 tackles. Diabate started his UF career as an edge guy but bulked up a bit and moved inside. He still lacks bulk (he's listed at 220 pounds), but does move well. Diabate missed spring practice with the Utes while recovering from shoulder surgery, and he needs to get up to speed quick in summer camp because his first game with the Utes is September 3 at Florida.
8. RB Travis Dye, USC
The particulars: Transfer from Oregon
The skinny: Travis Dye is a proven commodity in the Pac-12, and now will be featured in a much more wide-open offense than the one he was in at Oregon. Dye is the No. 5 rusher in Oregon history (3,111 yards) despite always sharing time. Dye rushed for 1,271 yards and 16 TDs last season; he also led the Ducks with 46 receptions in 2021 and had 83 catches in his career. Dye again will share time, but there's no question he will be the feature back. Lincoln Riley had highly productive running backs while at Oklahoma, and Dye figures to be Riley's first highly productive running back at USC. Dye is one of numerous key offensive newcomers grabbed from the transfer portal by the Trojans this offseason.
7. LB Darius Muasau, UCLA
The particulars: Transfer from Hawaii
The skinny: The Bruins were busy in the transfer portal, bringing in as many as six defenders who could start (as well as Raiqwon O'Neal from Rutgers, who almost certainly will start at left tackle on offense). The additions were needed because there are just two returning starters. Darius Muasau was a two-time first-team All-Mountain West Conference selection and should slide into a starting spot for the Bruins, who needed a physical presence at linebacker. Muasau should provide that for sure. He was a spot starter as a true freshman in 2019, then a fulltime starter for the Rainbow Warriors the past two seasons. He was fifth in the league with 109 tackles in 2021 and led the conference with 104 tackles (in nine games) in 2020. Muasau also had 23.5 tackles for loss, 10 quarterback hurries and five forced fumbles in the past two seasons.
6. QB Bo Nix, Oregon
The particulars: Transfer from Auburn
The skinny: His first game in college was against Oregon, as he guided Auburn to a last-second win over the Ducks in 2019. Now Bo Nix presumably will finish his college career at Oregon. Oregon had two holdover quarterbacks, Ty Thompson and Jay Butterfield, but the new staff quickly brought in Nix, whose production never quite as matched his physical gifts. Anthony Brown started at quarterback for Oregon last season, but while he was consistent as a runner, his passing left a lot to be desired. Coincidentally, the same could be said for Nix, who was a mixed bag at Auburn. He did some damage with his legs, completed some big passes and always played hard. But Nix also made a lot of mistakes, was inconsistent and struggled with accuracy. And forget being inconsistent from week to week; he often was inconsistent from one drive to the next. One positive: His coordinator this season will be the same guy it was in 2019 (Kenny Dillingham, who was hired away from Florida State). The hope is the comfort level between the two will lead to more consistency – and another berth for the Ducks in the Pac-12 title game.
CLICK HERE to subscribe for FREE to the On3 YouTube channel
5. CB Christian Gonzalez, Oregon
The particulars: Transfer from Colorado
The skinny: Oregon lost both starting corners from last season. In comes Christian Gonzalez from the transfer portal. Gonzalez should end up being the Ducks' best defensive back this season, and contend for all-league honors. He started every game the past two seasons for Colorado, and he followed Buffs cornerbacks coach Demetrice Martin to Eugene. Gonzalez was fifth on the Buffs with 53 tackles last season; he also had five pass breakups, giving him 10 in his Colorado career. He and former national top-40 prospect Dontae Manning are the likely starting corners for a Ducks secondary that underachieved relative to its talent level last season. It'll be interesting to see if Martin and new safeties coach Matt Powledge (hired away from Baylor), who also is the co-coordinator, can get the secondary to play at a higher level this season.
4. LB Shane Lee, USC
The particulars: Transfer from Alabama
The skinny: Shane Lee would've been a backup for Alabama; he might be the most important defender for the Trojans. Lee certainly isn't considered an "athletic linebacker," but he is an old-school thumper and his importance as USC's presumptive defensive leader cannot be overstated. Lee's addition comes at a position of need and his winning ways are. Because of injuries, Lee was pressed into immediate action at Alabama as a true freshman in 2019; he was second on the team with 86 tackles in 13 games. But over the past two seasons, he dealt with injuries, was bypassed on the depth chart and made just nine tackles in 15 games. He had a good spring for the Trojans and is one of six transfers expected to provide a boost for a defense that was woeful last season.
3. QB Cameron Ward, Washington State
The particulars: Transfer from Incarnate Word
The skinny: Meet the guy who very well could lead the nation in passing attempts this season; at the least, you can expect him to finish in the top three. Cameron Ward arrived from FCS member Incarnate Ward with new coordinator Eric Morris, who had been UIW's coach. Ward threw for 4,648 yards and 46 TDs in 2021 for Incarnate Ward, which went 10-3 and lost in the second round of the FCS playoffs to top-seeded Sam Houston State. Ward threw 70 TD passes in 19 career games with the Cardinals. He is playing for a team that has a lot of holes, but a high-flying offense should mean a bowl bid. Washington State, Texas Tech and Mississippi State figure to be the top three Power 5 teams, in some sort of order, in pass attempts. All three play-callers are off the Mike Leach tree: There's Leach himself at Mississippi State, Morris with the Cougars and Zach Kittley at Texas Tech.
2. WR Jordan Addison, USC
The particulars: Transfer from Pitt
The skinny: Jordan Addison was the best receiver available from the transfer portal in this cycle and one of the top three or four players available overall. He won the Biletnikoff Award last season and entered the transfer portal after spring practice at Pitt. Addison had 100 catches for 1,593 yards (15.93 per reception) and 17 TDs in 2021; he also had eight 100-yard games. He'll lead what new coach Lincoln Riley has turned into one of the best receiver groups in the nation. Addison should be the unquestioned go-to guy for new QB Caleb Williams. He can line up in the slot or wide, and his big-play ability – he had 10 receptions of at least 40 yards last season, tied for fourth-most in the nation – again will come to the fore. His presence means defenses must focus on him, and USC's other receivers will benefit.
1. QB Caleb Williams, USC
The particulars: Transfer from Oklahoma
The skinny: Caleb Williams was the top player in the transfer portal this cycle, and his presence is the reason that USC – despite its defensive flaws – could win the Pac-12 this season. Williams threw for 1,912 yards and 21 TDs and also rushed for 435 yards and six scores last season; in the seven games he started, he showed off a special playmaking ability and a ton of sheer athletic talent. He also had some growing pains normal for a freshman, and one of the bigger storylines this season will be how he does in his second year in Lincoln Riley's offense. The bet here is he does quite well and becomes a legitimate Heisman contender because of his production, not just his name.