Transfer portal notebook: Purdue's Charlie Jones has become one of best receivers in nation after leaving Iowa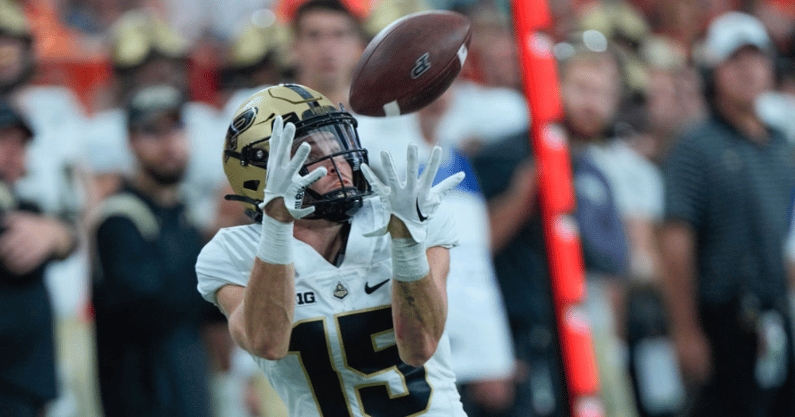 Purdue wide receiver Charlie Jones has been one of the biggest transfer portal success stories this season. He leads the Big Ten in receptions, receiving yards and TD catches after leaving Iowa.
He faces his old team this week, and – who knows? – maybe he would've had even better stats had he stayed a Hawkeye. (Yeah, we're laughing, too – uproariously, as a matter of fact.) But Iowa coach Kirk Ferentz brought it up, so …
Ferentz was asked about Jones several times at his weekly news conference and noted that Jones is "playing well."
That's an understatement. Jones has 72 catches for 840 yards and nine touchdowns. Not only does he lead the Big Ten in all three categories, he ranks second, sixth and fourth, respectively, nationally in those categories. And among Power 5 receivers, he ranks second, second and third, respectively.
In short, he's having a great season, especially when you consider that in two years at Iowa after transferring from Buffalo, he had a grand total of 21 receptions for 323 yards and three touchdowns.
The contrast in Jones' stats between Purdue and Iowa is as stark as an offensive comparison of Purdue and Iowa. But Ferentz actually said, "We'll never know what would've happened if he was here."
Well, considering Iowa has completed 119 passes in eight games – that's 15 completions per game; Jones averages nine catches per game by himself – it's a great bet that Jones' numbers wouldn't be anything close to what he has put up at Purdue. Indeed, Iowa's wide receivers have caught 49 passes total this season. And the Hawkeyes have three TD receptions, with just one of those by a wide receiver.
Jones didn't leave Iowa until after spring practice. Ferentz noted that during his news conference: "The timing, if you think a guy was going to leave your program, he'd do it back in the wintertime" so he can go through spring practice at his new school. In this situation, perhaps Jones was looking to see how a reshuffled Iowa offensive staff would do things. Going through spring with the Hawkeyes probably gave him an idea – so he left.
Jones is a longtime friend of Purdue quarterback Aidan O'Connell, and that played a role in the transfer. So, presumably, did the idea of playing in an offense that actually prefers to throw the ball. And with the academic ineligibility of presumed go-to receiver Milton Wright, Jones has become the most important part of Purdue's passing game. He is one of five Boilermakers wide receivers with double-digit catches but the only one with more than 25 receptions and more than 275 yards.
Asked this week about Jones playing against his former team, Purdue coach Jeff Brohm noted that that was the "nature of college football now" – players moving for their benefit and later hitting the field against former teammates. He also said Jones has "played really well."
Jones most likely would've "played really well" at Iowa, too. The difference, of course, is in the numbers – catching 100 or so passes vs. catching maybe 35.
Portal leads to recruiting calendar change
The portal obviously has changed the way coaches recruit. Now it actually has changed when they recruit.
Last week, the NCAA Division I council ruled that a new four-day dead period will begin the Monday after Thanksgiving. The change takes effect immediately.
The NCAA introduced the post-Thanksgiving dead period to "prioritize in-person conversations with current student-athletes after the conclusion of the season before the December contact period and the opening of the FBS NCAA Transfer Portal window."
That means coaching staffs presumably will make in-person conversations with their players a priority after the season ends and before the transfer portal window opens on the Monday after the conference championship games.
Transfers in the spotlight
Along with Jones, there are some other interesting portal stories with this week's schedule. Here are five.
+ Alabama CB Eli Ricks vs. LSU: Ricks, a former five-star recruit, earned some All-America honors as a true freshman at LSU in 2020, when he started seven games and had four picks, including two he returned for touchdowns. He started the first six games in 2021 before suffering a season-ending shoulder injury. Truth be told, he scuffled a bit last season before his injury. And, truthfully, he hadn't done squat for the Tide until its most recent game, against Mississippi State, when he made his first start of the season and had two tackles (matching his season total) and an impressive four pass breakups (his first of the season). Playing against his former team should mean he will be locked in.
+ Liberty RB Dae Dae Hunter vs. Arkansas: This is the toughest remaining game for No. 23 Liberty (7-1), whose only loss was by one at Wake Forest. Hunter, who transferred from Hawaii in the offseason, has rushed for 825 yards and eight TDs. The yardage total is the second-most of any running back who transferred during the offseason, behind only Marshall's Khalan Laborn (1,061). In the Flames' most recent game, he rumbled for 213 and a TD in a 41-14 rout of BYU. Worth noting: Liberty beat BYU worse than Arkansas did (52-35). Arkansas' run defense has struggled of late, and the Hogs have surrendered 12 rushing TDs in their past four games.
+ Washington QB Michael Penix Jr. vs. Oregon State secondary (Friday night): Penix, who transferred from Indiana in the offseason, leads the nation in passing (366.8 yards per game) and is sixth with 22 TD passes. He is completing 67.8 percent of his passes and has four picks in 339 pass attempts (one every 85 attempts). No. 24 Oregon State is one of 18 teams nationally with more interceptions (10) than TD passes allowed (eight). In addition, quarterbacks have completed just 55.4 percent of their passing attempts against the Beavers, 15th-best nationally.
+ The transfer quarterbacks in Pitt-Syracuse: After starting 6-0, Syracuse has lost two in a row. QB Garrett Shrader, who transferred from Mississippi State after the 2020 season, missed the second half of last week's loss to Notre Dame with an injury but is expected back this week. You wonder how much Orange coaches will use him in the running game. Syracuse isn't proficient enough in the air to win when its rushing attack is stifled. As for Pitt's Kedon Slovis, he has been underwhelming as a passer this season, with five TDs and five picks. As with Syracuse and RB Sean Tucker, Pitt needs a big game from RB Israel Abinkanda. When the star back is producing, Shrader and Slovis have been much better this season, especially Shrader.
+ The transfer running backs in Arizona State-UCLA: UCLA's Zach Charbonnet and Arizona State's Xazavian Valladay are the Nos. 1 and 2 rushers, respectively, in the Pac-12. Charbonnet (a Michigan transfer after the 2020 season) and Valladay (who transferred from Wyoming in the offseason) also are the Nos. 3 and 23 rushers nationally. Charbonnet plays on the better team, so there is more pressure on Valladay to produce. UCLA has the better run defense, too. Both have 10 rushing TDs; Charbonnet has had six 100-yard games this season, Valladay five.