Matt House previews impressive versatility on LSU's defense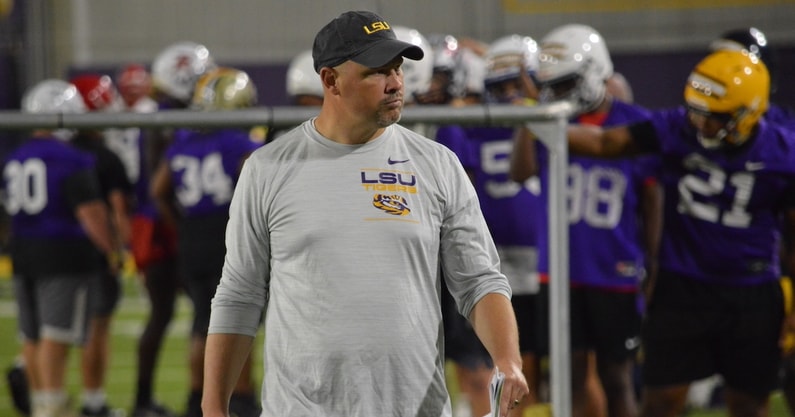 Versatility gives you all kinds of options. You're far more efficient in anything you do if you can be proficient at many different things rather than just one or two. That's why LSU DC Matt House is so excited about his defense and where they're at during the spring.
House discussed his defense's skill level during a press conference earlier this week. He says having versatility is the only way to survive in the SEC. House believes they have it too as the Tigers continue to work on different looks they can go to in order to get stops.
"To be honest with you, you have to have (versatility) to be successful in this conference," said House. "You can't sit in one front and be successful. The offensive coordinators, the offensive line coaches, and the offensive linemen are too good at running the football and too good at iding protections."
"It gives you a chance to be multiple in your alignments and your assignments" House said. "And it gives you a chance to have matchups when you get into an obvious passing situation."
House's first defense at LSU was similar in how it handled teams. They posted a campaign that finished Top-35 in the nation as they gave up just 22.5 points per game. Overall, they also finished Top-50 in yards allowed per game, total yards allowed, and yards per play in their 14 games.
The Tigers had plenty to be pleased with when it came to House's work on that end in 2022. However, things could be even better in 2023 based on what he already thinks they could be able to do from this standpoint.
House evaluates Harold Perkins off his dominant freshman season
LSU linebacker Harold Perkins was one of the best freshmen in the country last year. Still, Tigers defensive coordinator Matt House knows that he can continue to elevate his game.
One of the reasons for that is that House knows he has a better understanding of everything with a year of experience under his belt.
"I think the number one thing is he's got a better understanding of our process and how we prepare," House said during a spring practice press conference. "That's the biggest thing. His habits are much more consistent…He just loves football. Really coachable."
That seems to go in line with what head Brian Kelly told On3's JD PicKell earlier this year. He said Perkins is a guy who takes care of himself off the field and does the right things.
"And Harold Perkins is a guy that took care of himself and was able to kind of slingshot himself later in the season into playing really good football as well," Kelly said. The second point to that is Matt House did a great job of moving him around and putting him in positions to be successful. So, you know one you get great athletes, right? But two, you got to put them in positions to succeed. I think both of those things happened with Harold Perkins."