Kevin Keatts previews defending Nate Laszewski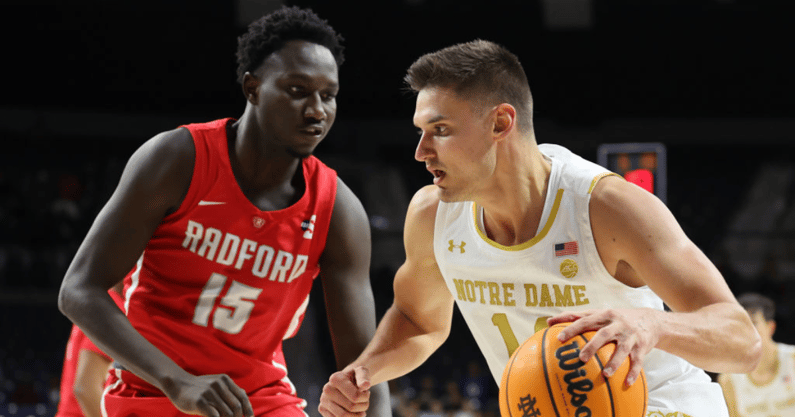 NC State head coach Kevin Keatts has seen a lot of Notre Dame star forward Nate Laszewski over the years.
He is not excited to see him again.
"Man, he's tough," Keatts said. "You look what he just did, I think 7-for-9 from three. He's really tough. He may be one of the toughest matchup guys in our league because he has the ability to take you down low at his size at 6-11. But he stretches you so much. He makes you play a little bit different because you have to respect him on the perimeter and they do a good job of running a continuity motion offense where he's in a lot of pick and pop situations."
The Fighting Irish and Wolfpack face off Tuesday in North Carolina.
Kevin Keatts says Nate Laszewski is a tough matchup
Nate Laszweski is averaging 14.1 points per game on very high efficiency. He is shooting 54.4% from the field and 42.4% from the beyond the arc.
In his last game, Laszweski had 29 points on 8-for-shooting, although the Fighting Irish lost the game.
"Really tough situation, tough matchup for us," Keatts said. "I think more tough for anybody in the league because anytime you got a guy that could step out and shoot it that well it really causes a lot of problems."
The Wolfpack enter coming off an emotional game against North Carolina when guard Terquavion Smith had to be stretchered off the floor.
Smith is doing better and has been released from the hospital but the situation was a scary one for NC State.
"It's tough," Keatts said. "The second time in my head coaching career that I've been to the hospital after a game. One was with Jericole [Hellems] at Wake Forest when he took a pretty nasty fall. But so much emotion. And my thoughts always go to the young man and obviously how can I be there for him as he's going through this. It was a tough moment as he laid on that floor and the things that he was saying. I just wanted to be there for him and let the medical people do their job."