On3 Roundtable: Purdue's chances under Ryan Walters in a wide-open Big Ten West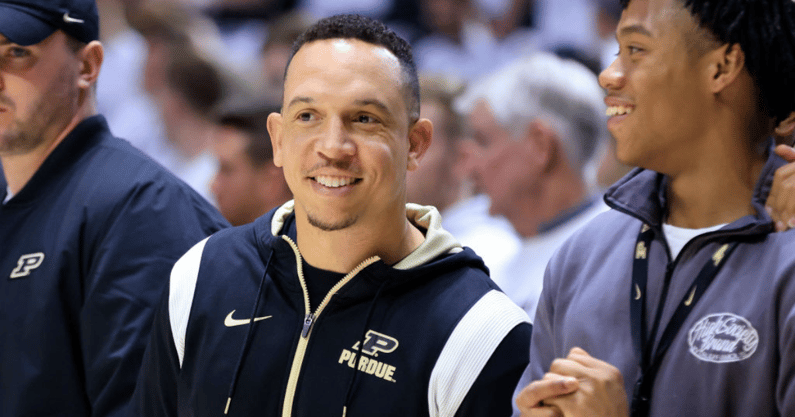 There was a lot of excitement in West Lafayette following Ryan Walters' hire as Purdue's newest head coach late last year. But will he be able to take the Boilermakers back to the Big Ten Championship game for a second-straight season?
During a recent discussion on the On3 Roundtable, JD PicKell wondered what the chances of Purdue repeating as division championship are and whether or not the litany of offseason moves throughout the Big Ten West hurts or helps them in those efforts.
"I think that's going to be a lot to expect if you look at where they are and the fact that they lost their quarterback in Aidan O'Connell and Charlie Jones and a lot of their defense is gone," Gold and Black's Alan Karpick told PicKell. "I think that's a big ask at this point.
"But I think the other thing we talk about in college football is with, with 16, 17 new players coming in from the portal for the Boilermakers, we don't know exactly what we're gonna see come Sept. 2nd when Purdue takes on Fresno State, but I don't expect Purdue to be a [Big Ten West] favorite."
The Boilermakers won their division with a 6-3 conference record, edging Illinois, Iowa, Minnesota and Wisconsin by one game. This only further proves the apparent discrepancies between the Big Ten's East and West divisions, as Purdue would have finished fourth in the Big Ten East last season and were promptly defeated by Michigan 43-22 in the conference championship game.
Iowa and Illinois have new quarterbacks in Cade McNamara and Luke Altmyer, respectively. Minnesota remains dangerous under head coach PJ Fleck — but Nebraska has the chance to be the dark horse of the entire division under first-year head coach Matt Rhule. With the league being as wide open as it was last season, the Big Ten West is anybody's for the taking.
Though, Karpick has an idea of who the eventual 2023 division winner could be, if not Purdue.
"I would expect Purdue to be in about the middle of the Big Ten West," Karpick said. "But yes, it's wide open because that's the Big Ten West. There's just no dominant team, it doesn't appear at this point. Though, it's hard to bet against Wisconsin, maybe Minnesota and Iowa as you look at it. And of course, Nebraska, too, with the new coaching situation. It's going to be interesting for everybody to try and deal with."