Tennessee coach Josh Heupel breaks down On3 No. 1 recruit Nico Iamaleava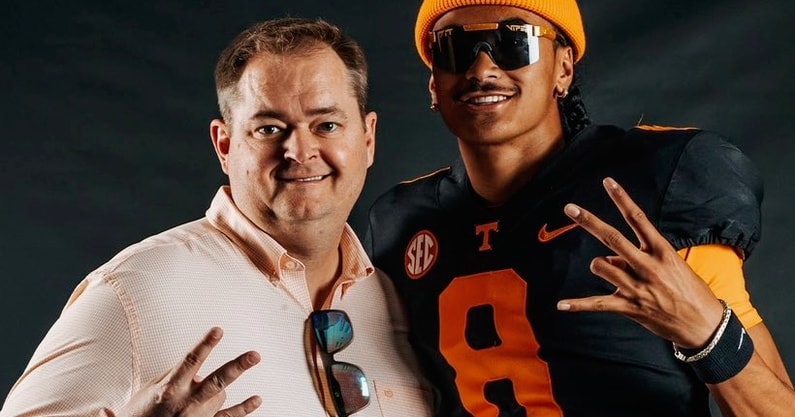 When Tennessee head coach Josh Heupel first saw the ball fly out of Nico Iamaleava's hand, he knew one thing: the then-sophomore quarterback needed an offer from the Volunteers and quickly.
"His sophomore tape when we got here to Tennessee, watching him, his arm talent popped off the film immediately," Heupel told On3. "His athleticism, his ability to extend, his ability to make plays with his feet were so impressive. As we watched more game tape, we saw his feel for the game, his feel inside the pocket, and his arm strength allowed him to make every throw. We saw a big jump as we continued to evaluate him into his junior year."
On Tuesday, Iamaleava was named the No. 1 overall recruit in the 2023 class by On3, a ranking that Heupel feels is backed up by all of the things he saw from Iamaleava two years ago — and still sees now.
"The film popped and it was a really easy, early offer," Heupel said. "His arm popped right away. The ability popped right away. As you watched more, you saw the make-up, the competitiveness and the toughness you want out of your quarterback. Nico is a guy that has a great feel for bodies in space, bodies that are moving through that space, a great feel inside the pocket and we saw a lot of intangibles."
Iamaleava's volleyball background showcased his athleticism
It isn't unheard of for top football prospects to be very good in other sports — some of the country's top passers over the years have also been elite baseball prospects. But Iamaleava might the first football-volleyball dual-sport athlete to be one of the nation's best in both sports.
Outside of his on-field football film, Heupel and his staff spent a considerable amount of time watching Iamaleava's volleyball highlights. The athleticism and quick-twitch ability he showcased was off-the-charts.
"You get a chance to watch some volleyball and you see some of his athletic traits show up that you see at quarterback," he added. "Then you get a chance to have conversations with him and get him on campus, and what you find is, a young man that loves ball. He is into that, the growth at the quarterback position, the understanding of the game, and that is what he wants to do all day, every day. Nico is a very likable kid that loves his family, that cares about the people around him, and that has the makeup to be a magnet to be inside your program."
Integral part of Tennessee's 2023 recruiting class — and beyond
When the 6-foot-5, 195-pounder committed to the Volunteers over nearly every major program in the country back in March, it set off a tidal wave for Tennessee's recruiting efforts. Landing an immensely popular and engaging recruit — to go along with his obvious talent — opened a lot of doors for a Tennessee staff trying to build off a 7-6 season in 2021.
Before he'd even signed his National Letter of Intent, Iamaleava became the new face of Tennessee's program and recruiting efforts. He made his way to campus multiple times to spend the weekend with other recruits, and he personally took it on himself to build the Volunteers' class.
"One of the things about Nico is his spirit. He has a kid's spirit about him," Heupel added. "He is super likable and super engaging with people around him. And he loves having fun, he loves to crack jokes and at the same time, when he gets around a football, he is an elite competitor. His mom, dad, brother and big family comes first. Nico loves his family and it is clear they come first for him. He is just a great person, not just an elite quarterback and there is so much to love about Nico."
Nico is already impressing on campus
Once his high school football season was over, Iamaleava joined Tennessee's team for bowl practices. Not only was it a chance to get him acclimated to the speed and intensity of the college game, but it also offered an opportunity for him to connect with him teammates.
He has stood out early on in both regards.
"The arm talent popped out on the practice field in December immediately" Heupel said. "I had seen it in person, but the rest of our staff and players, they saw that God-given talent right away. After getting time to work with him in practices, he has a great understanding of his body. If you make a correction or make a suggestion about changing his body position, he will immediately make that correction.
… The other part of that is we had 16 high school kids enroll early for our bowl practice, and seeing how he connected with all those guys stood out. Seeing him inside our locker room and how he immediately became a member of our football team and became somebody guys love being around said a lot about him. It has been fun watching him transition into a college football player."
Now, once he returns from participating in the Polynesian All-American Bowl this week — a huge point of pride for him — Iamaleava will get to start classes and fully dive in to being a college student-athlete and quarterback. And Heupel believes the best is only yet to come.
"He is going to have a great career," he added. "He is going to grow, fight and compete for it every day, but we couldn't be more excited about having Nico in the building."