Jimbo Fisher gives defiant response on handling NIL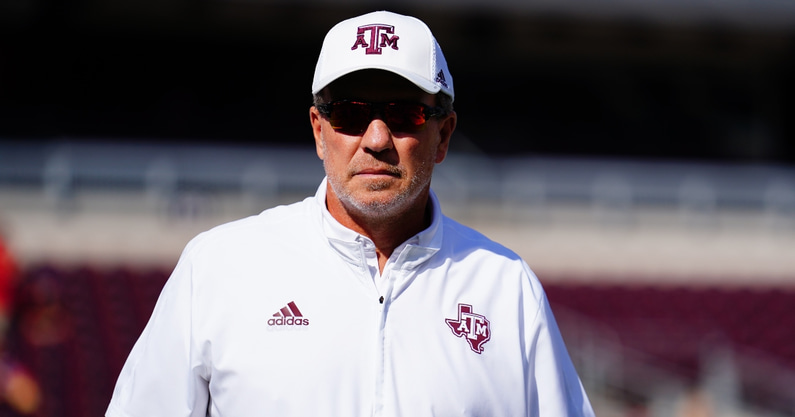 Texas A&M head coach Jimbo Fisher has been in the NIL crosshairs of many members of the media and college football fans across the country for the past few months. Ever since the Aggies landed the nation's No. 1 overall ranked class in 2022, plenty of people have charged that the Aggie head coach was luring prospects to College Station with NIL money. On Wednesday, he once again denied any sort of wrongdoing.
"I haven't changed a dadgum thing," Fisher said. Plenty of people still won't believe him, since the Aggies landed the greatest recruiting class in college football history during the 2022 cycle.
Fisher has been at the forefront of NIL discussion this offseason and he also sounded off on the ever-changing NIL and transfer portal landscapes a little bit more than a month ago.
Some around the game have brought up NIL as a reason Texas A&M had that kind of success, including Ole Miss coach Lane Kiffin. The conversation came up again after Five Star Plus+ recruit Lebbeus Overton reclassified from the Class of 2023 to the Class of 2022, and Fisher made it clear he tunes out the noise.
"I don't worry about it, I don't think about it," Fisher said. "Who cares? The only thing I ever said before was because it was directly pointed at us. Do I think NIL is an issue out there? Yes. Do I think [the] transfer portal's an issue out there? Yes, and how it goes on and what the regulation [is]. There's no doubt.
"But those were pointed figures right at us is why I made those statements because that's unfair to the kids who got recruited, that's unfair to their families and that's unfair to the staff that recruited them. And that's unfair to Texas A&M. That's the only reason I brought that up."
Jimbo Fisher on Lebbeus Overton's decision to reclassify: 'The young man was born here'
Getting Overton to reclassify only added to the talent coming in for the Aggies this season. Instead of being one of the top recruits in the Class of 2023, Overton is now the No. 10 overall recruit from the Class of 2022, according to the On3 Consensus, a complete and equally weighted industry-generated average that utilizes all four major recruiting media companies.
During his recruitment, Overton also garnered interest from Georgia and Oregon. Ultimately, he chose to join forces with Fisher this year — and the Texas A&M coach said it came down to the fact that Overton is heading back home.
"The young man was born here," Fisher said. "The guy was born in College Station. Grew up watching games. … He was a huge Florida State fan. He came to my camp when he was 10-11 years old, 12 years old. People didn't know that. And [he] was in the high school camp back then.
"[His] family worked here, [his] dad was … an [assistant AD] at Florida A&M, brought him to camp. I've known the family forever and ever and ever. And we're doing real good."
On3's Nick Schultz also contributed to this article.