It's open season on USC's commits, top targets after Clay Helton's firing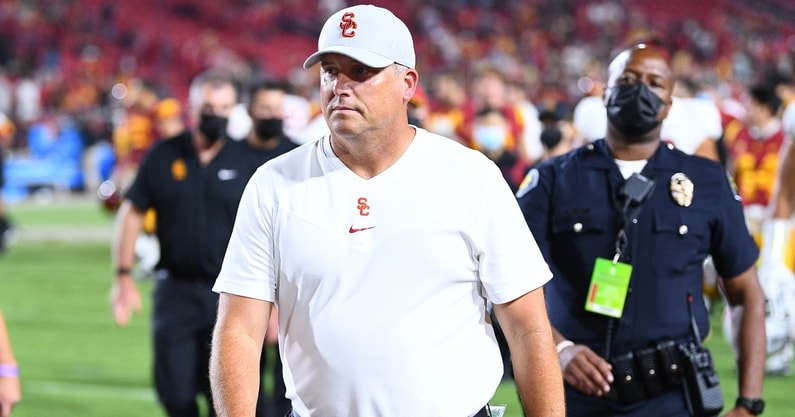 USC had struggles on recruiting trail with consistent talk of Clay Helton being on the hot seat for years. After the firing of Helton on Monday, programs across the country will look to benefit from the coaching turnover at USC as it officially is open season on the Trojans' top targets and commitment list.
Despite one of the deepest talent pools in their backyard, a national recruiting reputation and one of the best traditions in college football, the Trojans' 2022 class is 29th in the country and third in the Pac-12.
That's hardly the success USC fans expect and demand.
Helton had some good classes, including top-five classes in 2017 and 2018. But the struggles on the field also produced cycles like in 2022, 2020 (64th) and 2019 (20th).
Without a doubt, Helton's hot seat was impacting recruiting efforts. Rival recruiters were capitalizing on the turmoil at USC and prospects were paying attention.
For example, take five-star cornerback and longtime commitment Domani Jackson's trip to Michigan this past weekend. From tradition-rich Santa Ana (Calif.) Mater Dei, Jackson has been committed since January. That didn't stop him from visiting Ann Arbor. All indications were that he was blown away by his time in Michigan.
Jackson says he's still 100 percent on board with Trojans and that he committed to USC for reasons other than football. But make no mistake, Michigan and Alabama are only going to step up their pursuit.
Before news of Helton's firing, one Pac-12 coaching contact said Jackson's chances of flipping from USC to Michigan before the visit a "four." But after the visit, those chances "increased to a 7.5 or an 8."
USC commits staying true — for now
With the news so fresh, many of USC's other commitments are saying they're still committed or 100 percent on board. It's too fresh of news for them to make a big decision like opening things back up.
Longtime USC quarterback commitment Devin Brown of Draper (Utah) Corner Canyon falls into that category. So does consensus three-star receiver Caleb Douglas of Missouri City (Texas) Hightower.
"I hate to hear that about coach Helton being fired, but it's just business," Douglas told On3. "I hope he finds a new home because he's a really great dude. My commitment has not changed."
It's not changed, but Oklahoma has reached out and invited Douglas to a game and Tennessee has stepped up its pursuit.
Another name to watch during this process is five-star defensive lineman Mykel Williams of Columbus (Ga.) Hardaway. Williams committed to the Trojans in June. But he has been wavering with his pledge even before Monday's news. That might be big for Georgia, Kentucky and a host of other SEC programs.
Rivals already circling
The situation also is ideal for other schools recruiting against USC for top recruits such as five-star defensive lineman Anthony Lucas of Scottsdale (Ariz.) Chaparral. Lucas visited USC unofficially on back-to-back weekends, and he told On3 on Monday he's "just looking to see who they're going to bring in."
Boonville (Mo.) High four-star EDGE DJ Wesolak was trending toward Penn State over USC, Florida, Alabama and others. The news certainly doesn't help the Trojans' chances at this point.
"I mean, it's shocking to me, but at the same time you've got that energy from people at USC that this might happen," he said. "I love Coach Helton and everything he has done for me and my family. But for how it impacts my recruitment, only time will tell."
And time will tell what happens to the Trojans' 2022 class. But until there's a sense of direction on who the new coach will be, it's happy hunting season for rival recruiters.