2022 Elite 11 Finals: Complete quarterback roster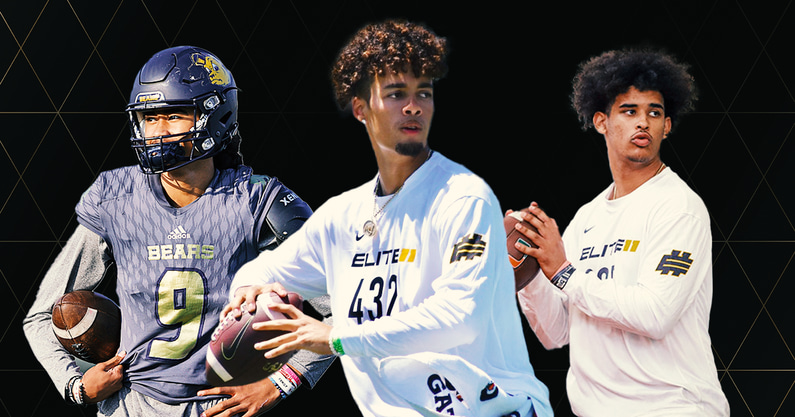 Few invitations mean as much as the Elite 11 Finals do to high school quarterbacks. The event, which will celebrate its 23rd year in 2022, brings together the country's elite signal-callers for three days of competition and training from former NFL quarterback Trent Dilfer and a host of others.
Elite 11 alumni include Carson Palmer, Andrew Luck, Matthew Stafford, Tim Tebow, and more recently Trevor Lawrence, C.J. Stroud, Bryce Young and more. Last year's Elite 11 Finals featured 13 of the top 20 quarterbacks in the final 2022 On3 Consensus Rankings, including each of the top six players at the position.
RELATED: 2022 Elite 11 Finals Preview
As invites go out over the next few months after Elite 11 Regionals across the country, we're tracking the prospects who — barring injury or schedule conflict — will head to Los Angeles June 28-30 and compete for the title of the country's top quarterback in the 2023 class.
Elite 11 Finals Roster
Malachi Nelson
School: Los Alamitos (Calif.)
Consensus Ranking: No. 3 (#2 QB)
On3 NIL Valuation: $736K
Status: Committed to USC
Nico Iamaleava
School: Long Beach (Calif.) Long Beach Poly
Consensus Ranking: No. 4 (#3 QB)
On3 NIL Valuation: $794K
Status: Committed to Tennessee
Dante Moore
School: Detroit (Mich.) Martin Luther King
Consensus Ranking: No. 8 (#4 QB)
On3 NIL Valuation: $660K
Status: Uncommitted
Christopher Vizzina
School: Birmingham (Ala.) Briarwood Christian
Consensus Ranking: No. 29 (#5 QB)
On3 NIL Valuation: $546K
Status: Committed to Clemson
Jackson Arnold
School: Denton (Texas) Guyer
Consensus Ranking: No. 34 (#6 QB)
On3 NIL Valuation: $508K
Status: Committed to Oklahoma
Jaden Rashada
School: Pittsburg (Calif.)
Consensus Ranking: No. 42 (#7 QB)
On3 NIL Valuation: $454K
Status: Uncommitted
Eli Holstein
School: Zachary (La.)
Consensus Ranking: No. 54 (#8 QB)
On3 NIL Valuation: $447K
Status: Committed to Alabama
Rickie Collins
School: Baton Rouge (La.) Woodlawn
Consensus Ranking: No. 181 (#10 QB)
On3 NIL Valuation: $178K
Status: Committed to Purdue
Pierce Clarkson
School: Bellflower (Calif.) St. John Bosco
Consensus Ranking: No. 215 (#11 QB)
On3 NIL Valuation: $148K
Status: Committed to Louisville
Avery Johnson
School: Maize (Kan.)
Consensus Ranking: No. 229 (#12 QB)
On3 NIL Valuation: $111K
Status: Uncommitted
Austin Novosad
School: Dripping Springs (Texas)
Consensus Ranking: No. 254 (#13 QB)
On3 NIL Valuation: $20K
Status: Committed to Baylor

JJ Kohl
School: Ankeny (Iowa)
Consensus Ranking: No. 269 (#14 QB)
On3 NIL Valuation: $90K
Status: Committed to Iowa State
Chris Parson
School: Brentwood (Tenn.) Ravenwood
Consensus Ranking: No. 306 (#16 QB)
On3 NIL Valuation: $77K
Status: Committed to Florida State
Kenny Minchey
School: Hendersonville (Tenn.) Pope John Paul II
Consensus Ranking: No. 434 (#22 QB)
On3 NIL Valuation: $18.3K
Status: Committed to Pittsburgh
Brock Glenn
School: Memphis (Tenn.) Lausanne Collegiate School
Consensus Ranking: No. 448 (#23 QB)
On3 NIL Valuation: $8.4K
Status: Uncommitted

Marcus Stokes
School: Ponta Vedra Beach (Fla.) Nease
Consensus Ranking: No. 504 (#26 QB)
On3 NIL Valuation: $39K
Status: Committed to Penn State
Malachi Singleton
School: Kennesaw (Ga.) North Cobb
Consensus Ranking: No. 584 (#27 QB)
On3 NIL Valuation: $31K
Status: Committed to Arkansas

Brady Drogosh
School: Warren (Mich.) De La Salle Collegiate
Consensus Ranking: No. 657 (#31 QB)
On3 NIL Valuation: $22K
Status: Committed to Cincinnati

Zane Flores
School: Gretna (Neb.)
Consensus Ranking: No. 724 (#35 QB)
On3 NIL Valuation: $23K
Status: Committed to Oklahoma State
Emory Williams
School: Milton (Fla.)
Consensus Ranking: No. 857 (#42 QB)
On3 NIL Valuation: $23K
Status: Committed to Miami